New Tapas Menu at Bevy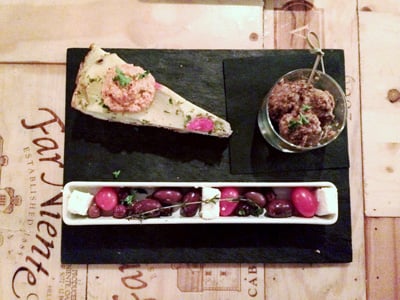 At Bevy, it's all about the cocktails. It's in the name, after all. But Kakaako's favorite little hipster hideout does also serve food, and it recently added a tapas menu to its regular offering of small-bite eats.
The new tapas menu is truly trying to be tapas. In the Spanish sense. The menu includes albondigas, tres quesos puffs and gambas al ajillo—that's meatballs, three-cheese puffs and garlic shrimp—and a few other less Spanish things like tomato, olive and feta salad and a cheese plate that includes Irish cheddar.
We started with the sampler platter (because what better place to start?) that comes with the Spanish tortilla (like an omelet), meatballs and tomato salad. Next time, we'll skip the sampler and just go all a la carte. Because the tortilla is ok—and even better with the pepper puree—but the cod croquettes? We'll take 12. They're like all-in-one fish-and-chip bites. The flaky cod, the creamy potato filling, the tangy capers, and then the whole thing fried to a tender crisp—creamy, crispy and tangy—the triumvirate of a successful dish.
The cheese puffs are also good, though a hint bland for being puffed with manchego, pecorino and sharp cheddar. We expected salty and nutty with a bit of a bite. To get the bite we wanted, we dunked (not merely dipped) the puffs in the accompanying sundried tomato tapenade, and we were happy. We also preferred the Swedish—with brown gravy and lingonberries, over the Spanish version with an almond sauce. And speaking of the Swedish meatballs, Bevy's take on kottbullar, with the mashed potatoes and the lingonberry butter is still one of our favorite things on the menu, along with the ridiculously addictive fried cauliflower (it's still healthy, right?).
Bevy, 661 Auahi St, tapas from $3-$12, 594-7445, bevybar.com