New: Sushi ii, a hidden gem of a Honolulu sushi bar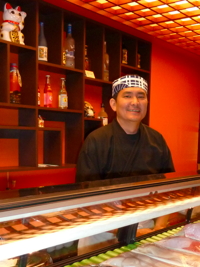 I've been waiting for this restaurant.
Last July, I did a dining column for HONOLULU Magazine, mainly focused on sake. But along the way, I found a remarkable sushi bar, hidden away in a downstairs back room of the Natsunoya Tea House.
Its young chef, Garrett Wong, was ambitious, capable and friendly. No sooner did I write up the place, predicting great things for Wong, than he and the Natsunoya management abruptly parted company. For the whole story, click here.
Wong had confided in me that he wanted his own place where he could control the quality, one small enough so he could interact with the customers. He got it. A stylish, inviting little place, in the Samsung Plaza off Keeaumoku Street. Which means it's almost as hard to spot as it was at Natsunoya.
At Sushi ii (pronounced sushi ee, meaning good in Japanese), Wong proves himself, as he did at Natsunoya, entirely competent with sushi and even more remarkable with sashimi.
At our last visit, we had a sashimi platter with blue fin toro, almost white with fat; hamachi that was had just enough bite before melting away in your mouth; Japanese sardine with a fine fishy flavor; and a beautifully presented Japanese sayori.
You can see the sayori to the left here and realize immediately why it's called needle or stick fish. It's remarkable eating, with a perfect al dente texture and a flavor that takes you to some rarified world of subtle seafood.
That's not all. If you love moi, and Wong has any, he'll present you with this platter of moi sashimi style.
But this is not just a sushi bar. There's more than great sashimi. The kitchen turns out some of the best salads you will encounter—Mao Farms kale and Utsuji Farm beets, Utsuji Farm mache with corn and fresh guacamole.
The cooked food ranges from deep-fried moi to lamb lollipops. Thoroughly splendid is the shrimp minoage (below), large tender fresh shrimp in a golden crust of julienne potato.
The genius in the kitchen is Sabrina Saiki-Mita, a flute teacher at Punahou and a talent especially with pastry. Every meal here comes with Sabrina's nori popovers with furikake butter.
This may be the only sushi bar in town where you look forward to dessert. Chocolate pot au creme, red papaya brulee with lime cream tart, and—do not miss this if it's on the menu—banana dream pie, a light-as-air and sweet-as-love banana Napoleon with chocolate sauce.
Believe it or not, the food may not even be the best part of Sushi ii. Wong's restaurant is highly personal. He's right there in front of you, and the customers seem all to be friends, even if they've never met each other before.
It's the kind of place where everyone talks to everyone else. Where Jake Shimabukuro hangs out for half an hour talking to the customers while Wong makes his sushi to go. Where the guy at the end of the bar explains that he has a rare bottle of sake, from a kura in Japan that allows one large bottle per customer per year. Then he pours everyone a glass.
In other words, the atmosphere at Sushi ii is as enjoyable as the menu. You should know that the food's exceptional, but sometimes slow. Small staff, busy restaurant. So come relaxed.
For a high-end sushi bar, the prices are reasonable. And you can bring your own sake or, even better, champagne.
Sushi ii is open for dinner 5:30-10:30 p.m. Wednesday-Sunday, at Samsung Plaza, 655 Keeaumoku St, (808) 942-5350.