New: SALT Kitchen & Tasting Bar, Kaimuki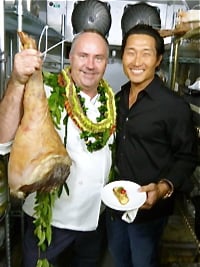 Kevin Hanney's much anticipated Salt Kitchen and Tasting Bar is finally open.
That's cause for celebration. And if you're celebrating anything at all, including being alive, Hanney's new bar/eatery is probably the place to do it.
Hanney's original restaurant, 12th Avenue Grill, has only one flaw: The bar is too small to handle all the people who want drinks and snacks there.
So right across the alley in the old C&C Pasta location, Hanney has opened SALT. Downstairs SALT is all bar.
In the year or two between C&C and SALT, the location was home to an interesting little eatery called Belladonna, which transformed the space by adding a loft. The loft stays, giving Salt table seating upstairs.
"Otherwise, we didn't have to do much," says Hanney, "except for the kitchen. We ripped that all out and started over."
Hanney and his chef Bob McGee went to work in the kitchen. Rather than do a 12th Avenue annex, they've come up with a whole new menu, with an emphasis on housemade charcuterie. (Hence the name SALT.)
They may well have come up with the tastiest bar food menu in Hawaii. It's a Hanney signature: being innovative by bringing back classics.
It's hard to pick my favorite moment from the opening party. It might have been when one of Hanney's fans, Daniel Dae Kim, ended up in the walk-in with Hanney, admiring the array of house-cured proscuitto hams.
Or when pig farmer to the stars, Glenn Shinsato, tasted the house charcuterie platter (right), and said, "Oh, have some of that, they've made the flavor just bloom."
But perhaps it was when chef Bob McGee started handing around his smoked Hudson Valley foie gras with Kula strawberry.
The food poured out of the kitchen. Mixed grill with house sausage and pork steak in ale mustard (left).
Crispy fingerling potatoes. Grilled tako bruschetta. Arugula with Manchego and Marcona almonds. And those golden globes of rice-y goodness, arancini.
The regular menu throws in burgers, sandwiches and desserts.
The wine list has some exceptional values: the St. Joseph Rhone, the Michel Gros burgundy.
"Congrats," I told Hanney. "It seems to be working."
"John," he said. "It's a pretty simple concept: food and drink."
Salt Kitchen & Tasting Bar opens Tuesday 6/14 and then open daily 5 p.m. to 2 a.m. (food until midnight), no reservations, 3605 Waialae Ave., 744-7567.