New POW! WOW! murals in Our Kaka'ako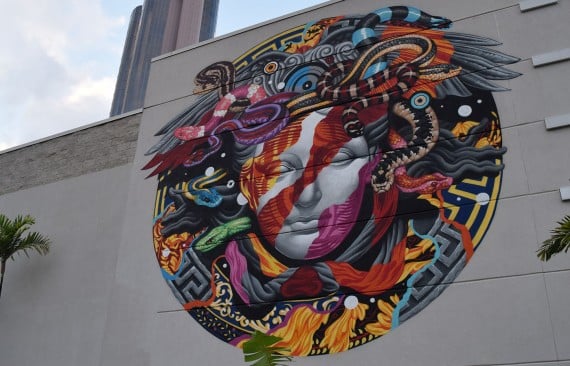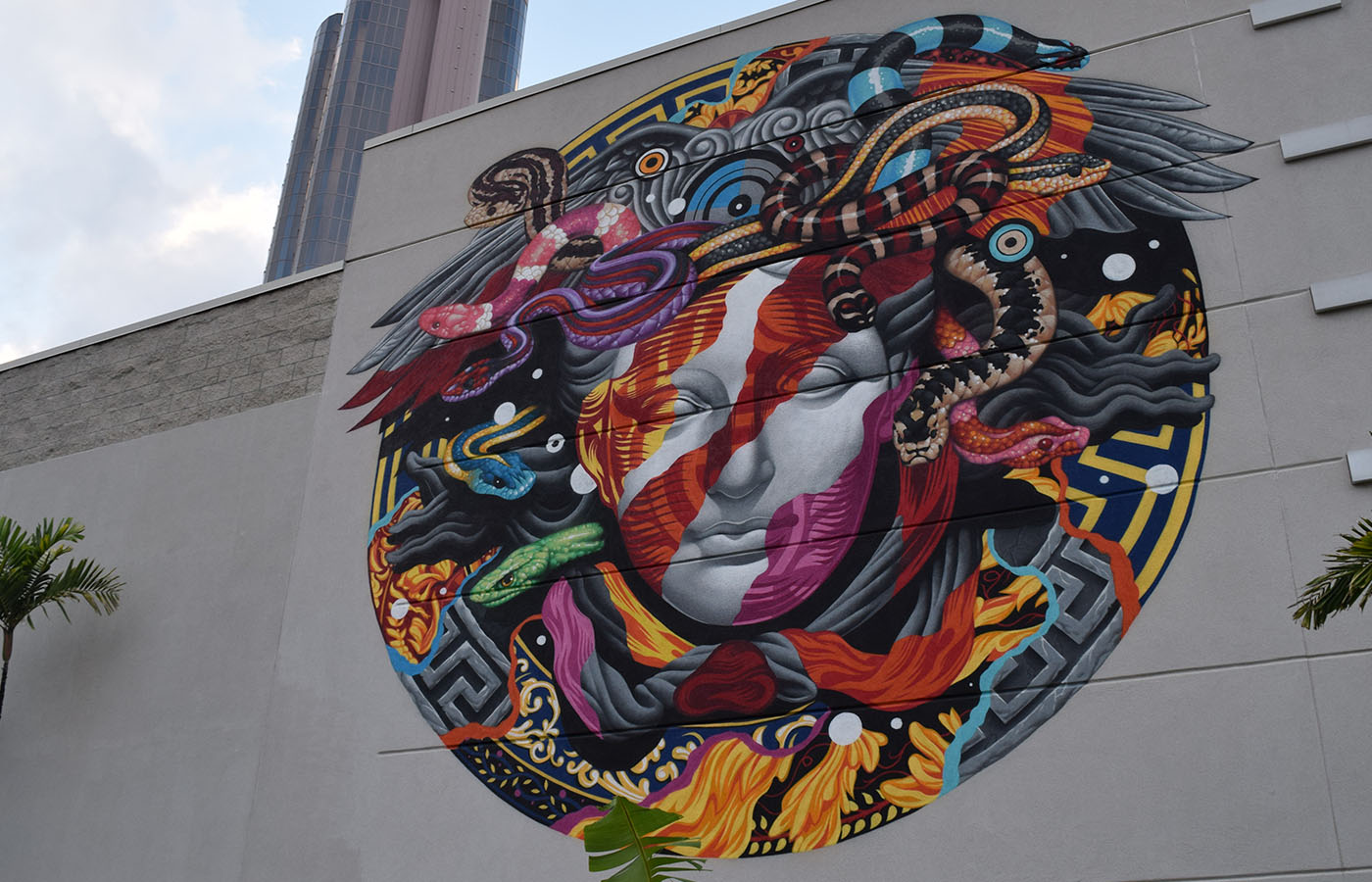 Two POW! WOW! murals recently were added to the mix in Our Kaka'ako — a Versace mural painted by Tristan Easton of Los Angeles, and local artist Kamea Hadar's depiction of the late Hokule'a navigator Papa Mau Piailug.
The Versace mural — located at the old CompUSA building at Ala Moana Boulevard and Keawe Street — is a vibrant rendering of the luxury fashion brand's iconic logo. Easton painted the piece over five days in February, using bold colors and opaque layering that gave the mural depth and story-like quality. "Versace reached out to me after learning about POW! WOW! and myself through the Hypebeast 100 list," says POW! WOW! founder Jasper Wong. "A mural was the idea that stuck. I curated Tristan Eaton to be involved, because his aesthetics fit perfectly."
As the founder of Thunderdog Studios, Easton's work can be found in galleries around the world and in a permanent gallery at the New York Museum of Modern Art.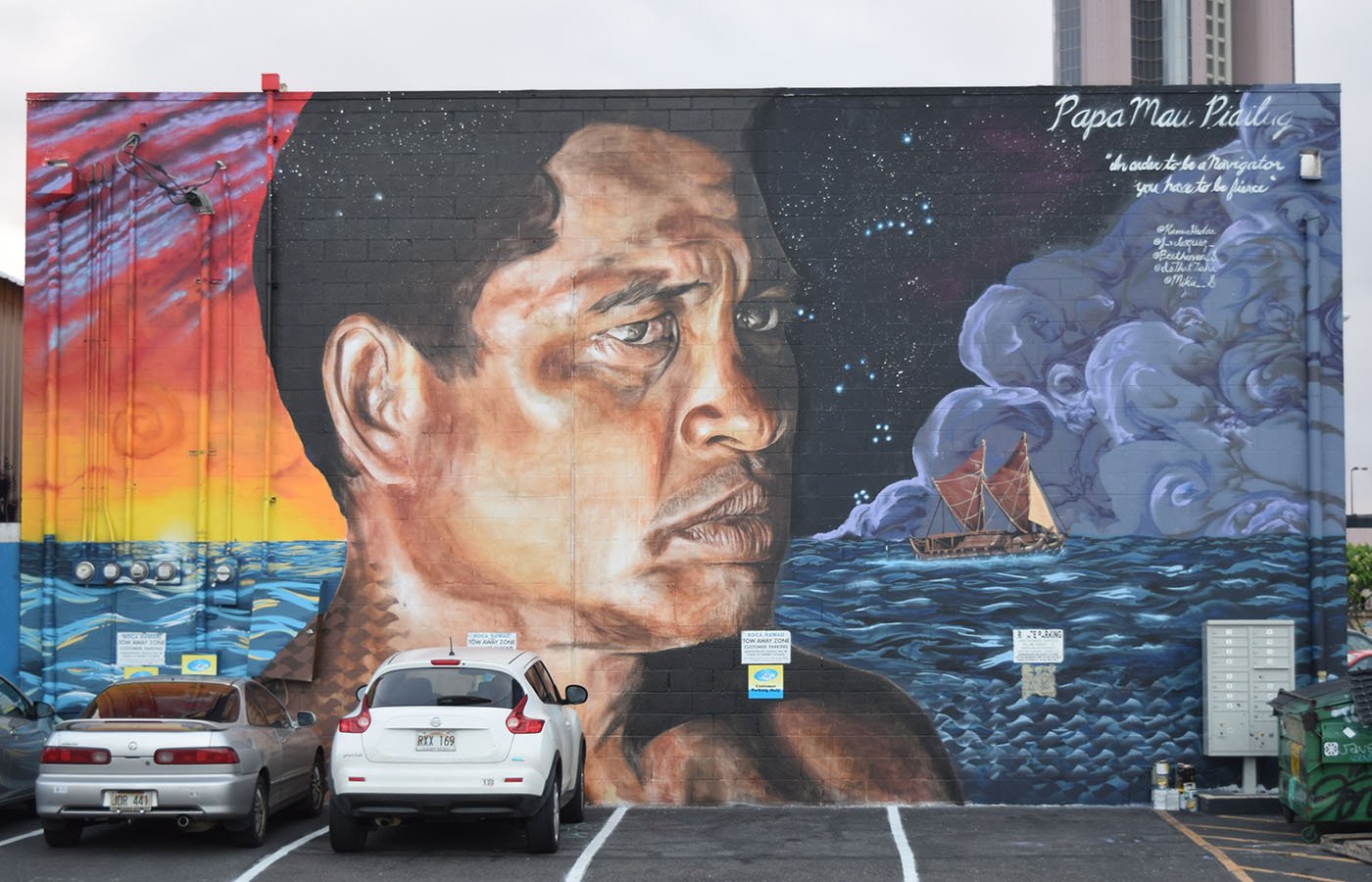 The second mural was POW! WOW!'s last part of a three-part project with the Hokule'a and Polynesian Voyaging Society. POW! WOW! started by painting parts of the Hokule'a, the sister canoe Hikianalia, and ended with this mural. According to Wong, the mural — located on the Boca Hawaii building at Cooke and Auahi streets — was a way to honor the history and the voyage.
Hadar, POW! WOW! artist and co-lead director, painted the mural in April with students from POW! WOW! School of Art/808 Urban. The mural depicts the Pialug, Micronesian master navigator, who was crucial to the Hokulea's 1976 voyage to Tahiti and also ensured the survival of non-instrumental wayfinding.
Overall, Wong says the addition of murals "change the way people see their environment." "You never notice blank walls, but when it is filled with color then it stops you in your tracks," he says. "It gives the walls a voice. It created foot traffic and helps to beautify and revive neighborhoods."
Along with the addition of these murals, POW! WOW! is expanding beyond its annual events in Hawaii and Taiwan, looking to add festivals in Israel, Long Beach, California, Washington D.C., Jamaica and Germany.
The Versace mural coming alive
Kamea Hadar on his inspiration