New on Koreamoku: Chicken Factory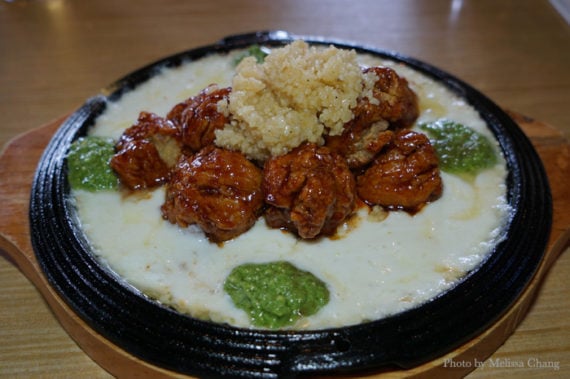 Driving up Keeaumoku Street, you may have noticed a new restaurant in the space that used to be Chick & Meck, which used to be Red House, which used to be Sanji Ramen, which used to be … I can't even remember back that far. But hopefully this new restaurant, Chicken Factory, is here to stay.
It's owned by Steven Lee, who also owns Vons Chicken at Palama Market nearby, and he knows a thing or two about fried chicken. However, since Vons is a chain, he's locked into only using their recipes and isn't able to spread his creative wings. Chicken Factory gives him the chance to show the world his take on Korean late-night favorites.
I'll admit, I was skeptical. How different can this chicken spot be? Well, I was wrong. I went for a taste recently and was more than pleasantly surprised. In fact, now I really want to go back to Korea to see how it compares!
Chicken Factory has a lot of potential and I'm wondering if Lee will be tweaking things on the menu as he gets into his groove. The prices are a little high, but as with most Korean night spots, the food is meant to be shared, so at the end your individual cost may not be as much.
Chicken Factory
835 Keeaumoku St.
955-5550
Open 5 p.m. to midnight daily