New menu at Hoku's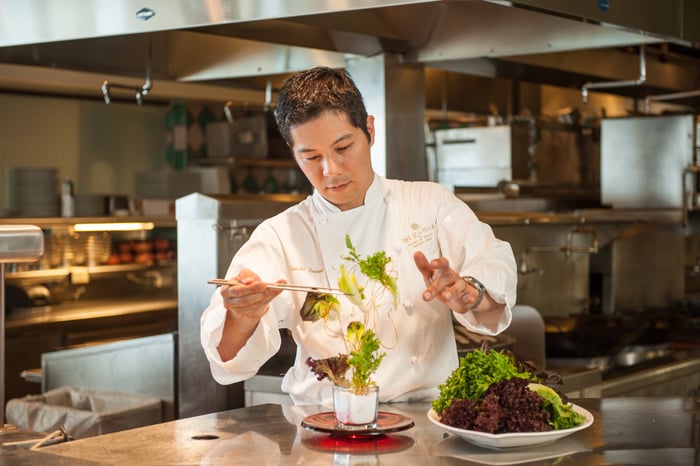 Like many restaurants in town, Hoku's at the Kahala Resort often offers special events and menus to infuse a bit of freshness to their repertoire. For the first time in 19 years, however, the restaurant is revamping its whole menu.
You can still get the signature classics like the fried ahi musubi, seafood tower and special Hoku's-style fresh fish cooked whole that Executive Chef Wayne Hirabayashi made famous. With the introduction of Hoku's new chef de cuisine Hiroshi Inoue, however, the venue is going to see a new creative flash incorporating Asian and Mediterranean influences from his work with Michelin-star restaurants around the world.
We got to try a few of the new items at a media event earlier this week to get a taste of Inoue's creative style. It was a 10-course meal, so he provided bite-sized dishes and a pairing for each. If you want to see the whole new menu, click here.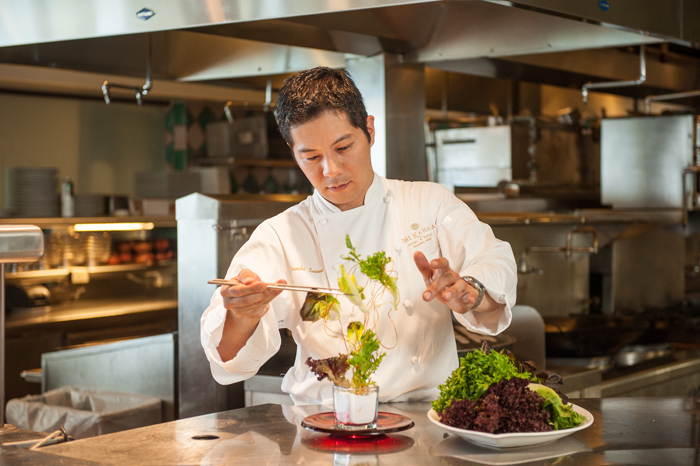 The first taste was Inoue's "Splendido Tree," an arrangement of vegetables on wires that you unhook and dunk into a fresh vegetable "caviar" and sea urchin dip. It tastes how you might imagine, with a bit of briny, rich, and mellow flavors.
Everyone loved the hamachi shot, which was much more than an actual shot. The avocado and hamachi was buttery and fresh, and the ponzu vinaigrette gave it a punch of salt and citrus. If only poke were always like this.
We were pleasantly surprised at how well pineapple went with the Maine lobster. It's not something people usually think of combining, yet it worked. The second surprise came when we tasted the dressing, a citrus coconut sauce — another blend that we weren't expecting, but enjoyed.
The braised wild boar wasn't gamey and was very hearty, especially with the risotto. The morels helped pull the dish together to add an earthy richness. I know morels are expensive, but if I had my way, I would pile them on!
One of our favorites was the black pepper and sesame crusted rare ahi steak, covered in watercress salad and drizzled with a balsamic-shoyu reduction. This was served with tomato chutney, which really added to it — another surprise for us, as well. Who would think to add tomatoes like this to a seared ahi dish?
I wished I had a whole plate of 138° F — named for the temperature at which it's cooked — a seemingly simple but very elegant dish. I never order chicken at restaurants, but this sous vide guinea hen breast was done perfectly, a moist and tasty morsel made even better with the natural jus. The Yukon potato and truffle Napoleon was amazing!
In Japanese, the number four is pronounced "shi," which can also mean death. This was named "4" to signify the end of the dinner courses, but also to represent the four legs of the bison. (Huh? Okay.) This grilled bison rib eye was meaty but not gamey, and of course, very lean. It was still moist, though, which is what you would expect from a restaurant like Hoku's.
The desserts were impressive. One was the ginger cheesecake sprayed with kaffir lime to give it a velvety finish; the sable Breton, exotic coulis and macerated fruits were light and fresh.
Chocolate lovers will enjoy the "Valrhona Chocolate" dish, a Dulcey chocolate bavarian cake with salted caramel, praline crunch, Nutella powder, Kona coffee cremeaux, and amarena ice cream. We kept trying to figure out what was in the delicate crunch that we were getting (yes, even though it was right there on the menu). My favorite thing was the ice cream, though. I actually love cherry vanilla ice cream, and this was on a whole new level.
I was too full to have any petit fours, but the rest of the people on our table who ate it (and didn't hide it in their purses) said they were perfectly sweet and light.
I'll have to go back on an emptier stomach next time, maybe try something else from the new menu. Don't forget, they're only open Wednesday through Sunday for dinner. They also started Sunday brunch, as well.
Hoku's at The Kāhala Hotel and Resort
5000 Kahala Ave.
808-739-8760