New: Lucy's Lab Creamery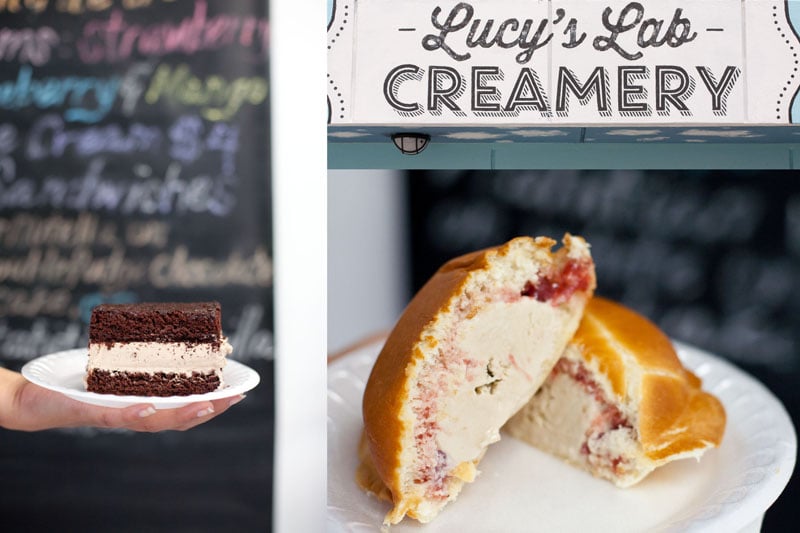 It doesn't take a lot of convincing to get us to try a new ice cream shop, especially in the middle of a hot August. Lucy's Lab Creamery is a baby blue-and-cream-colored shoebox of a shop, with only seven flavors at a time—right now, they range from vanilla to Fruit Loops vodka, which tastes like one of the flavored vodkas gone wrong, like Smirnoff Fluffed Marshmallow. So we'll stay away from that and instead go for the lovely and elegant Earl Grey. Lucy's ice creams are smooth and creamy, though they do run sweet. The ice cream is sold by weight ($1 an ounce), a oddly finicky method for a place that looks like a nostalgic dessert shop. Then again, it is trying to be a lab and a creamery at the same time.
Our favorite way to eat Lucy's ice cream? In the pan de creme ($4.50), warm sweet bread sealed around cold ice cream and jam (the Earl Grey with strawberry jam is a winner). It's ice cream meets a pb+j sandwich. Eat it quickly and enjoy.
Lucy's Lab Creamery, open noon to 9 p.m. starting tomorrow, Thursday through Sunday, 435 Kamakee St., facebook.com/lucyslabcreamery