New Hana Koa Brewing Busts Onto Kaka'ako's Beer Scene
Kaka'ako's craft brew hub now stretches past Ward Avenue.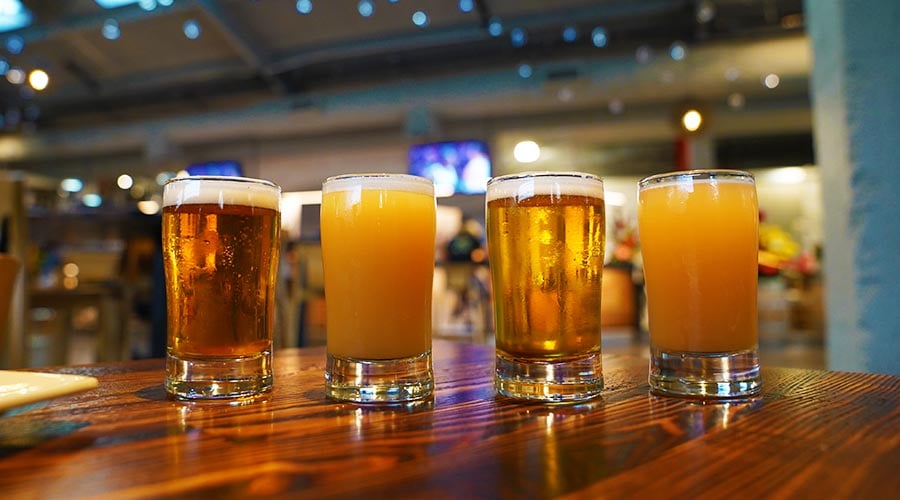 While attending college in Colorado and Oregon, two international hotbeds of great craft beer, I was spoiled with an embarrassment of riches. I dreamed that Hawaii would join the craft beer movement and that we would have a great number of local breweries to choose from. Well, that day is here with Kakaako the defacto hub for local craft beer. Walk into most bars and you'll see a lineup of local brews, including the big boys like Maui and Kona Brewing on the taps alongside smaller producers like Beer Lab and Honolulu Beerworks.
Now enter Hana Koa Brewing which opened Wednesday in a former Coca Cola syrup plant – it's an ambitious and progressive business in an area not short for great beer.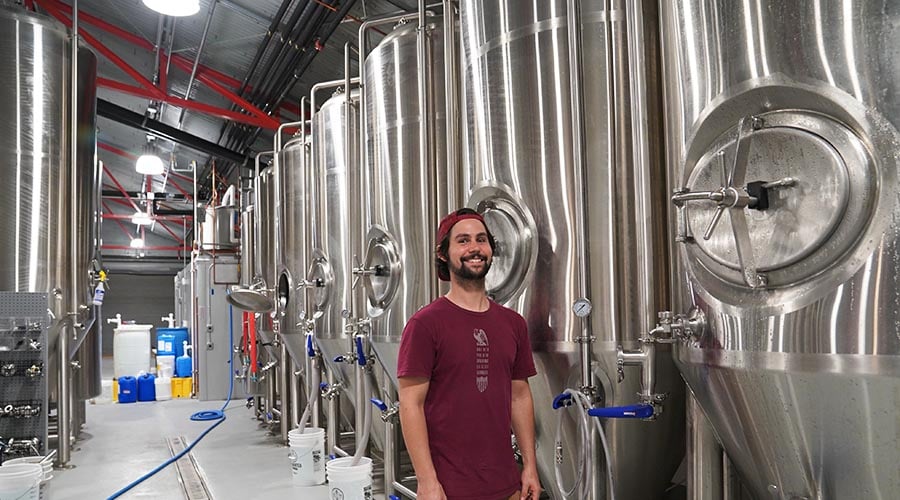 Brewer and co-owner, Josh Kopp
Owners Josh and Chrissie Kopp are all in with what started off as a joke with Josh's father, who purchased the building the brewery occupies. They converted the former Coca Cola syrup factory into a place that makes an even more fun carbonated beverage for adults, with state of the art equipment that is light years ahead of even the E. J. Phair Brewing Company where Kopp was the head brewer. Chrissie worked in sales for Ballast Point, one of the biggest names in beer on the west coast. This was a marriage made in heaven, and to celebrate, they brewed a special batch of beer for their guests and celebrated in the brewery. That is #goals right there.
See also: Beermap: Where to drink craft beer in Honolulu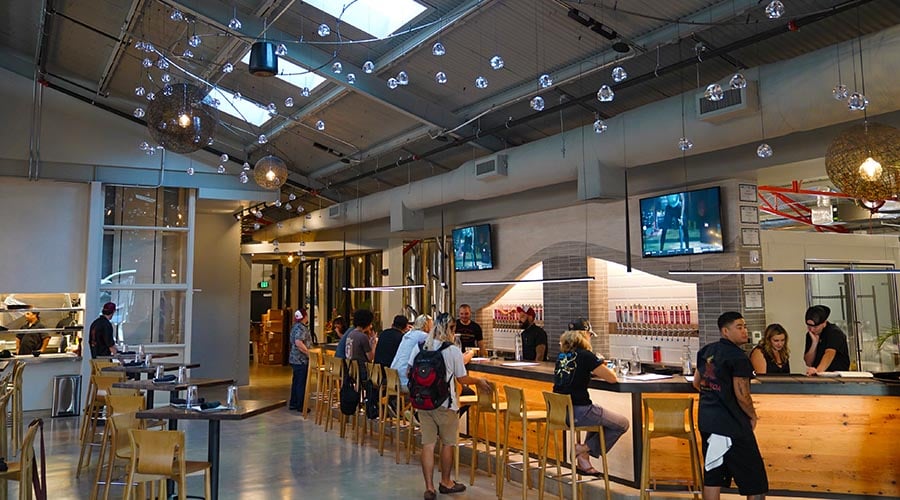 The space is wide open with plenty of seating on the ground level. There's even a second seating space and bar upstairs that seats 40 to 50 more people making it perfect for parties. The industrial vibe is similar to brewpubs you might find in the Pacific Northwest or the San Francisco Bay Area. The back wall lists the beers available as well as what's coming up soon – plenty of reasons to come back. I'm most excited to come back to try their next hazy IPA, which is a blend of the West Coast hops and the backbone of a New England Hazy IPA.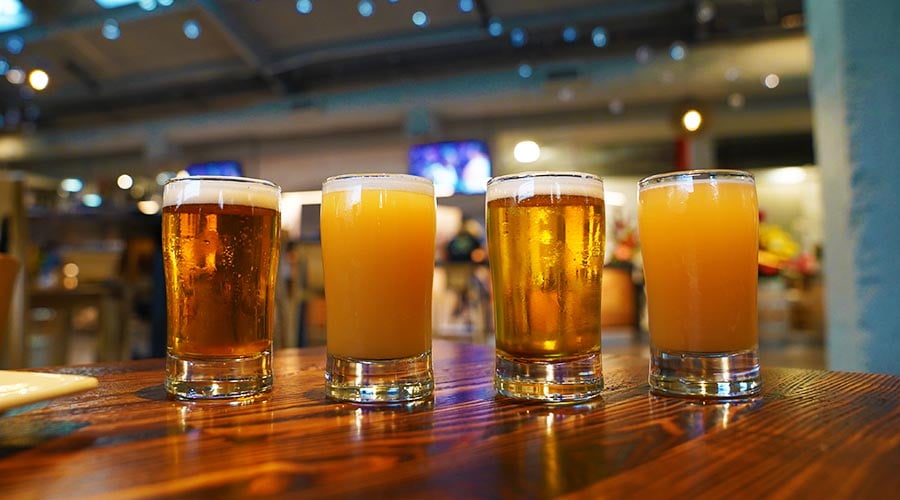 First-time visitors will want to get a flight, which would be four beers of your choice from the available offerings. Prices range from $2 for 5-oz tasters to 10-oz snifters for $4 to $10, with pints ranging from $6.50 to $8.50.
We went with the Kettle Run Series – Guava Sour, The Roof Top Pale Ale, the Sunny Showers Hazy IPA, and the Beyond the Sea IPA. Those not familiar with sour beers might actually love the guava sour, which is mildly tart and has just enough guava to say hello, without tasting like you're drinking a can of juice. I loved the Roof Top Pale Ale, which really tastes like something you'd want to have at the end of a hot sunny day. We'll get to our favorite pick later.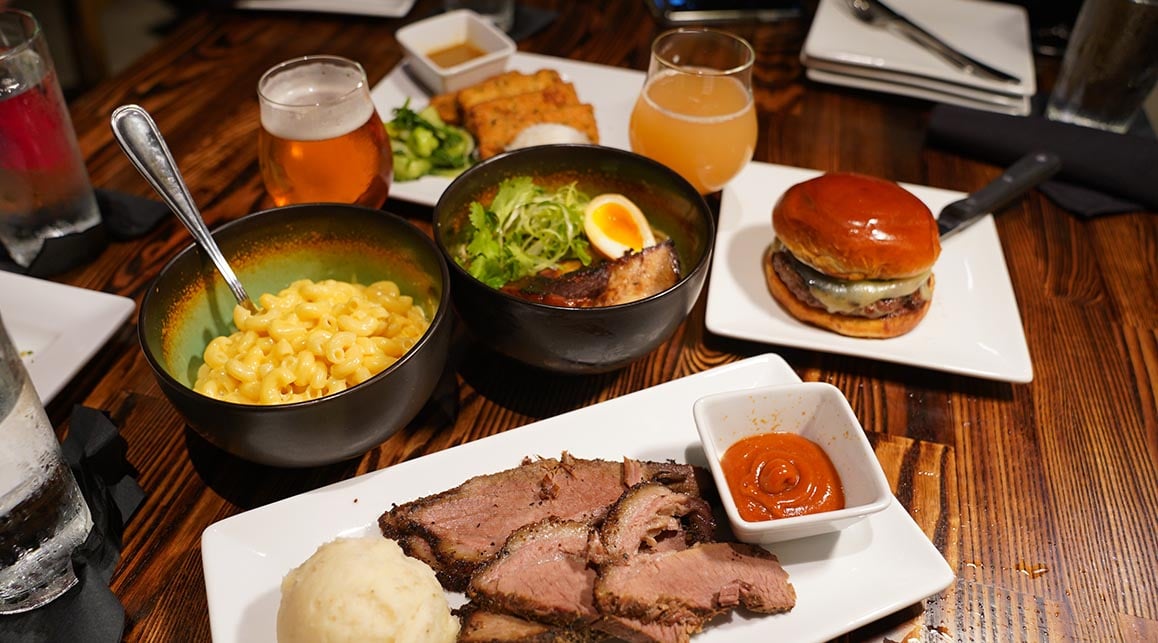 The food menu represents a very broad range of dining choices. There's something for everyone, including panko fried tofu to their take on Texas-style smoked brisket and tonkotsu ramen bowl with everything in-between. The items we had paired well with the beer but the desserts shined especially bright for us.
See also: Best places to buy craft beer on Oahu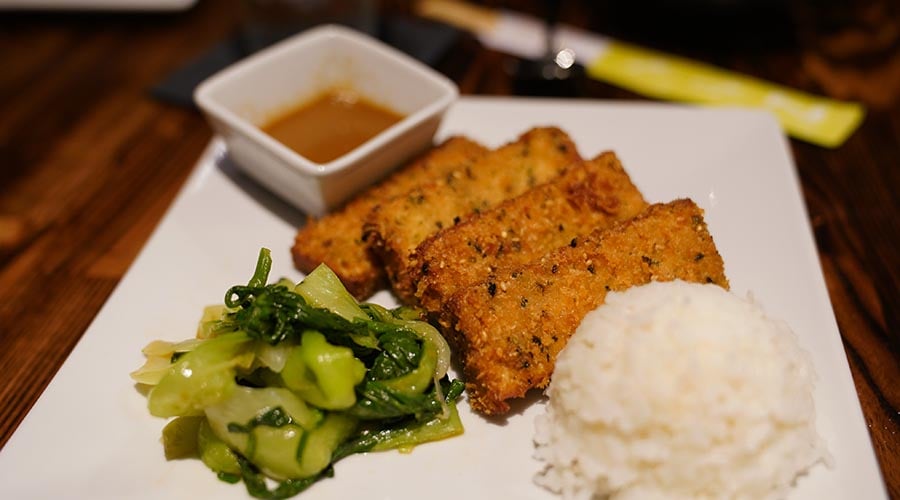 Panko fried tofu ($8.50) with ginger, bok choy, watercress and rice. The tofu was nicely seasoned before frying and the gingery sesame sauce pulls it all together.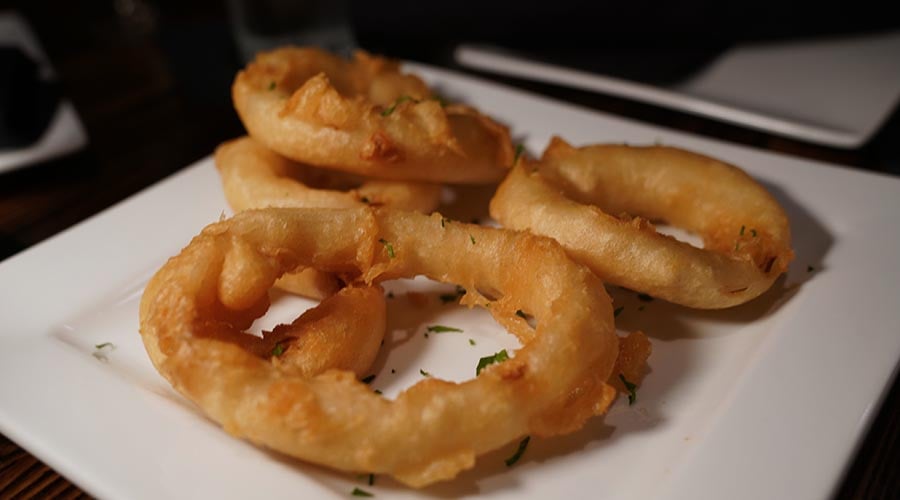 Beer-battered pickled sweet onion. Take the local staple of pickled onions, beer batter them and fry them up. What an amazing spin on the classic bar staple. The portion could be bigger for $8, but these are a cut above for sure.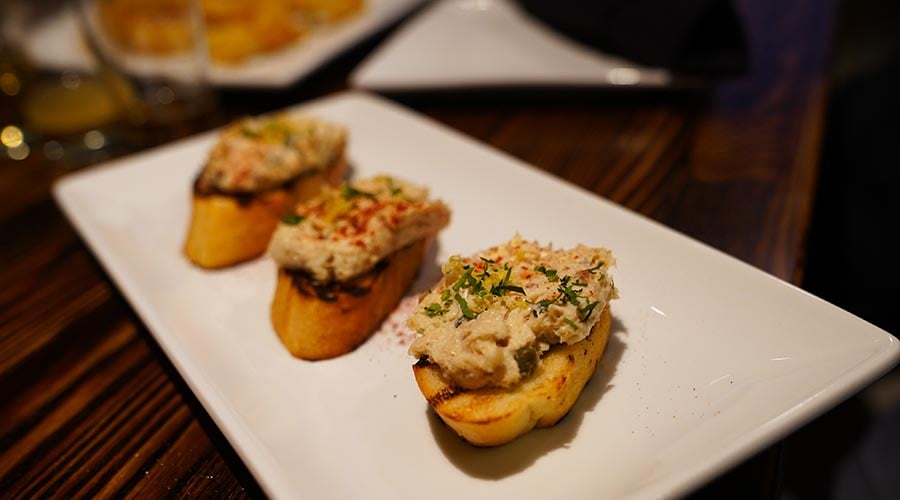 Nakamura's smoked marlin on toast ($11.50) is just smoky enough and has a depth of flavor that kept us wanting more. Thankfully, we were civil and did not have to fight over the three heaping pieces in the order. This was the standout dish of the night.
See also: Cheers, Kailua: Maui Brewing Co. is open in the old Macy's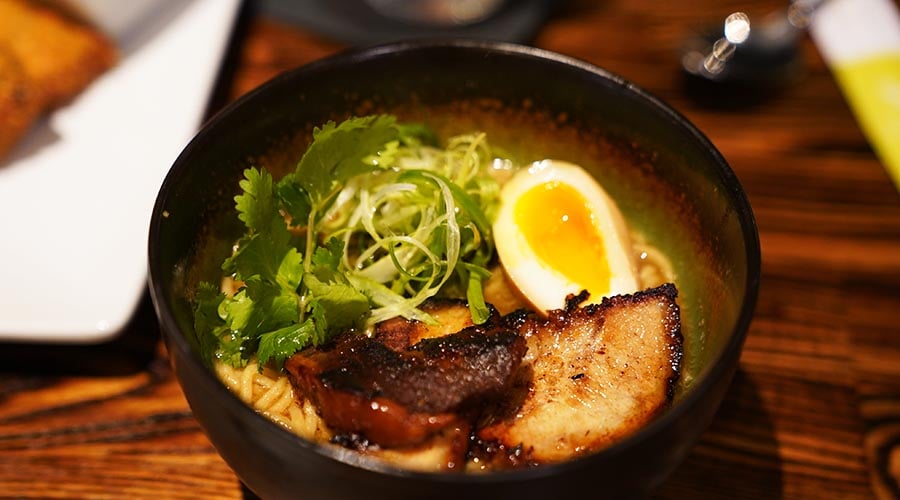 None of us expected to see tonkotsu ramen ($14) on a brewery menu, but it surprisingly delivers on rich pork bone flavor. The chashu is magnificent and we all agreed that we really want a few slices on a bed of rice (hint, hint). The soft boiled egg is as good as you'll get in any great ramen shop.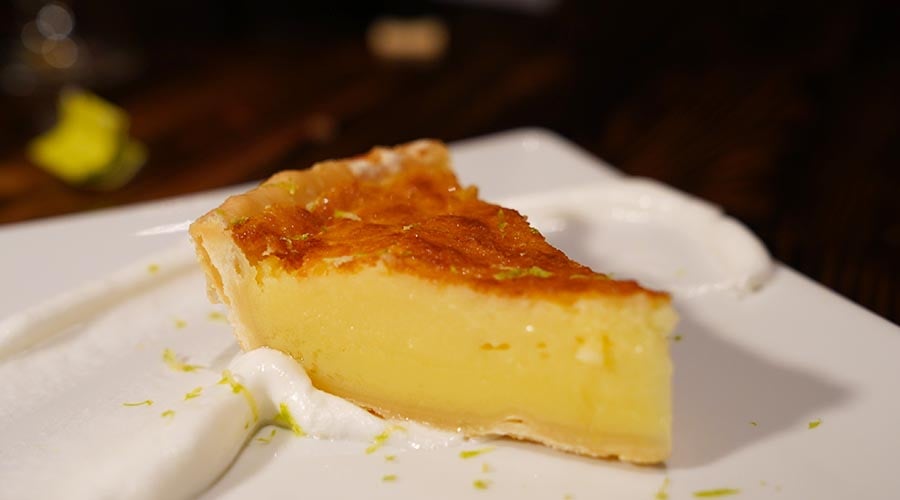 To finish off the night, we turn to the homemade buttermilk pie ($8.50 or $10 ala mode) and a beer float with the Espresso Your Inner Bean stout ($10 beer + $1.50). If you've never had a beer float, this one will delight you in ways you never thought possible.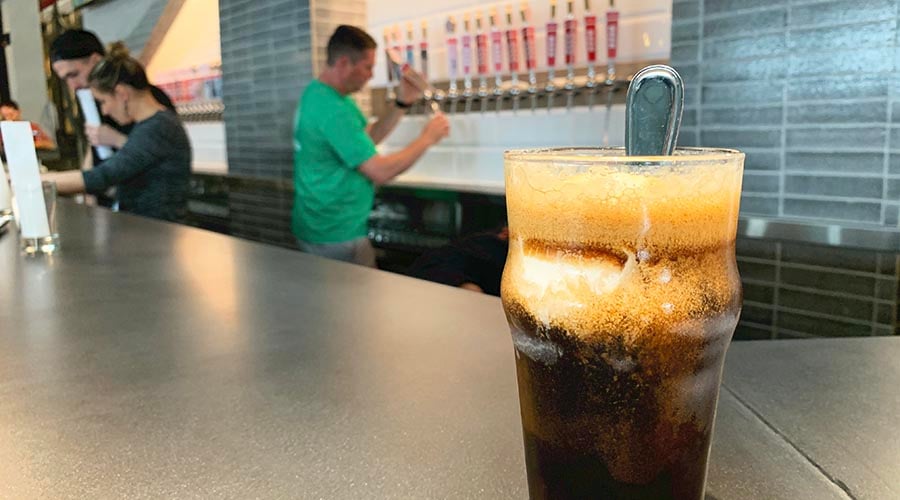 Pro tip: Let the ice cream melt before mixing with the beer and it will taste like a dreamy iced mocha Irish coffee. The buttermilk pie was rich and buttery but the stout float was our favorite sweet with that coffee front and a rich, malty finish made creamy with the nitrogen and vanilla ice cream. A nice way to end the night.
See also: Waikiki Brewing opens second brewpub in Kakaako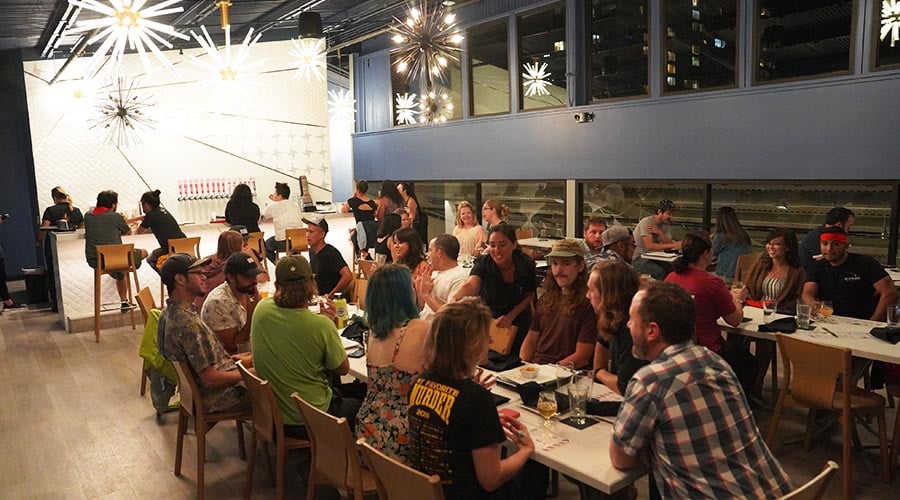 With plenty of parking on the Diamond Head side of the building, a trip to Kakaako for good food and great craft brews isn't out of reach. They take reservations on Open Table, so you can secure your next pau hana gathering online. We were told that theyʻll start crowler and growler fills soon – perfect for your upcoming holiday parties this season.
962 Kawaihao St., (808) 591-BEER (2337), hanakoabrewing.com