New: GRYLT, Manoa Marketplace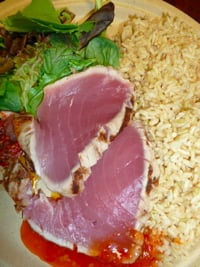 The new GRYLT eatery in Manoa Marketplace looks like a high-end fast-food chain, nice logo, striking dark red and chartreuse green color scheme.
It's not exactly a chain, more like a Hawaii attempt to launch a chain. In the past couple weeks, GRYLT has launched two locations, a flagship store in Manoa and a second in the Waikiki Shopping Center food court. It has eyes on another Waikiki location and yet another in San Diego (which in a lot of ways is Honolulu East, except the Mexican food is 10 times better).
GRYLT's idea is order-at-the-counter food that's healthy—an applaudable concept.
GRYLT's plate lunches are billed as "create your own masterpiece." Well, sort of. You assemble starch (brown rice, white rice, or, for those who loathe carbs, pureed cauliflower), plus protein and vegetables.
We created two of these, one steak, one ahi. The results reminded Biting Commentary of his early attempts to cook healthy—boring. Tough flank steak, ill seasoned. Dull grilled veggies.
Three things worth eating. The pureed cauliflower with olive oil and sea salt wasn't bad (wasn't great either, I always add Parmesan).
The seared ahi is a marvel, worth eating any day.
But most of the flavor comes from the optional sauces. The staff was high on the sundried tomato olive oil (Sauce of the Month!). But the zippiest was the sweet chili sauce, reminiscent of restaurants across the state.
However!!! GRYLT also sells sandwiches, and we felt compelled to order the kalbi sandwich. Score. Flavorful boneless spareribs, shredded like pulled pork, with kim chee and an aioli on a soft torpedo roll. Great flavors, soft texture, enjoyable messy eating.
We will be back for sandwiches. Can't wait to see what they do with the sandwich made with grilled ahi, which was a quality slice of fish, well cooked.
GRYLT, open daily, Manoa Marketplace, 2764 Woodlawn Dr. Also Waikiki Shopping Plaza, 2250 Kalakaua Ave, grylt.com