New Foodland Farms Ala Moana: What you'll see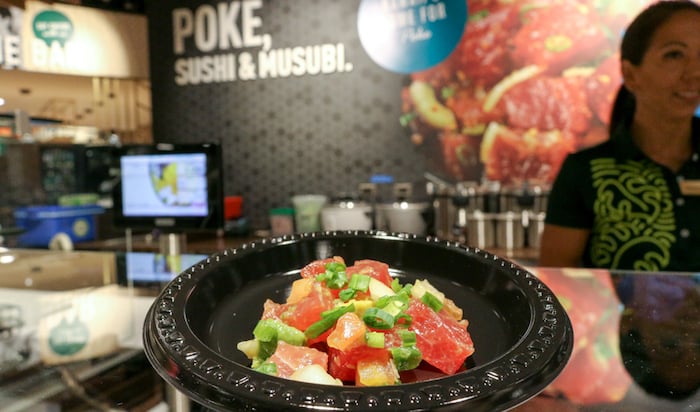 The old Foodland at Ala Moana Center was tucked away in the first floor darkness that was the Kona Street side of the mall, a few doors down from Sears. It was small and cramped, and the only thing I went in for were Beard Papa's cream puffs. I didn't miss it much when it closed.
Well just like the phoenix rising from the ashes, this local grocer is back! As one of the 'Ewa wing installs, the new Foodland Farms is bigger, better and shinier. At over 47,000 square feet, the new spot just around the corner under Nordstrom is three times the size of the previous incarnation.
We went in for a sneak peek Monday. Here's a glimpse of what you'll find when the store grand-opens on Wednesday, Aug. 31.
Central poke counter
Let's get the obvious out of the way. You can't have Foodland without poke, right? The central poke counter will offer over 20 varieties of poke daily that you can buy by the pound, in a poke bowl or even in a poke roll … including truffle ahi poke!
Donut station
One of my favorite new additions is a donut station in the bakery. Yes, freshly fried cake donuts you can watch brown to perfection and get dusted in an assortment of flavored sugars. You'll be so enamored with them by the time they're served warm that you just won't want to leave. Watch the video and you'll see what I mean.
Shave ice counter, juice bar, wood-fire pizza ++
In-house smoked meats and house-made Spanish chorizo, Sugarfina confections, Bubbie's ice cream, rotisserie chicken, fried chicken with spice shakers like sriracha, new sandwich recipes like Chicken Katsu on a furikake Kaiser roll, and more are all on the list of new things you'll find.
This shave ice station is going to be really busy with recent our hot weather. They'll have over 20 flavored syrups to choose from including the traditional local flavors (guava, pineapple, lilikoi) as well as lots of modern natural flavors like li hing mui and Melona.
Foodland Farms is jumping on the juice train and setting up a juice bar where you can get made-daily juices with local ingredients like papaya, mango and pineapple. They'll also have smoothies, grab-and-go drinks and kombucha on tap.
Pizzas are made with wood-fired dough from Italy.
Pizza, pizza, pizza! All the pizzas are finished up in their oven and served melty-cheese hot.
Perfectly browned Kona coffee sugar donuts from the donut station in the bakery. They will also have cinnamon sugar and lilikoi sugar donuts.
Garlic butter on USDA choice beef with a side of kimchi cole slaw. HI Steaks has a list of sauces to add to your meats, like chimichurri, kimchee aioli and a barbecue lilikoi sauce.
HI Steaks has an in-house smoker and grill using kiawe and guava wood to smoke all their meats—pipikaula, chicken, pork, steak, and even burgers.
The R. Fields Wine and Bar is nestled in next to the alcohol section of the store. Cheese, charcuterie, wine, and craft beers are all available for on-site consumption.
Need to do more shopping elsewhere in the mall or don't want to lug your groceries across the mall to your car parked at Macy's? It's fine, you can leave your groceries at customer service's Will Call and pick it up after you're done shopping or when you swing around with your car.

If you want an even better sneak peak of the store, you can watch our walkthrough video here!
Foodland Farms
Ala Moana Center
Ewa wing under the new Nordstrom and across from the new Shirokiya
1450 Ala Moana Blvd.
Doors open 10 a.m. on Aug. 31