New eats: Sakura Terrace
The first intel comes from an acquaintance I run into at a rum-tasting. I don't really trust it: The only other time I've seen him is at a sake-tasting, and both times he's been very, uh, happy.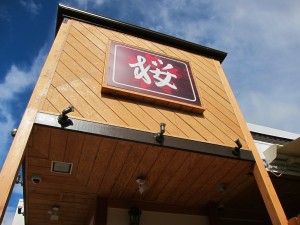 "Did you try the new Japanese place on King Street?" he asks. "Sakura something."
"Is it open? I haven't been able to find out a thing."
"Just opened today!" Rum Taster exults. "It's all rice bowls."
Rum Taster turns out to be right: Sakura Terrace, open since November in the King Street spot formerly occupied by Peppa's Korean BBQ, has an entree lineup that features nothing but 15 rice bowls. Think ahi, hamachi, ikura and other prime sashimi atop sushi rice, with beef, chicken and unagi bowls the only non-raw fish options.
Which means Sakura has to get the rice bowls right — and that non-sashimi eaters will go hungry unless they like beef, chicken or unagi. Rice bowls are the main draw, not the eight seafood-centric apps or the three salads (two featuring seafood). The only other comparison I know in this town is Michinoku over on Keeaumoku, which builds a much larger Japanese menu around a core of 10 premium, sushi-centric rice bowls.
So the questions are quality, price, atmosphere and service. How does Sakura Terrace rate?
Sakura Terrace
Sakura Terrace Japanese Cafe
1240 S. King St.
808-591-1181
www.sakuraterrace.com