New eats: Cocina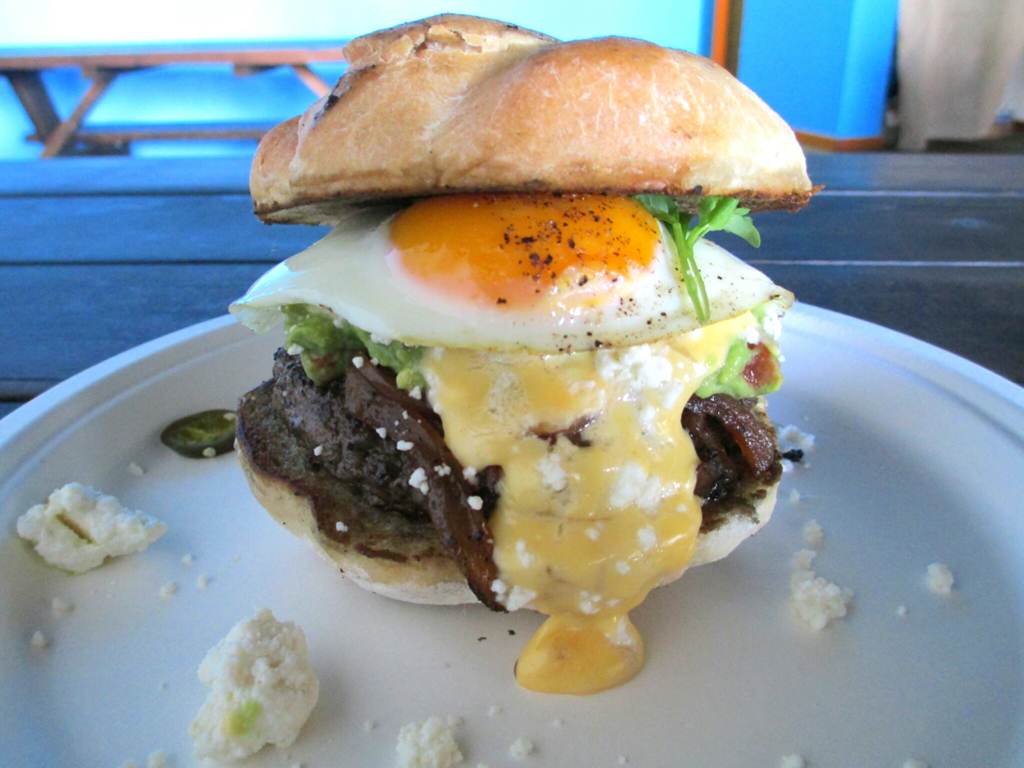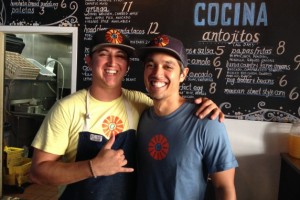 Cocina, which recently opened in Kaka'ako (in the Keawe Street space vacated by The Whole Ox), is the latest venture of chef Quinten Frye and Danny Kaaialii, both from Salt Kitchen & Tasting Bar. Cocina serves up inspired Mexican fare — dishes like headcheese carnitas tacos and Kauai shrimp adobo sope — and will be located at this casual, indoor-outdoor space for the next five months.
After visiting the eatery for both lunch and dinner, Kaaialii and Frye — a James Beard Award semifinalist and StarChefs.com Hawaii Rising Star — told me about their vision for Cocina, which began as a pop-up at the neighboring Taste. Here are their joint responses to my questions.
Why Mexican?
The easy answer is we feel that there is no type of this style of Mexican food being done in Hawaii, interior street food (Oaxacan, Mexico City) with a little more of a heightened approach. (Quinten) felt it was time time to cook the food he loves — food that reminds him of his grandmother.
What is your overall vision for the restaurant?
Cocina will only be (at this location) for five months. This is a time to get people to try this amazing food. There is nothing like it here. Because of the time table, we're just having fun and bringing something different to the food scene. Sure it's not for everyone, but no one can argue the lengths that are taken to bring these unique dishes to people's palates. From there, we'll see what happens.
How did doing the pop-ups at Taste prepare you to open Cocina?
The biggest thing was getting acclimated to the neighborhood. Dialing the menu. Becoming a member of the Kaka'ako family.
Will you be tweaking the menu?
We love keeping things fresh. We just got in 60 pounds of beef cheeks today. A couple changes are already happening, and we've only been open for a week. Also, using fresh local ingredients… Menus have to change from time to time. People should be concerned if the menu doesn't change at restaurants.
Why do you think Cocina fills a niche in Honolulu?
This type of concept is thriving in the best food cities everywhere. We feel that this type of food has a place in Hawaii. It's an authentic experience where everything is made in house from the tortillas and telera bread to salsas and agua fresca using the best local ingredients, whole animal utilization and prepared and executed with world class technique. People in Hawaii expect more when they go out to eat. In the past it was about how big is my plate, where as now, it's where did my ingredients come from.
*****
Here are some of the dishes I've tried for both lunch and dinner. Overall, at this early stage, it's clear the menu has a number of spectacular dishes and a few that still need tinkering. I'm looking forward to seeing how Cocina evolves over the next few months.
Cocina
Cocina
327 Keawe St.
Open lunch Tuesday-Saturday, 11 a.m.-3 p.m.; dinner Wednesday-Saturday, 6-9 p.m.