New Desserts at Top of Waikiki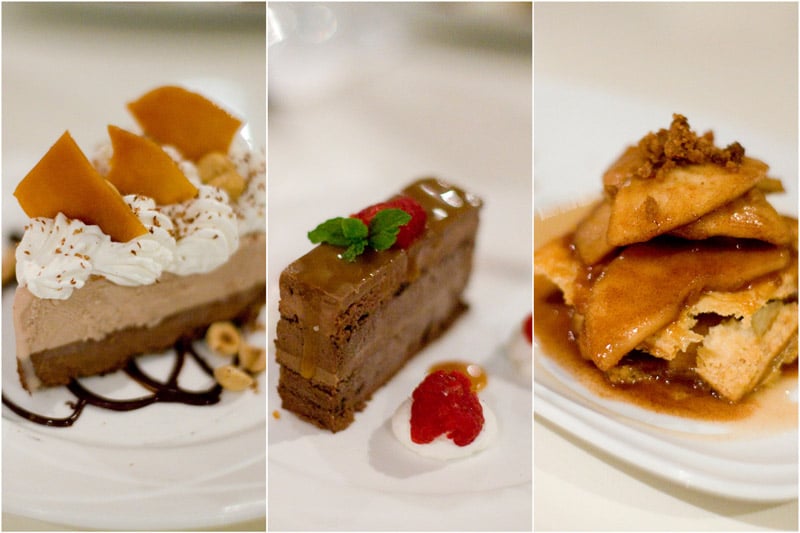 Chocolate cremeux semifreddo: a mouthful of words that translates into a mouthful of awesome ice-cream cake. Smooth with milk chocolate, crunchy with dark chocolate chunks. It's one of the new desserts at the Top of Waikiki, where pastry chef Heather Bryan, formerly of Vintage Cave and Nobu, recently joined the team. And she's really turned the previously lackluster dessert menu around (get it? Around?).
Also new is a hazelnut gelato pie that tastes like a fancy frozen Reese's peanut butter cup. Boy, is it fancy: It's got hazelnut gelato, chocolate mousse, Frangelico whipped cream, a chocolate-chip-cookie crust and bacon brittle. A slight touch of salt keeps it from cloying sweetness. (Translation: you can't stop eating it.)
Bryan's play of creamy with crumbles (and that chocolate cremeux) is familiar to anyone who's had a lot of desserts at Nobu Waikiki (yup, that'd be me). At the Top of Waikiki, her creations are presented in simpler packages—slices and scoops instead of quenelles and curlicues—with less-intimidating flavors. No beets and black pepper desserts in this kitchen, just sweet classics like an apple pie, only here, the apple and crust are cooked separately to preserve each of their crispness. It's much like the Top of Waikiki, something old with a touch of the new.
Desserts $9
2270 Kalakaua Ave.,923-3877, topofwaikiki.com