New: Brunch at Prima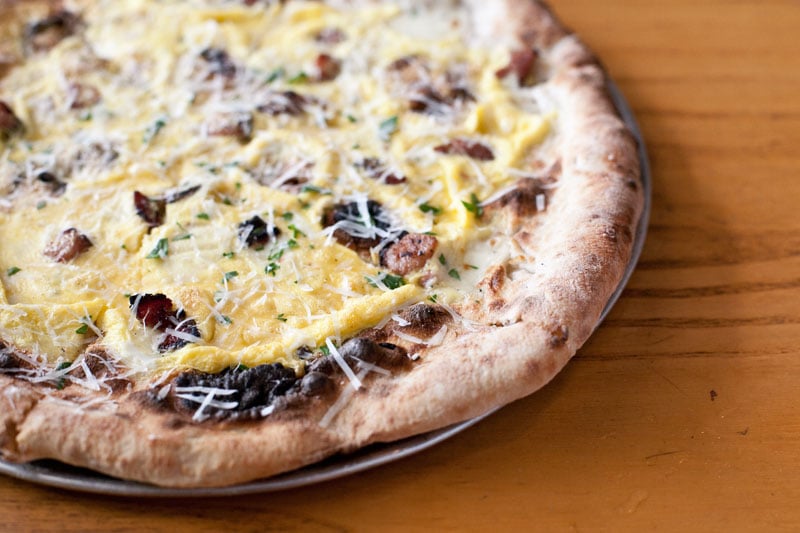 It's as if the new eateries in Kailua want to get in on the brunch action: first Cactus Bistro rolled out its Latin-inspired breakfast plates, and now Prima is joining the fray with a morning menu that includes breakfast pizza. Sure, you could have cold leftover pizza for breakfast, or you could have a hot one straight from Prima's kiawe-fired oven, topped with bacon and softly scrambled eggs ($18).

Oven-roasted asparagus (left) and French toast
On the Not Pizza side of the menu, there are the usual pancakes, waffles and French toast, except they're not really the usual. The French toast ($12), made with Portuguese sweet bread, is drizzled with a berry syrup that almost tastes like li hing—giving edge to a normally one-dimensional dish. For savory dishes, find oven-roasted asparagus ($10), sprinkled with pepperoni, lemon, pumpkin seeds and crowned with a runny egg.
Kevin Lee, the opening chef of Prima who left more than a year ago, consulted on the new dishes, but he's not in the kitchen to cook them. And with Prima's relatively new staff, the execution is not quite as spot-on as we'd hope—the French toast a touch heavy, for example—and when we went, what should have been an hour-long lunch dragged out to two hours.
Still, when you're seeking respite from Kailua's liliko'i/guava chiffon/mac nut pancakes (and the crowds), find an open seat at Prima.
Brunch at Prima, 7:30 a.m. to 2 p.m. daily, 108 Hekili St #107, Kailua, 888-8933, primahawaii.com