New at Nobu: Smoked Scallops and Lychee, Plus the Best Mochi Dessert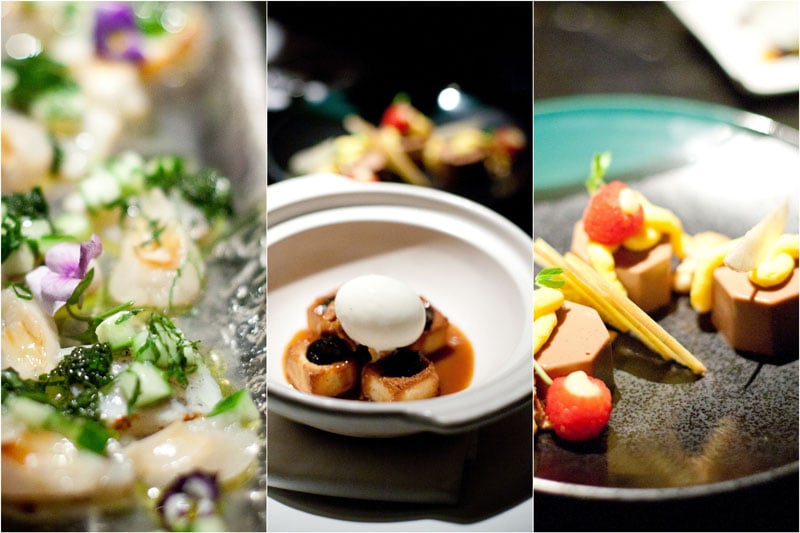 What do you get when a chef from Texas joins Nobu? A scallop sashimi reminiscent of barbecue, even though there isn't a smidge of barbecue sauce.
Matt Raso, previously in Dallas, joined the Nobu Waikīkī team earlier this year and has introduced a few new menu items, including a truffle-crusted king crab, underscoring Nobu's place as one of the most decadent dining experiences in Honolulu. But the new dish I love the most is a recent special, a kiawe-smoked scallop, thinly sliced and paired with lychee, the scallops of the fruit world—translucent, plump and sweet. Yuzu and lemon verbena finish off the plate, and the combination of sweet and sour, plus the subtle smokiness of the scallops, gives the impression of barbecued oysters.
Meanwhile, pastry chef Jenny Sumpter, who joined Nobu last year from Palme d'Or, continues to play with the dessert menu. Her tobanyaki, quite possibly the best mochi dessert you'll ever have, changes with the seasons: now, squares of the warm mochi cake (think caramelized butter mochi) are topped with rum-soaked cherries, spiced caramel, macadamia nut brittle and ice cream. If that dessert hints at the upcoming holiday season, then the chocolate and mango dessert captures the last vestiges of summer, with a silky smooth chocolate custard, mango cream and little raspberry bombs filled with kalamansi curd.
And for you Nobu groupies, Nobu Lanai's open-air restaurant overlooking Hulopo'e Bay has recently expanded to include a teppanyaki station and sushi bar. And in keeping with Larry Ellison's vision of transforming Lanai into a "laboratory of sustainability," Nobu Lanai sources 65 percent of its vegetables from a half-acre upcountry garden.
Nobu Waikīkī, 2233 Helumoa Road, 237-6999, noburestaurants.com/waikiki
Nobu Lanai at the Four Seasons Resort Lanai, noburestaurants.com/lanai