New at Chez Kenzo: veg-friendly menu items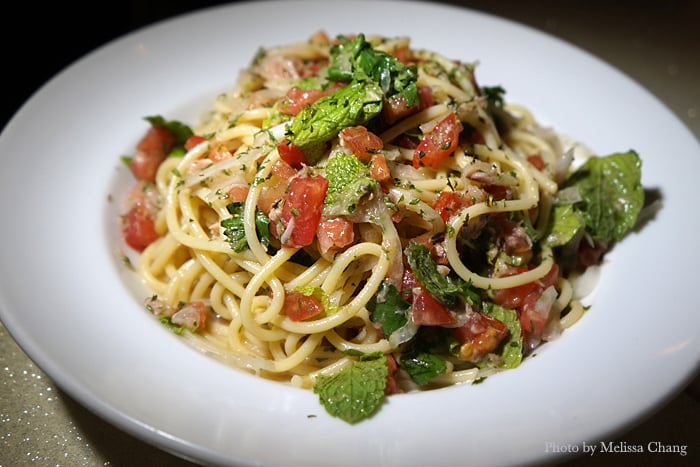 There must be about 100 items on the menu at Chez Kenzo, which makes it hard for people to choose whenever they go. It made me wonder if new items would make things harder for people trying to decide on dinner, but actually, I think this may make things easier — more so if you have meat-free friends.
One of Chez Kenzo's chefs, Tabo Kishimoto, became a vegan and made dishes for himself beyond just salads. He started to experiment with items at lunch (when the restaurant still offered it) and his veg-friendly dishes got good reactions, so they decided to create some permanent new menu items — some vegetarian, some not.
We tried some of them at the restaurant last week, and our mixed group was surprised at the items we ended up liking … a lot. Here's a look:
At first we were like, "Whaaat? How can this be vegan if there's shrimp in it?" But look again: That shrimp is made of a yam noodle similar to konnyaku, pressed and colored to look like shrimp. It's a little rubbery to the touch, but isn't bad once you start eating it, and does have shrimpy flavor. It's served with carrots, cucumbers, and sweet onions in a faux mayonnaise, along with avocado. Not bad!
One of our biggest surprise favorites was the cold Asian veggie pasta, which I now wish they would serve beyond happy hour. We couldn't get enough of this! It's cold pasta tossed with tomatoes, mint, onions, and other herbs. Pam Davis said it tasted kind of like an inside out summer roll. It's light, refreshing, full of flavor, and pretty satisfying. I'd totally have this one again.
I'm not super sure if this is vegan or just vegetarian, but it's definitely meat-free. Tabo took the sauce from their garlic ahi, seared tofu slices, and poured that sauce over. It's very savory and hearty — probably a good dish to share since it may fill you up. I think this was one of Pam's favorites.
If you're into bitter melon, Chez Kenzo is one of the few places in town that serves it. It's scrambled with tofu, which helps to give it a little more heft. Ritsuko Kukonu and I were probably the only two that ate a lot of this one, but seriously — this one was kind of mild!
The tofu poke was surprisingly not one of my favorites. It had a nice taste, but I felt the tofu was too hard. If you're vegetarian, though, this is a nice option.
Not everything new is vegetarian. The chicken yuzu bao buns are new, with a special hoisin sauce. We all especially liked the shiso leaf in each bun, as that gave it additional brightness.
Definitely not meatless: the pork kakuni is very tasty! It's tender, with a nice balance of sweet and salty. I was kind of sorry that there was no rice to help scoop out the dashi, but at the same time, I knew that would be too filling. I'm sure the pork kakuni don is delicious, too, though.
The Kenzo burger is made Japanese-style, with an original demi-glace sauce. At first we were puzzled because there seemed to be a sharp sour taste, but that ended up being the mustard that they mix into their sauce along with the stock and wine. In the end, we actually liked this a lot — I think knowing that the mustard was there helped us to enjoy it more. The egg is a great addition, of course. We also found out later that the multi-grain buns are made special for Kenzo, but they wouldn't reveal which bakery. I think it's good with or without the bun!
Please note that we didn't try everything new that the restaurant has developed. Even in a party of 10, it was hard to finish everything. But, hopefully this gives you an idea of what's being offered. To see the whole menu, including Tabo's vegan dishes, click here.
Chez Kenzo Bar & Grill
1431 S. King St.
808-941-2439