New at Agu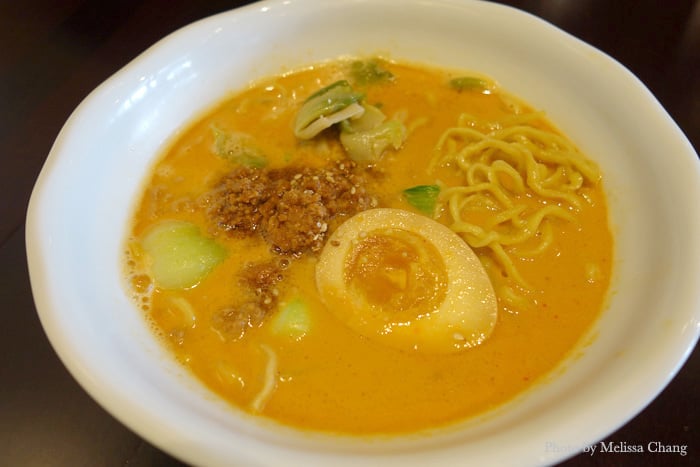 Agu Ramen has opened a second venue, located in Ward Centre next to Kua Aina (facing Auahi Street). While the menu is the same as its original Isenberg location, chef Hisashi "Teddy" Uehara is unveiling some new dishes at its grand opening tonight.
Starting tomorrow, you can get tan tan ramen at Agu's Ward restaurant, and it's a winner. If you are not familiar with tan tan ramen, it's kind of a hybrid of Chinese and Japanese Japanese noodle soup featuring a deep, rich broth flavored with sesame and some chili spice. This one is home made, of course, using niku (meat) miso, chili oil, star anise, cinnamon, ginger, dried tangerine skin, five kinds of sansho peppers, and ground sesame. (There's more to it, but I couldn't keep up with Teddy's long, verbal list of ingredients.) If you've never had it, you'll find the broth having a rich nuttiness reminiscent of peanut butter, but with a lingering spiciness.
Teddy worked with Sun Noodle on making a special noodle consisting of Canadian and Australian flour, which he selected for their unique aromas that would match his broth. Sun Noodle has a special high-tech noodle machine that imitates hand movements, resulting in a product that is flat, but with texture.
I loved the tan tan, but my favorite part of it was the "zansai," or pickled vegetables, that it's topped with. Since they are from Japan, they are only subtly tart and have a nice crunch, unlike the ones you'll find in Chinatown. Teddy said that while you eat through the bowl, you can enjoy different stages of flavor as you mix the meat and vegetables in (or not).
Another thing people at tonight's grand opening media event will enjoy is Okinawan "taco rice," which is like a taco salad over rice. You see this at the Okinawan Festival, but this one is better not just because of the seasonings, but because the rice is a combination of black and white rice. This will not be on the menu yet, but they are considering it.
And finally, Agu is experimenting with shiikwasa sorbet, made by Il Gelato with juice shipped in from Okinawa. It's tart like citrus, but has a slight (very slight) creaminess to the flavor. It's not quite lemon, not quite yuzu. This is not on the new menu, either, but they're evaluating customer reactions.
The new Agu is open daily from 11 a.m.; it stays open until 10 p.m. Sunday through Thursday and until midnight on Friday and Saturday.
Agu Ramen
Ward Centre
1200 Ala Moana Blvd.
808-797-2933