Netflix review: 'Stranger Things'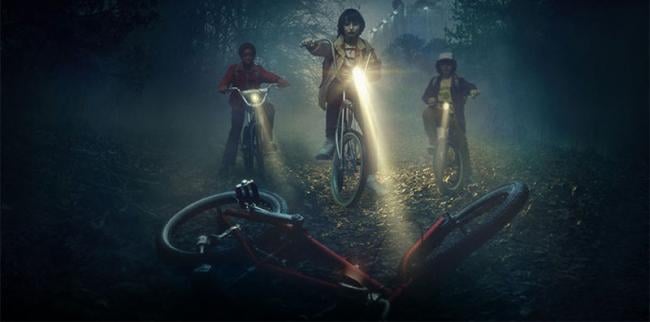 Hawkins, Indiana. 1983. A boy named Will goes missing on his way home from playing Dungeons and Dragons with his friends. At the same time, a young girl mysteriously appears who may have answers to his whereabouts. Meanwhile, a strange experimental lab is on the hunt for a possible monster who's entered this dimension. It is up to Will's three best friends to figure out the connection between all three so that they can find their friend.
Watching "Stranger Things," I felt like a novel from "Three Investigators" teenage mystery series that I loved when I was a kid was wonderfully brought to life. Much like the Three Investigators, the three best friends in "Stranger Things" encounter a supernatural mystery in order to solve a case. Lacking the technology we have today, they use their bicycles and household tools, aided only by their wit and imagination.
The show's 1980s setting is utilized brilliantly. Communicating with walkie talkies instead of texting. Kids playing with other kids instead of with their smart phones. Influence by imagination and not social media. Even the soundtrack features cool '80s-style synthesizer music, and references to classic horror films including "The Evil Dead" and "The Thing" are sprinkled throughout. The '80s isn't just a backdrop; it serves as a vital tool in the storytelling.
But it's the child actors who really shine. Their performances exude naturalism and realism. It's like someone plopped a camera in front of these kids and let them play make-believe. As serious as the situations are, the story allows them to still be kids, exploring their newfound interest in girls as well as betting over comic books.
The story doesn't present anything fresh in the sci-fi genre – many of its aspects are borrowed from other sci-fi classics. But "Stranger Things" isn't meant to be groundbreaking. It's all about the execution. Each episode reveals just enough to keep you engaged while producing fully fleshed-out characters. I also loved the explanation of the monster and where it came from: It all made sense to me. Scary parts are scary. Funny parts are funny. And there's heart. Lots and lots of heart. I was so hooked that I watched all eight episodes in two days.
Netflix has been producing some really solid TV recently ("Orange is the New Black," "Master of None," "Daredevil" and "Jessica Jones") and "Stranger Things" is easily my favorite of the bunch. I'm already counting the days until season two.
Final score: 10/10