Need advice: Fukuoka omiyage?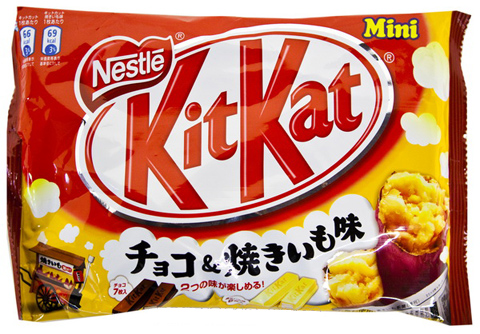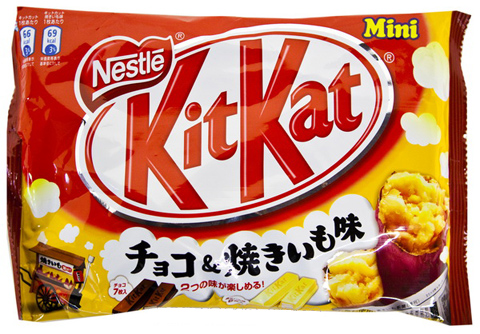 I'm frantically packing to leave for Fukuoka on Monday, my first time to the city (and my first real trip to Japan, not counting layovers, in more than a decade). Of course, I'm leaving lots of room in my suitcase to bring things back. Unlike the mainland, when you visit grocery stores in another country, you find the most amazing omiyage that you won't find in the U.S. … especially in Japan, with their wacky product names and unusual flavor combos!
One of the most popular items is the wide assortment of Kit Kats — no one knows why the Japanese have zeroed in on the chocolate wafer, but the Western world is glad they did. You can get green tea Kit Kat at the airport, but I've had various flavors like strawberry cheesecake, shoyu (limited edition), coffee, orange, special cheese, and almond float (my new favorite). I'm on the hunt for more, like the grilled sweet potato flavor pictured here.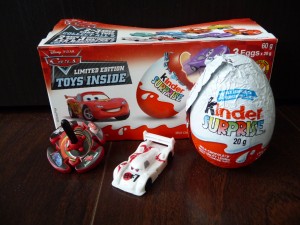 Whenever I go to another country, I also get Kinder Surprise. Remember Tomoe Ame, with the little plastic toys that you assemble? And aren't you bummed out that it doesn't even have stickers anymore? Well, Kinder Surprises are hollow chocolate eggs, with a deluxe toy inside. Everyone else in the world has it — labeled in their country's language — except the United States. My nieces and nephew, all adults, still love it. I think.
People have told me to get things like:
Weird-flavored Pringles
Pocky in assorted flavors
Hi-Chew in assorted (weird) flavors)
Yuzu Cheetos (It's not called Cheetos but they look like it)
Super minty gum
Super minty eyedrops (my eye doctor, @JLNoblezada, has since texted me his disapproval)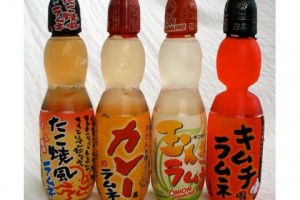 Suze Bynum (@Jadedmuses) has asked me to try kim chee, onion, or grilled tako ramune drink and tell her how it is. If I can swing it, I'll try to bring a bottle back so she can try it herself.
Last but not least, I got some photos from The Impulsive Buy (@TheImpulsiveBuy) blog. Remember Marv? Mari Taketa and I reviewed some weird stuff with him a few months ago. Well, I'm looking for items that we can eat on camera and review for you again. Marv has already reviewed caramel Doritos, Pepsi Shiso, and Hello Kitty water. If you have any suggestions, leave them here and I'll look for them.
I'll be rooming with Cat Toth (@thedailydish) and she's making a list, too. Maybe we'll find a park bench in Fukuoka to do a quick review while we're there, too.
Don't forget to follow me on Twitter or Instagram @Melissa808! I'll be posting snippets from the trip as we go along. I'm not sure who else is going, but we'll be keeping company with local celebs Manoa DNA and Pali Kaaihue for sure. Also follow Hawaiian Airlines @HawaiianAir, as their social media team will be actively live tweeting and Facebooking the trip.