NATTO+DURIAN: Just natto meant to be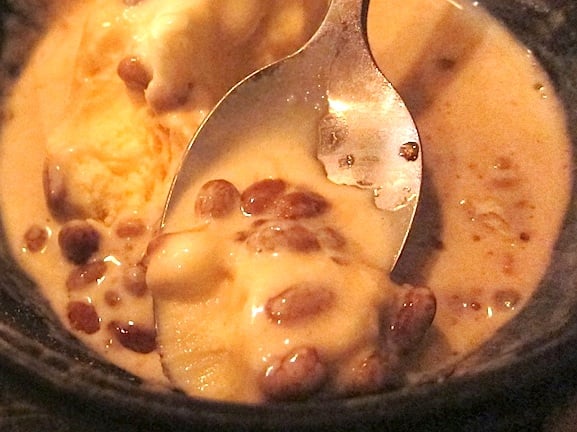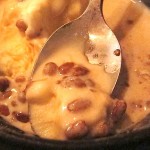 Ayyy, people, it wasn't meant to be.
It was all so promising, the way it came together. It started with my reveries about Izakaya Naru's natto ice cream, the stinky fermentation neutralized by black honey and mixed into a delectable goo of vanilla slime. Then @kyleepuu tweeted about a durian coconut milk sticky rice at Sabai Dee Thai restaurant across the street, and the light bulb went on in my head.
Score! People signed on for my NATTO+DURIAN dinner faster than either can clear a room. Score! Naru said they'd be happy to add a few more natto dishes to the three already on its menu. And score! Sabai Dee said they'd be ready with durian sticky rice for all.
How 21 of us ended up parking our butts at Naru for four hours last Wednesday, waiting so long for eight erratically timed natto dishes that we ended up picking up the durian dessert as takeout and eating it between natto courses at Naru, can be chalked up to several reasons, none of which I'll get into here. I feel worst for @rsuenaga, a non-natto eater who got his Orion beer but not his udon, and for @codyonizuka, another natto intolerant who never got his ahi poke or anything at all. (Cody was the one who picked up the durian sticky rice from Sabai Dee, and saved rsuenaga's night by having the foresight to order pad thai as well.)
I'm grateful to Naru, who went out of their way to create five new natto dishes for us and did their best to keep natto eaters, non-natto eaters and the rest of their patrons happy. I felt bad when they bowed me out the door at the end of the night with profuse apologies.
And I want all 20 of you who showed up for NATTO+DURIAN to know how awesome you are. Half of you I'd either never met or barely met before. As the organizer, I was stressed, but every time I looked around you were laughing, mingling, taking pics, sometimes even eating. You'd be fun to hang out with any time, anywhere.
Come to think of it, you'd need a sense of humor to identify yourself as a lover of stinky slime. More so to come prepared to follow up with the malodorous fruit that felled Zimmern. Every one of us knows that look, that wrinkle-nosed sneer of rejection. It's happened to you, hasn't it? The natto comes out and people move away? This night we found there is power in our numbers, people: Together we do not stink!
But I digress. The actual food: Naru rocked many of the natto dishes, including a tofu-skin pocket stuffed with natto and kimchee, natto with lotus root, matsuri natto mixed with cubed ahi and a riot of other yums and spooned onto nori, natto-gyoza pizza and of course the natto ice cream.
Would I go back to Naru? Of course — with a much smaller group. And I'll order every natto dish they'll let me.
NATTO+DURIAN: The food