Natto again! Midsummer feast coming July 12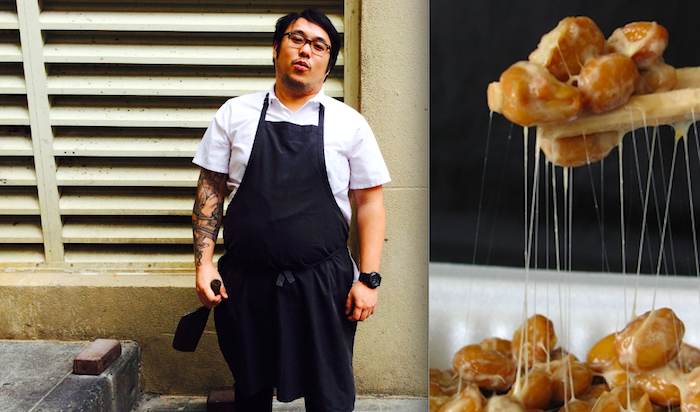 UPDATE: The July 12 natto feast is now sold out.
One thing I've come to learn about Hawaii's Facebook natto lovers group: They really love natto. This is a group who posts pictures of all the natto they eat: natto poke, natto rice, natto omelets, natto grilled cheese sandwiches. The more natto they eat, the more they want. And they eat natto ALL the time.
So when Andrew Le, the Pig and the Lady's James Beard-nominated chef, came up with a menu for their midsummer Natto Day feast that featured natto foams and garnishes, I had to ask him to punch it up.
This group likes it hard core, I texted. And that was it. After that, Le's brain took off.
"Guess I could do a natto pasta thingy," he texted.
Oh yeah.
"Ohhhhh natto cha ca la vong."
Omg. This is a Vietnamese dish of grilled fish with turmeric, dill and fish sauce. I had it in Hanoi forever ago, in a rickety restaurant that served only this.
"Sacrilegious," he texted. "The dipping sauce is funky yeah. Maybe can do something with natto for the funk."
Next thing I knew, this entire menu came through in one text:
BITES
• Natto bo la lot — garlicky beef rolled and grilled in a betel leaf, with natto
• Natto beignet, parmesan, pickled date
FIRST
• Natto and bone marrow, ikura, black truffle, baguette, sake bone luge — after everything goes on the crisped baguette, you get to drink sake out of the giant marrow bone
SECOND
• Natto pho-sta — think pasta, but you know, with slimy fermented beans
THIRD
• Cha ca la vong, natto nuoc cham — because sweet-tart fish sauce isn't funky enough by itself
SWEETS
• Natto gelato, brown butter coconut crumble, warm bourbon maple syrup
Got that? This year's Midsummer Natto Feast is part-Vietnamese, all wacky, completely Le. I've had Pig and the Lady's normal versions of some of these dishes, and I thought those were wild already (porcini beignet with parmesan fish sauce? Warm mezcal sipped out of a cow bone?). And did you see? Natto gelato with bourbon maple syrup (thank you pastry chef Rachel Murai)!
Natto fiends, we're reveling in umami for this one. Tickets are on sale now for next Sunday's feast, and it's open to all natto lovers. That is the only rule: You must love natto, because there won't be any menu substitutions.
MIDSUMMER NATTO FEAST
The Pig & the Lady
83 N. King St.
Sunday, July 12 at 6 p.m.
Tickets: $55 plus tax/tip*, available online
Full no-host bar; $20 corkage fee
Parking: Street parking and municipal lots on Smith Street (behind Pig and the Lady) and Maunakea Street (kitty-corner from the restaurant)
* Please don't forget to tip the servers!