Namesake iPhone app released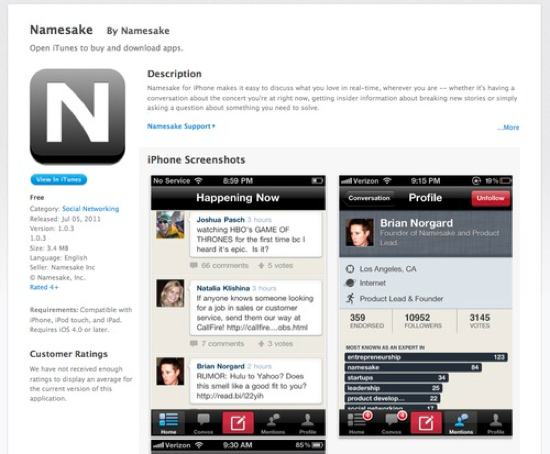 Namesake, the popular "Real-time Conversation" engine, took Hawaii by storm a few months back when @Hawaii made the mistake of inviting me to a social networking service that asks me to talk as much as I want about anything I want.
Namesake, as we covered before, allows you to spark conversations about anything you love or are just curious about. So far, my experiences with the site have been spectacular, with only one minor exception. I really pined for a mobile application that would allow me to keep up with or trigger my fellow thought leaders on Namesake while away from my computer. Many of my best ideas for questions or conversations emerge when the desktop is nowhere in sight.
Yesterday, @BrianNorgard and his team announced the official Namesake Application for the iPhone. I was lucky enough to be on the beta for this product, so I can tell you it's a very solid and well thought out application. Due to high demand, the @Namesake team got out the application as soon as they could and promise to continue delivering features and updates rapidly.
The Namesake App is now available for download form the iTunes App Store.