Naked Cow cheese dinners: le menu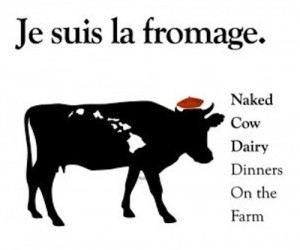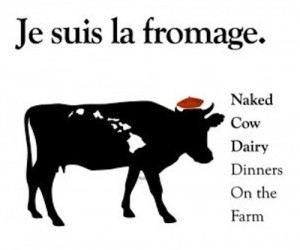 Finally! The first dinners at Naked Cow Dairy featuring Oahu's first locally produced cows' milk cheeses are upon us. It's been a long time in the making — not the dinners but getting to the point where we can eat cheeses made from milk that comes from cows who graze on this island.
Credit for that goes to the women of Naked Cow: Monique van der Stroom, her sister Sabrina St. Martin, and their cheese maker, Gida Snyder. Thanks to them, this Saturday and next we'll sit down to four-course French dinners featuring Naked Cow cheeses, toasting toutes les dames both two-legged and four-legged as the midsummer sun sets over Waianae.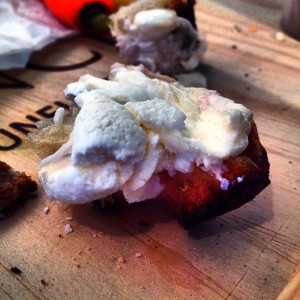 Snyder's menu features the bounty of the Waianae ahupuaa, with rabbit from Kapolei and escargot from Mililani, and herbs and produce from the Naked Cow garden. The event is BYOB, so for wine recs she consulted Ian Bishop of Flavors of Italy and VinEuro. Bishop's suggestion for the overall meal: a Cotes du Rhone to match the French theme. His pairing suggestions for each course are noted in italics below. If you are bringing drinks, Naked Cow will have glasses but not stemware, so you may want to bring your own.
Some final notes: If you've reserved a seat for the 14th or 21st and I haven't sent you the exact address in Waianae where our dairy tour starts at 5, please email me at mari@nonstophonolulu.com or tweet me @NonstopMari and I'll get it to you right away. And if you weren't able to make these inaugural dinners, you'll have more chances: Naked Cow plans to continue the events in August and possibly in October and beyond.
That's it — a bientot!
LE MENU
Aperitif: Gougeres + Lualualei Herb Spread with radishes + cultured butter + salt
Amuse bouche
1st Course: Sweet potato truffade fermiere + Waianae beef seared in truffled ghee with Frankie's green peppercorns + bleu cheese
~ Ribolla or a halbtrocken Silvaner ~
2nd Course: Rabbit & mushrooms in fromage blanc & mustard + braised negi with melted raclette + pickles + arugula herb salad
~ Corbieres Rouge or Pinot Nero ~
Palate cleanser: Buttermilk verveine mint ice
Cheese course: A selection of special cheeses created for tonight
~ Valpolicella, Cotes du Rhone Villages, Chateau Musar white, aged white Rioja ~
Dessert: Torteaux au fromage blanc & Big Cream Little Rind + fruit poached in honey & wine
~ Banyuls or ruby port ~
Bread: Fougasse + multigrain French from Oven & Butter
— Photos courtesy of Aaron Landry and Naked Cow Dairy