Naked Cow bringing back cheese dinners


You read right: Eight months after debuting locally sourced gourmet dinners featuring its homemade cows' milk cheeses in Waianae's Lualualei Valley, Naked Cow Dairy is back with more farm dinners. Even better, starting with next week's series, the dinners will be monthly and feature a pantheon of guest chefs.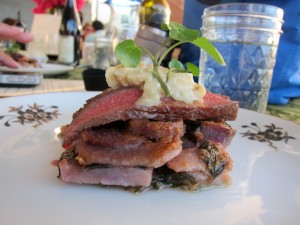 If you were at the first dinners on the farm last July, or if you saw the photos, you'll recall the French-themed midsummer spread featuring local beef, rabbit, veggies, bread — and cheese, glorious cheese, made onsite by Gida Snyder, Naked Cow's cheese maker. Waianae Sunset Tomme. Red White and Bleu. Big Cream Little Rind. And a lot more.
This time, the menu will be inspired by the Greek countryside. The three-course-plus-dessert dinners and two-course-plus-dessert lunch will be cooked by Ave Lambert, formerly of Kaimuki's Town, San Francisco's Quince and Seattle's Lola and Serafina. "Ave is known for bold dishes and taking all kinds of herbs and transferring their flavors into sauces," Snyder says. The thought that they'll get to pillage the herb and vegetable gardens of neighboring Kahumana Organic Farm for the meals makes her happy.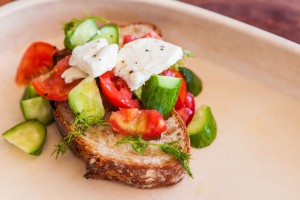 The dinners will skip April and resume in May. Up then: probably Quinten Frye of Salt, and then after that Mark Noguchi of Kakaako's Taste, Sean Congdon of Brasserie Du Vin and Andrew Le of Pig and the Lady, in no particular order.
"Each menu will be different and will play to the strengths of each chef," Snyder says, "so the cheeses I'm making for Ave will be different from the ones I'll be making for Quinten, who has a more Southwest and Mexican style."
Tickets for next week are available online. Saturday night is nearly sold out; more spots are available for Saturday lunch and Friday dinner.
A Mediterranean Feast
Dinner on the Dairy with guest chef Ave Lambert
6:30 p.m. March 22 and 23, 11:30 a.m. March 23
$55 dinner, $40 lunch, both BYOB not including tip
Tickets at eventbrite.com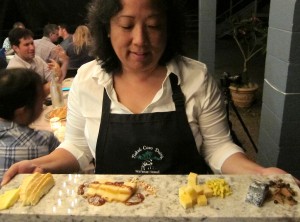 For those bringing wine, Snyder recommends something rustic and "definitely Old World, with a lower alcohol content so it doesn't overwhelm the flavors of the food." And bring a jacket — dinners start shortly after sunset, and the Waianae nights can get chilly. If you want to buy some of the cheese, bring some cash as well.
Finally, you can sign up for advance notice of future dinners at info@nakedcowdairyhawaii.com.
— Gorgeous photos by Dallas Nagata White; the rest by me