My little auto adventure: Camry XSE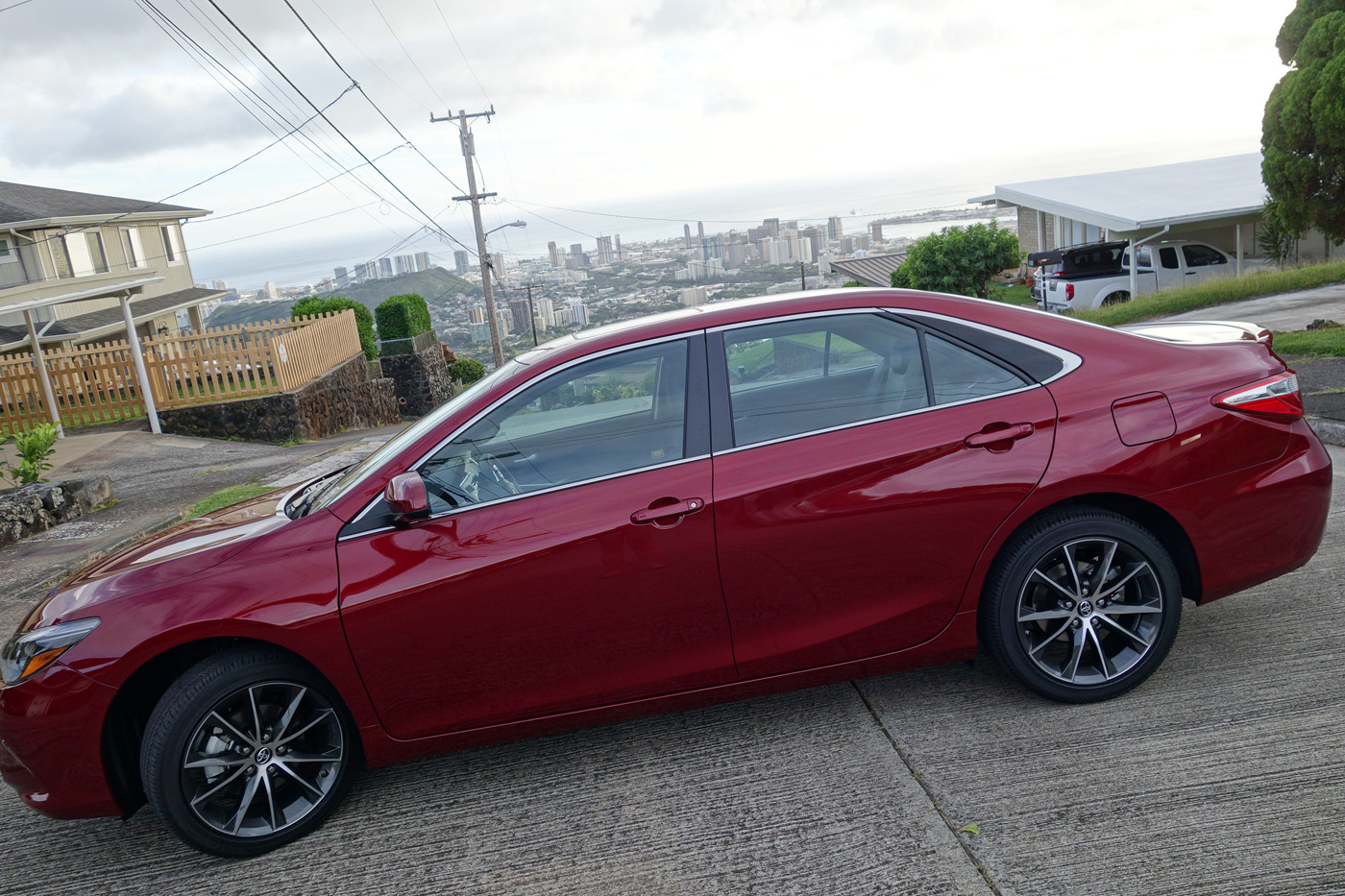 As you know from my test drive experiences so far, I wasn't looking to go back to Toyota because the egg-shaped designs in recent years have made it hard for me to see. My next test drive in this series was going to be Nissan — and I had already made up my mind that I wanted a Versa — but the manager at Tony Auto never got back to me after our initial contact despite numerous attempts to follow up. So, I explained my situation to Servco.
I was a little surprised after my rundown of my wish list, that they said they had something in mind for me but wanted me to try the new Camry first. Camry?! Isn't that for our parents? Why do you want me to drive something that clearly isn't for me or my lifestyle?
I humored them and went to see the new Camry XSE, which is totally redesigned and very sporty. Here's a look at the Servco team with the car (check out the wheels).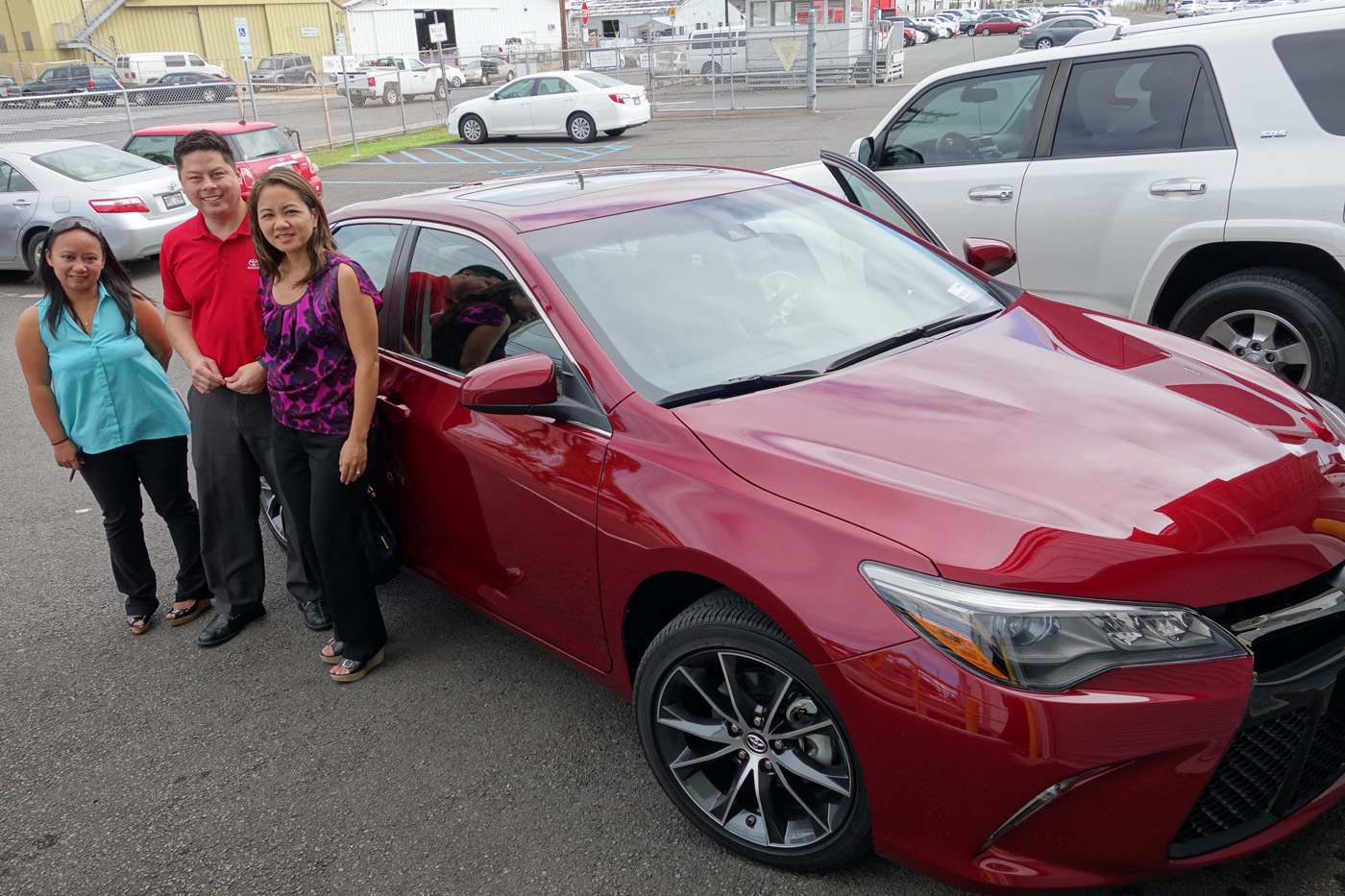 Wow. Okay. I got a lesson in all the features (some of which I can't remember), then got to drive off.
I took it on some of my typical tests: One was to get a feel for different kinds of Honolulu driving, going from freeway to stop-and-go traffic. I got not just a feeling on how the car handles, but the overall comfort in Hawaii's holiday traffic. This included taking Lena Strong-Morris to work in Waikiki. Usually she will take in the comfort as a passenger and give high marks. This time, she was yelling at me to get the car! No matter what kind of road, even the uneven gravelly asphalt behind Ward Theaters, you get a very smooth ride. It's like flying a little plane. And the visibility is amazing.
I took Sean Morris and Mark Fukeda, both Lexus owners, for a quick spin in it so they could feel it and see how the features worked. They said the Camry was better designed than their Lexus!
Another typical test was to go to the top of Alewa Heights, which it did with no problem or need for a running start.
Aside from the fact that the car looks great inside and out, it feels super luxurious. I'm not gonna lie, this was the sweetest ride I've had to date, and although I'm not into my cars or driving, I was into this one. The dashboard has a number of functions, including radio, HD radio, rear view camera (for when you're backing up), Bluetooth calls, and the ability to read your texts to you as they come in so you don't get distracted. (They don't allow you to text back, of course.) There is also a GPS that even tells you where the speed limit signs are on the map, and as you pass them the signs blink amber if you're going too fast.
The side mirrors have a cool feature that I know everyone out there needs: a blind spot alert. If you are driving and are changing lanes, a spot on the mirrors will blink amber if there's a car on the side that you may not have seen. There's also a sensor that will make your car chime if you are crossing lanes without putting on the blinker first — this is for times when you might start dozing off at the wheel, or maybe are careless.
We did test a feature that enables you to set the cruise control speed, and the car goes automatically … but brakes for you if you are approaching another car in front. It was a cool thing, but not something I can see myself using.
The attention to detail was amazing. The trunk has a button that lets you put the back seats down, and there's a hole there so you can stuff longer things in (although the trunk, as you can see, is pretty spacious). The cup holders are well planned and there are many places to hide your stuff — something I need. Everything has black with red trim for a sportier look.
At the end of my weekend, I was hooked. I've never been in love with a car like this, and I really was about to figure out what I needed to give up to get it. At $34,000 with gas mileage of about 25/34, it wasn't going to be a cheap date. As I turned it back in to Servco, I rubbed the hood and whispered, "If I win money in Vegas next week, I'm coming back for you."
Up next: what I bought!