MY HONOLULU: Before Tinder There Were Bars and Clubs to Meet Up, Drink Up and Hook Up
Ocean's. Liquid's. Shipley's. If you know, you know. If you don't, you probably weren't gettin' jiggy with it.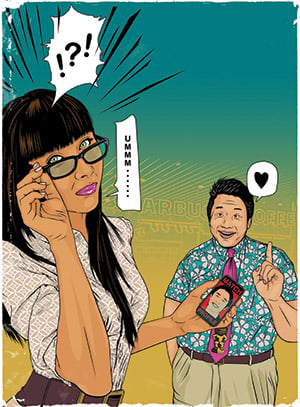 At 4:30 p.m. on Fridays in the office my (much younger) co-workers and I have dance parties. It's become a ritual. Someone picks a booty-shaking song, we dance and welcome the weekend. My picks are not always appreciated: O.P.P. was met with "who dis?" looks. And, when I played "Hypnotize" by Biggie, someone recalled that they heard this before—in middle school. WTF?!
Then, it hit me: My taste in music is retro.
The more I thought about it, I realized none of the clubs and bars I spent a lot of weekends at are around anymore. Ocean's, Magoo's, Compadre's. They all died, along with my dreams of reliving my college days—the best years of my life, before being a mom, of course. And yet, even though I can't remember what I ate last Friday, I can recall taking five Blue Lamborghini shots at Liquid's, throwing up those shots, then making out with a really hot bartender for two hours. He did make a good cocktail.
Admittedly, I probably spent more time at the clubs than in classrooms. Sorry, Mom and Dad, but when you thought I was cramming for exams at my friend Thea's house, we were probably studying the male anatomy at Ocean's. And on Paddler's Night, when canoe paddlers got in for free, this Restaurant Row hot spot was packed. Why? There are two things local girls love more than Fighting Eel: paddlers and firefighters.
However, my mom can't get too mad. One year, she rallied with my crew at Magoo's because it was my birthday. She probably noticed the sticky tables and even stickier floors, but that night, we grinded on pizza, took dollar shots (well, she had wine) and partied like it was 1999—which it probably was!
Other clubs that filled our nights, and shot glasses, were: Pipeline, The W and Shipley's. Pipeline, to me, was more of a place to hang with the braddahs, skank to Jawaiian jams and throw back some green bottles; The W and Shipley's catered to a mix of yuppies, surfers and townies.
But we all know the Crown Royal jewel of the clubs was Rumours. How many of us had our first club experience there? I was 17, used a fake ID and slipped in with my friends for Ladies Night. Needless to say, I got in the cage.
Today, I don't know where twentysomethings (like the ones in my office) go to meet with friends and dance the night away. I hear it's all about social media, which ironically means you don't have to be social.
I definitely don't regret my booty-dropping, bar-hopping, boy-flirting nights. And if the only place I can relive those days is in the office, well, others will just have to jump up, jump up and get down!
Illustrations by Erik Ries were originally publish in the October 2012 issue of HONOLULU Magazine.