My first juice cleanse: Nalo Juice Company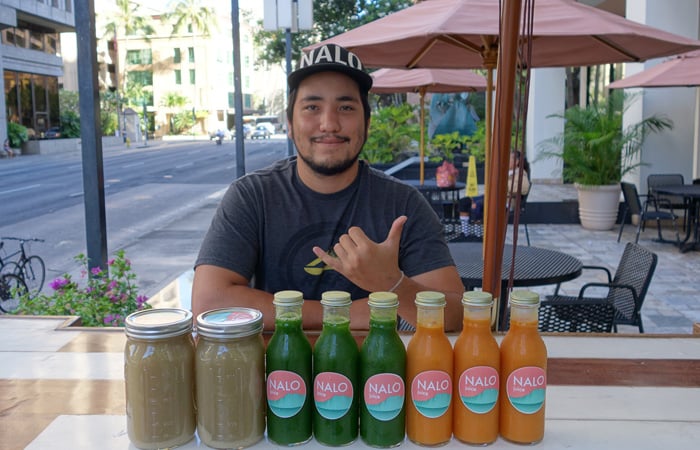 I was about to do a Something New post about Nalo Juice Company, which hit the scene quietly about three months ago, when owner Kale Furuya suggested I try their juice cleanse to fully experience them. (Kale is pronounced Ka-leh, not like the vegetable.) I had always been interested in a juice cleanse, but with this blog it's hard to get three to seven consecutive days when I wouldn't have to be dining out. As luck would have it, I had three days last week that were open, so we scheduled that in.
Kale is no stranger to the world of fresh-pressed juices. He used to own Impressed Juice, and sold his share when his partner wanted to sell the company to Japanese investors. He decided he was done with juicing and would focus more on digital marketing, but his loyal customers kept pressing him (nyuk nyuk) to bring his juice back, and a series of events led him to create this new company.
When he was with Impressed, he kept hearing that he needed to meet chef Craig King, who is known for Glow Juice on Maui and had developed an exclusive cleanse program. One day, Kale ran into his friend's aunty at yoga (see how Hawaii works?), who introduced them. Craig called him during his hiatus to tell him he wanted to make the new juice company happen.
Kale is also master sommelier Chuck Furuya's son, so he had a connection and credibility with Dean Okimoto of Nalo Farms. Things are done different this time: Nalo Juice is the only food safety certified juice company in Hawaii, they do all their juicing at Nalo Farms every day, and they source from the highest quality farms. All the greens come from Dean, of course, but he helps Kale source the rest of the ingredients. The company is different in that it's run by mixed generations: the young people (all under 25) come up with the ideas and work the front lines, while the older financiers maintain stability in the business and ensure its long-term success.
"The most important thing, whether you do a juice cleanse or just buy an occasional bottle, is that we have a legit nutritionist who creates the original blends," Kale said. "A lot of juice companies just guess, based on what tastes good to them. But we come up with ideas, and Craig researches and develops them for us to ensure nutritional quality as well as taste."
Okay, that alone convinced me this was going to be pretty good. Here's how the program went.
Day 1
All Nalo Juice cleanses start on a Monday, so everyone starts on the same day with the same juices. He only takes 12 cleanse clients at a time, though, so be sure to sign up ahead of time.
The day's "meals" go as follows, from right to left: Ko'olau Sunset for breakfast, comprised of beet, watermelon, coconut water and lemongrass; green juice of cucumbers, parsley, kale (the vegetable) and cilantro; and the coconut broth of the day. On this day it was an Italian spice blend. Yes, that's a lot of liquid, but you'll need it.
Breakfast was always nice for me because I enjoy fruit juice. The Ko'olau was nice and mild, and was easy to finish at first. But remember, this was my first day, so I wasn't used to drinking so much liquid at once. The third bottle was a little hard to finish. You can't have coffee, so the first day is the hardest as you feel a little light-headed going through the day. I did work out, though, so it's not like it hinders you from functioning.
Lunch was hard. I don't like vegetable juices unless they're full of fruits or sugar! Kale explained that different enzymes work on different things, so the whole point was to train our system to release the enzymes in the morning for the fruit, then different enzymes at lunch with the vegetables. By the way, our Diane Seo loves the green juice. Kale does, too. Even Ryan Pang of Fitness HI said it was mild. So it depends on your taste buds.
Since I had a hard time finishing lunch, I looked forward to dinner. The broth is a savory blend of coconut water and miso with various other vegetables and spices to create a comforting soup (you have to warm it up) that fills you. At first I felt like it wasn't fulfilling, but it really did make me full and not hungry.
Day 2
By the way, you pick up the juices each day at their stand on Bishop and King. He opens at 8 a.m., so unfortunately you can't have breakfast until then.
The day's juices, from right to left, were: The Lighthouse, with papaya, pineapple and lemon; the green juice, and a "southwest" flavored broth. I'm not gonna lie, I was bummed out to find that lunch does not change! But I did better this time, and was happy to be hydrated but not hungry.
I liked The Lighthouse better than the Ko'olau; it wasn't as sweet and it had more tropical fruit flavor. By this time, I was already used to it, so I was able to take the bottles to a client breakfast meeting and have that while the client ate and it didn't bother me at all. In fact, I could scroll through my instagram feed, which is full of food, and seeing that didn't bother me, either. (Eating with my eyes was actually kind of fulfilling.)
The one thing that killed me was going to a class that night. I knew they were having refreshments, so I was mentally prepared, but I didn't know they would be catering from Natsunoya Tea House! The smell of homestyle Japanese food filled the room and I nearly died. I just sat there drinking lots of water while people around me raved about the fish. I made a little plate to go, and put it in a glass container when I got home for later.
Day 3
The third day's juices, from right to left: Bellows, with mango, watermelon and coconut milk; green juice for lunch, and shiitake-konbu broth. The Bellows is my favorite juice, as it's lightly creamy, like drinking dessert. This was no problem to drink three bottles … heck, I would have drunk a fourth. This is the first juice that sells out at the Blaisdell farmer's market, so go early if you want to try it.
I was able to down the three bottles of green juice at lunch, after my workout. People asked why I didn't add things to it to make it more palatable for me, but I wanted to get the full intended effect of the cleanse. If specific enzymes were working in my body for the green juice, I didn't want to screw it up by adding fruits.
At this point, I was so used to just having juice that I bought a few extra bottles from him at the Blaisdell market and had that for breakfast on the fourth day.
The results
People say that you wake up on the third day and you're alert, and full of clarity. I didn't have that high, but I wasn't tired, either. I woke up feeling lighter and definitely not bloated — I didn't realize how bloated I was before the cleanse, until I saw myself after. I did have a "clean" overall feeling, though. One of the good things, too, is that you are constantly well-hydrated. You know how they say to pee clear once a day to maintain hydration health? You're peeing clear all day.
Also, I didn't do this cleanse to lose weight, I did it to get healthier. So I may have dropped about five pounds at most, but the proof was in measuring my blood pressure on the fourth and fifth day (following the cleanse). The numbers dropped each subsequent day, so I knew I had done some good for my body.
My eating scaled back a little, at least for now. My first solid food was that little plate of food from Natsunoya that I had saved. I just wanted a taste! Interestingly enough, it wasn't as fulfilling to eat it, as it was to smell it. That night, I went to Goodwill Goes Glam, and my dinner was vegetarian curry topped with a fried tofu patty. The rich curry and the fried tofu were kind of hard to eat — it was almost painful going down and I ate less than half. So try to ease back into your solid diet after the cleanse with lighter foods.
The hardest part about the cleanse was probably getting used to it the first day, but I was mentally prepared, so I only had to deal with being light-headed. The craving for solid food was minimal, and all mental — I wasn't ever hungry. Even when the Natsunoya food smell was killing me, I wasn't actually hungry. But overall, it wasn't as hard as you would think.
Would I do it again? Definitely. I would have to plan way ahead to find another three days to do it, but I think it's good to reset our systems once in a while. If you do it, let me know how it goes and post your comments, below!
Nalo Juice Company
On the corner of Bishop and King streets and at the Wednesday Blaisdell market
Juices are $8 each
Cleanse program is $60 per day; if you go for a whole week it is $50 per day.