My favorite detox juices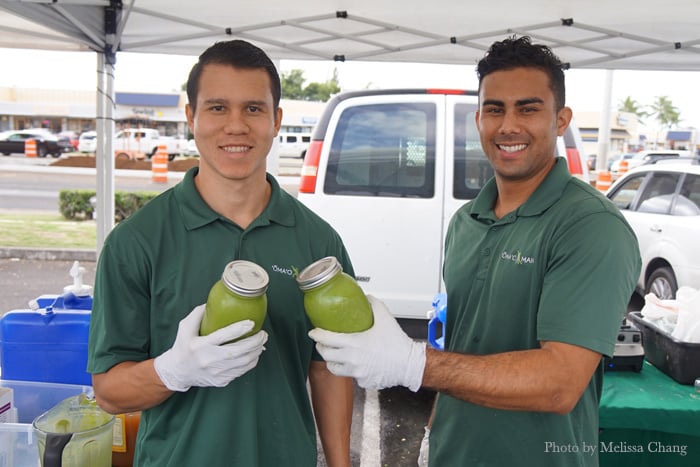 Last week, you saw me on KHON's morning news talking about juice cleanses for the new year — and it went off without a hitch, right? What you didn't see was how deathly sick I was just a week prior.
I caught the bug that's been going around, and you or someone you know likely has or had it: It starts like the flu, with fever, chills, aches and a massive headache. Then the sore throat, congestion, and coughing set in. If it were any other situation, I would just pop some Tylenol and let it run its course. But I had to get better for TV! It was okay for me to go on feeling lousy, but if I didn't shake the sore throat and cough, I wouldn't be able to talk. So I rushed the process.
While I was going around town getting the juice cleanse props, I was also trying the detox juices at those and other places. And through that, I managed to find my favorites. Now, this is very subjective; I didn't want juices that tasted too green and certainly didn't want that celery bite. But I didn't want it to be too sugary sweet, either. So if you have different favorites, let me know!
Detox Flush at Juicd Life
For me, the jury's still out on whether activated charcoal lemonade works or not, but I will say that when you're sick, lemon simply tastes and feels good, so you can eat least drink it for that (this one contains lemon, alkaline water, agave, cucumber, cayenne, and activated charcoal). Juicd has two detox juices: the first is the Liver Aid, which contains apple, parsley, lemon, ginger, and burdock; the other is simply Detox Flush, which is comprised of apple, burdock, turmeric, ginger, lemon, and cayenne. I opted for the Detox Flush, since the Liver Aid tasted too … healthy. I'm sure it's good for you, but I couldn't handle that one. The Detox was dramatically more delicious, and it, um, really flushed me out. So it's definitely worth a try.
Juicd Life
685 Auahi St., #218
808-367-0264
Cleanse at Blue Tree Cafe
I was a little concerned that Blue Tree's Cleanse juice would taste too green because of the celery. But they assured me the other ingredients — lemon, cayenne, ginger, mint and especially the pear — would help mask the bitterness. Sure enough, this was as delicious as they said it would be, and I like the little bits of fruit floating around to give it a little texture. The cayenne and ginger feel super soothing when you're hoarse and hacking away, too.
Blue Tree
1009 Kapiolani Blvd.
808-591-2033
Detoxinator at HiBlend Health Bar & Cafe
You can get the Powerhouse Cleanse juice at HiBlend, which essentially has a lot of the same ingredients, but my favorite is actually the Detoxinator, which is a hearty blend of curly kale, dinosaur kale, cilantro, mint, celery, mango, orange, and ginger … lots of ginger. If you've got the bug, you actually won't feel like eating much, and this provides a little more fibrous heft to tide you over. The blast of ginger feels so good going down, too. This is a blend that owner/chef Joey Sugahara came up with, and he stands behind it as a natural way to keep healthy. In fact, he couldn't believe I had been taking Tylenol during this time, since he hasn't taken any medication for years. I also liked that they make this fresh to order, so the ingredients are still very much alive.
HiBlend Health Bar & Cafe
661 Keeaumoku St., #105A
808-721-7303
Honorable mention: Green smoothie at Omaoman Hawaii
If you follow me on social media, you know that I get a green smoothie from Omaoman Hawaii at the farmer's market at Pearlridge every Saturday. It's become a running joke because the guys who run it — Dane Costa and owner Troy Yasuda — are the images of good health and as yummy to look at as the smoothies themselves. It's not necessarily a detox drink, just one to promote good health, but Yasuda chose five of the nine ingredients because they have some of the highest scores on the Aggregate Nutrient Density Index (ANDI) when he developed the smoothie. Yasuda had gone to college in San Diego and regularly drank a similar smoothie there, and after graduation, found that corporate work wasn't his style and started Omaoman Hawaii instead. Three and a half years later, his business is thriving and you can find his tent at the Pearlridge, Kakaako and Kailua farmer's markets. (Not sure where else since he's so busy, he can't keep up his social media or website.)
Omaoman Hawaii
Pearlridge and Kakaako markets: Saturdays
Kailua market: Sundays
I actually tried a lot of detox juices in this period leading up to the KHON segment, but these were my favorites. What are yours?