My cousin the Mo Bro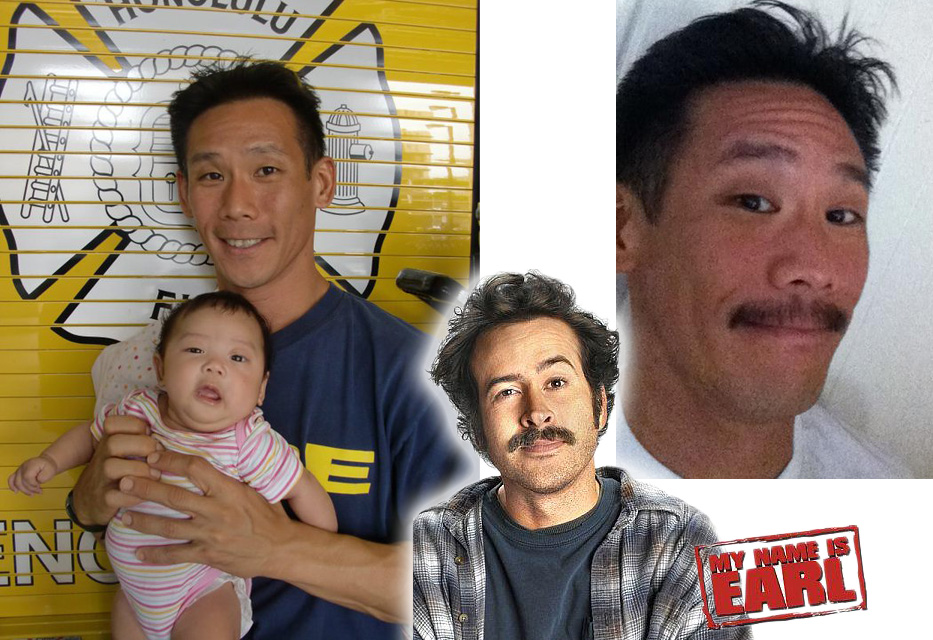 Have you heard about "Movember?" During November each year, Movember is responsible for the sprouting of moustaches on thousands of men's faces, in the United States and around the world. With their Mo's, these men raise vital funds and awareness for men's health, specifically prostate cancer and other cancers that affect men.
Once registered at movember.com, men start Movember 1st clean shaven. For the rest of the month, these selfless and generous men, known as Mo Bros, keep a public record of their mustache growth and effectively become walking, talking billboards for the entire 30 days.
It didn't even really hit me when we had our Google huddle the other night and Google+ had a "mustache button." Tracy Chan and I spent most of the meeting wearing a silly virtual mustache, thinking it was a good way to lighten things. Then, yesterday, I noticed my cousin Marc Hino posting a photo of himself with a mustache on Facebook.
D'oh! Marc and his firefighter friends are raising funds and awareness for the fight against prostate cancer! Men in my family have only grown facial hair in the '60s, then again in the '80s, so this is quite an event.
Through this exercise, Marc has also gained an appreciation for the art of changing up his look. He's gotten all kinds of reactions (as well as donations). My favorite is his mom's comment as she donated to the cause: "Thanks for doing this great service. We have had 4 guys in our family who have had Prostate Cancer. Shave the brush off when the Movember Drive is over. ; 0) Mom and Dad." My second favorite is his friend Noah Tom, who proclaimed Marc "the Japanese Kevin Bacon."
Good times, good times. But now, let's focus on the fact that this is for a good cause. There are only two days left in November, two days left for this unique campaign. Won't you donate to Marc's Mo Bro team? Go to http://mobro.co/hinoske and give him a high five. Or a high 25. Then take this link and forward it to all your friends so Marc can raise more money for the fight against prostate cancer.
Thanks for the effort, cuz!
Some facts at a glance:
1 in 2 men will diagnosed with cancer in their lifetime. 1 in 3 women will be diagnosed with cancer in their lifetime.
A man will die from prostate cancer every 15.6 minutes- more than 33,000 men will die of the disease this year.
1 in 6 men will be diagnosed with prostate cancer- a new case is diagnosed every 2.2 minutes. Occurrences of prostate cancer in men is comparable to the rates of breast cancer in women.
Men are less likely to schedule doctor appointments and stay in touch with their doctors, thereby denying them the chance of early detection and effective treatment of comm on diseases.