My best meal in Calgary: Bread & Circus Trattoria
Kayle Burns brings practical creativity to the menu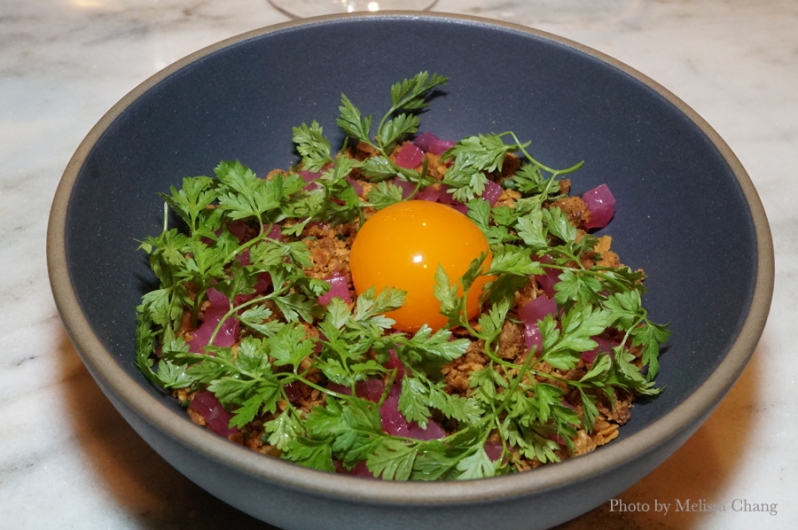 You often want to end a trip on the highest note, but for me, the aria came early (and so did I). Jessie took me to a newish restaurant called Bread & Circus so she could scope out the chef who would be doing a pop up at her client's place, the Italian Centre Shop. (Note, this restaurant is not her client.) It's possible that we had a phenomenal meal because we had no expectations, but if you ask other chefs in town what their favorite restaurant is, even they will say it's Bread & Circus.
We walked in to the tiny restaurant and got our seats at the chef's counter, where we got our first glimpse of Kayle Burns, who has a casual, friendly demeanor — something you don't normally see in chefs of his calibre — and an equally surprising über hipster (read: Canadian lumberjack) appearance, right down to a full beard. You could tell that he was exremely meticulous about his work, as every dish that came from the kitchen had a sample spoon so he could taste everything before it was served. Yet, he was surprisingly mellow as he plowed through all of the dishes that he was making.
The name is based on a saying from a satirical poet in the second century, who wrote, "There are two things only the people anxiously desire — bread and circuses." Well, now you can see why I anxiously desire to go back. (It actually is a jab at the government controlling its population and votes with food and entertainment. But, whatever! Let's eat.)
Since we were sitting at the counter and didn't know what to order, we asked them to surprise us. Keep in mind, Jessie and I eat out a lot, and have for years. It takes a lot to make us rave publicly for weeks, to make us grunt and pound the counter, and to make us say this was the best meal we'd had (at least, in a very long while). And we did all of that.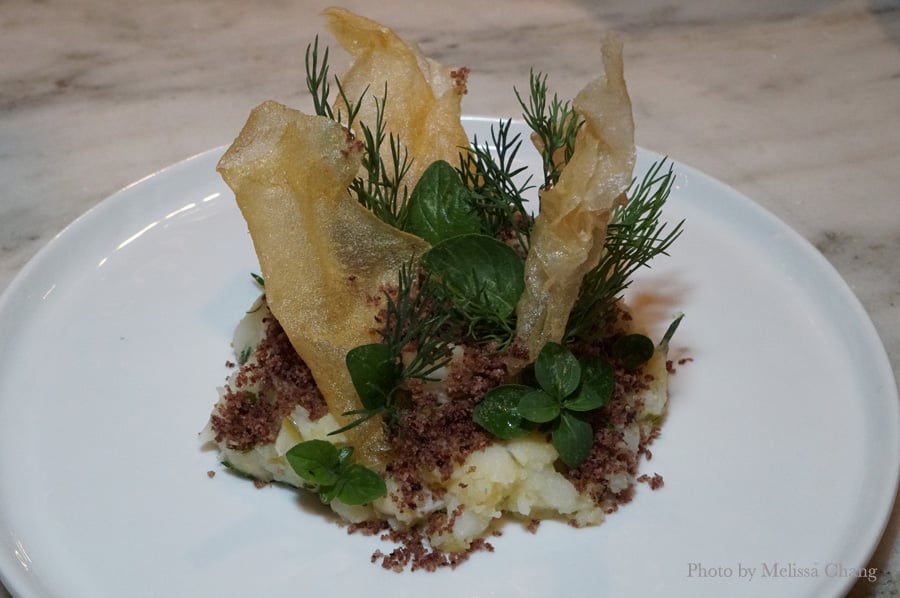 These potatoes are like smashed potatoes, but as the name implies, a little chunker. They're topped with salt cod, oregano dill, and kalamata olive gremolata, plus some potato chips — all arranged to look like a little garden. No flavor was too overwhelming, but you still got the salt, crunch and herbs that you expect from a potato dish. And yet, it didn't taste like anything we'd ever had before.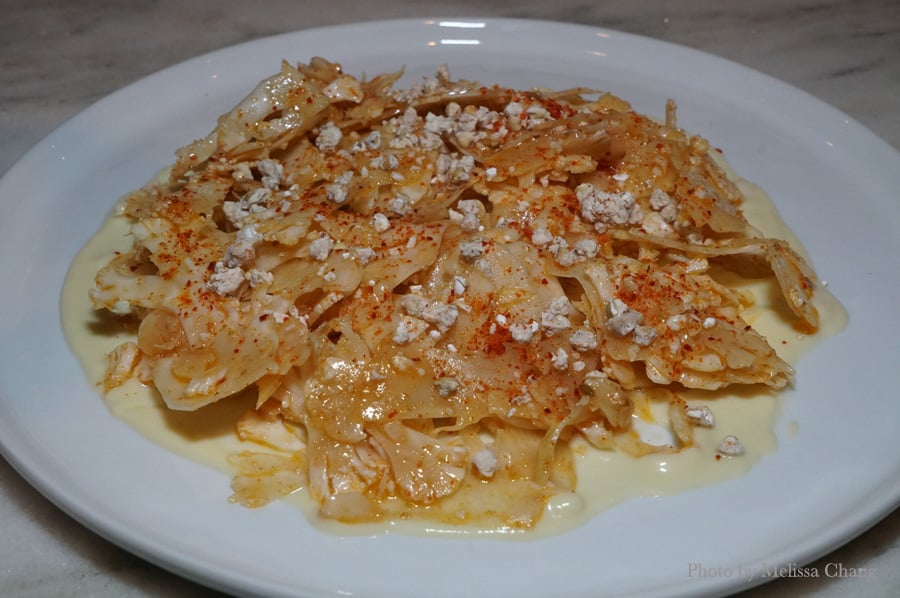 When we were waiting for this, we were wondering what the cornflake-looking dish was. We were surprised and delighted to find it was shaved cauliflower with chickpeas whey, cumin dressing, and topped with crystallized buckwheat. (This was when Jessie started to pound the counter.) Even if you're not a vegetable fan, you will be into this dish. The texture is faintly cauliflower-ish, but all you'll really get is the taste of everything working together with the sweet crunchiness of the buckwheat. If you asked what it tasted like, I wouldn't be able to tell you because it's a completely new flavor.
Have you ever seen beets shaved into long, wide ribbons like this? They've been shaved, then pickled, and artfully arranged with shaved fennel, orange and toasted pepitas. It was fun to eat, and as with everthing else, pops of taste and texture made everything blend perfectly in your mouth … it was like discovering a new species of umami. They serve one other salad called radicchio and endive, which we didn't have, but I'd go back to try it since these first two salads were so amazing.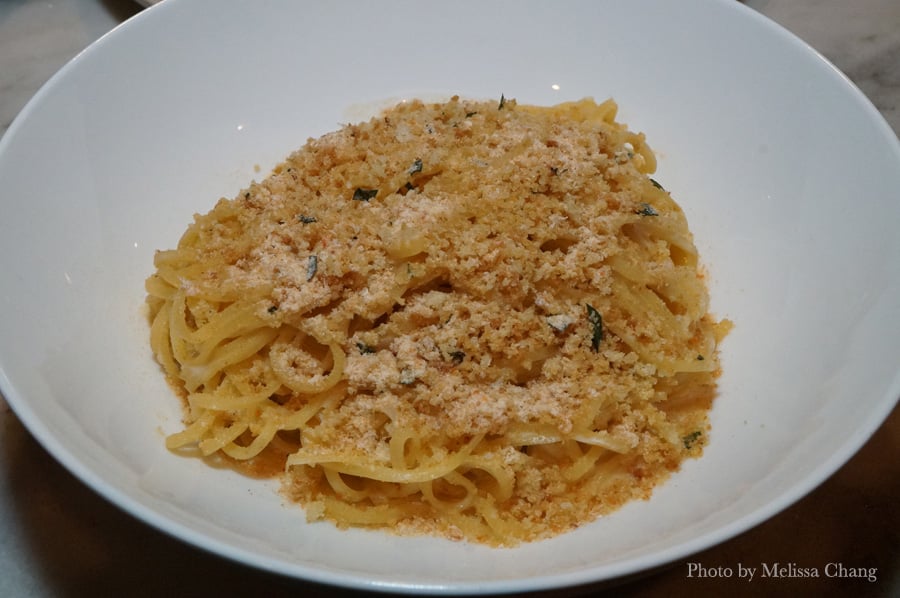 The housemade pastas are the main attraction here, as Burns tosses the noodles in a wheel of pecorino romano and makes them perfectly cheesy. This one features shaved bottarga, which is usually salted, cured fish roe, but in Bread & Circus, they make it with prawn roe. Who does that?! This is the ingredient that imparts a delicate crunch and saltiness, just enough to make you keep stabbing at the plate for more.
Interestingly enough, the oxtail rigatoni imparted more familiar flavors than anything else. I guess the dish is meant to be more warm and comforting, but it's still a beautiful mesh of unusual teamwork. The savory, rich meat is brought to life with red wine raisins, pine nuts, raw cacao vinagrette, and a bit of celery. Who would have thought of that combination, right?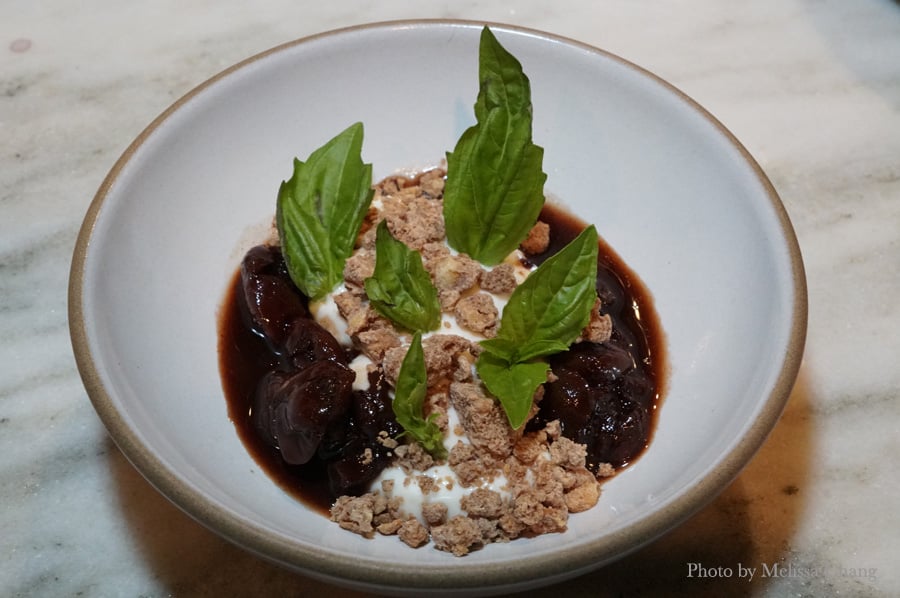 I can't tell you which dessert to order as that will ultimmately be your preference. I love a good panna cotta, so of course I loved this different take on the classic dessert. It's topped with sour cherries, chocolate crumble, and basil. Don't be afraid of the odd ingredients! Like everything else, this did not disappoint; none of the elements were too strong individually, yet all of them working together made big impact.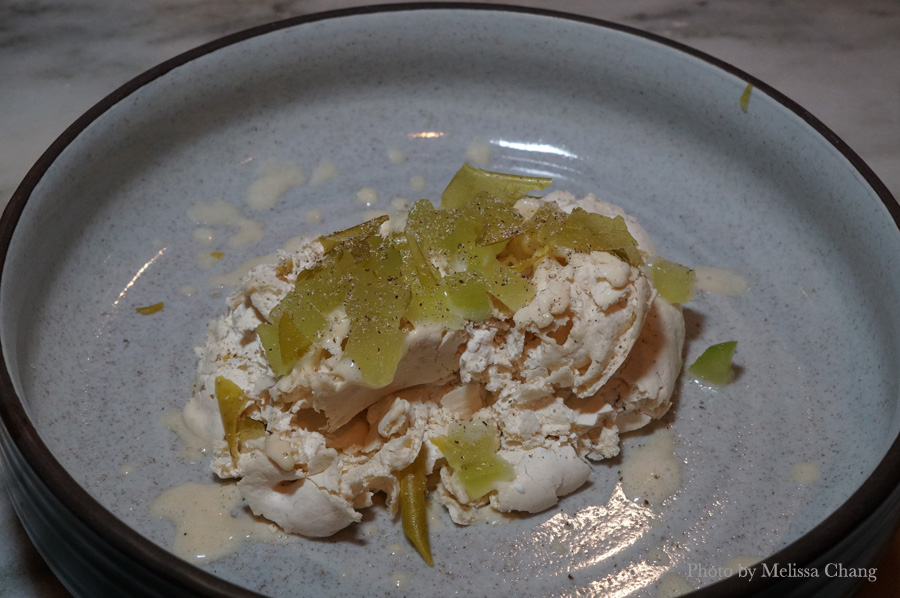 Oops, for some odd reason, I didn't catch exactly what this was or the price (it's not on the online menu). It's their gelato made to order with liquid nitrogen, sprinkled with pressed fruit (it's apple or pear). It's definitely something you want to order, though! Jessie preferred this to the panna cotta since it was much more unique, and again, for the unusual but delightful flavors and textures.
Here's why we were so blown away by the creativity at Bread & Circus: many chefs, in their quest to show their skills and make their mark, often try too hard with making dishes over the top. They'll come up with weird combinations for the sake of "pushing the envelope," thinking the shock to the diner will make them memorable, and, thus, desirable. Burns, in his understated, casual way, is thoughtful in his combinations without punching you in the mouth with them. He's clearly a true chef, and doesn't need to remind you because you'll already know.
Bread & Circus Trattoria
616 17 Ave. S.W.
AB T2S 0B4, Canada
403-476-3615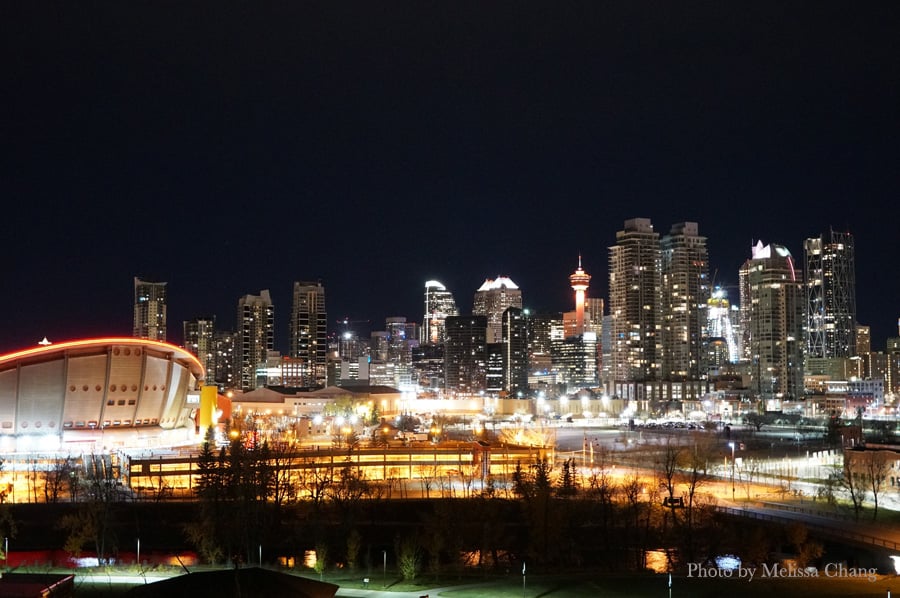 That was an abbreviated look at that day in Calgary. For more photos from that day, click here. For all photos from the trip, click here.
Up next: side trip to Banff!