Must See: "Awakening" Flower Exhibit at Honolulu Museum of Art
The Honolulu installation by British artist Rebecca Louise Law utilizes more than a million flowers.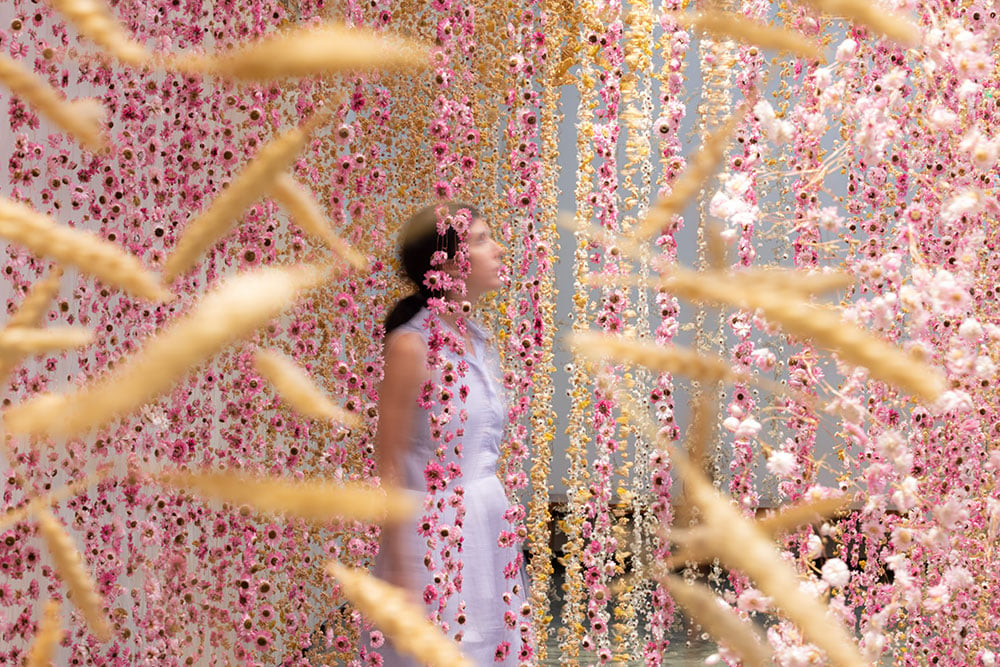 Getting lost in blooms—could anything be more ethereal? Stepping into the new "Awakening" exhibit at the Honolulu Museum of Art is a dreamy endeavor, with strings of flowers of all kinds and colors dangling from the ceiling high above, as if floating in midair. As you meander through the corridor of dried sprigs, you can't help but feel a sense of quietude. Is it the gently changing botanicals, fading into each other as you move forward like an ombre of herbs, a strange sort of pantomime of seasons? Or is it the way they defy gravity, suspended by their strings, a nexus of frozen florets with you at their center. If an explosion of blossoms had occurred around you and then that moment was stopped forever, what would you hear in the silence? What would you see in the stillness? You'll want to walk through these curtains of blooms over and over to find out.
The exhibit is the first Hawai'i installation by British artist Rebecca Louise Law, who has created other immersive installations across Europe and the United States, using her signature aesthetic of delicately draped and serpentinely strung natural materials. The Honolulu installation utilizes more than a million flowers. To reach this massive number, Law drew from her own collection of dried plants recycled from previous exhibitions around the world, while also incorporating new Hawai'i botanicals and found materials. In fact, 50,000 flowers were gathered or donated by the Hawai'i community, including bougainvillea, bozu, gardenia, kukui, pīkake, puakenikeni and Spanish moss.
Law works with sustainability in mind, hoping that these "contemplative" spaces adorned with such laboriously and meticulously preserved, strung and hung blooms are opportunities for viewers to slow down and reflect on the fragility of nature and the ultra-fast pace of modern consumerist culture. And what better place for that message to sing than in the Islands? Like the flower gatherers and lei makers who pour their time and aloha into each threaded blossom, Law's exhibit of florals—which were gathered and hung with the help of local community groups—is an ode to and celebration of the power of flowers: the way they can help us tap into ourselves, make us feel something, and remind us of the connections that exist between our hearts, our bodies, our minds, and the many other brilliant creations in this natural world all around us.
The details:
● The exhibit is on the museum's second floor, in galleries 12 and 13, and will be open for a year. Look for elevators with the "Awakening" imagery on them.
● General museum admission is $20. Hawai'i resident admission is $10 and folks 18 and under are free.
● The museum is open 10 a.m to 6 p.m. Thursdays and Sundays; 10 a.m. to 9 p.m. Fridays and Saturdays; and closed Mondays through Wednesdays.
● Don't miss the companion exhibit in gallery 27 (between the Doris Duke Theatre entrance and the gift shop) called "Cross Pollination: Flowers Across the Collection." This curation of pieces from the museum's permanent collection explores "the emotional, psychological, and spiritual resonance of flowers in art." On display are pieces of Native American beading, Japanese screens and fine art canvases, including the iconic "The Lei Maker".
900 S. Beretania St., (808) 532-8700, honolulumuseum.org.
---
SEE ALSO: Things to Do
---