Movie Review: Disney's Zootopia
Surprising wit, hilarious side characters and real-life lessons make Disney's latest film fun for parents and kids. But note: some scenes could scare young children.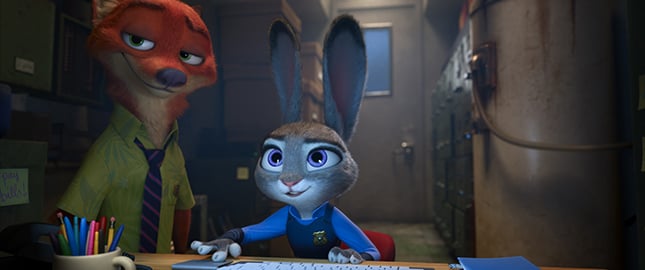 photo: walt disney animation studios
Zootopia is a sprawling, highly evolved, multi-ecosystem metropolis where mammals—predators and prey—live in apparent peace and harmony. For Judy Hopps, a rookie cop from nearby Bunny Burrow, this concrete jungle is the place where anyone can become anything. And that's important to the over-achieving rabbit, who has been manhandled and marginalized all her young life. Unfortunately, on Judy's first day on the job, she's relegated to meter maid duties, which, like everything else, she excels at; however, when she learns that 14 mammals, all predators, have gone missing, she tells her police chief that she can solve the case in 48 hours. If she fails, she'll turn in her badge.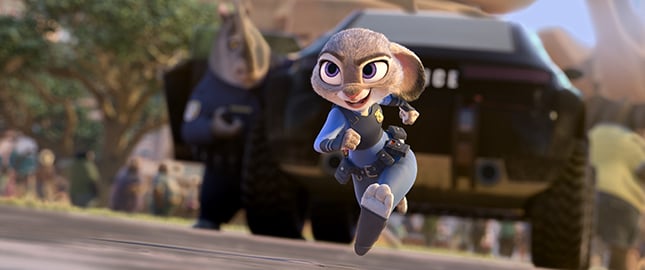 Judy Hopps is a small but persistent police officer voiced by Gennifer Goodwin. photo: Walt Disney Animation Studios
With its furry, cuddly heroine and a familiar lesson about believing in yourself, I was expecting a warm and fuzzy feature that would be as pretty and substantial as cotton candy. Instead, Zootopia is a film of surprising wit, intelligence and subtlety that is not only laugh-out-loud funny but wraps its messages about diversity and tolerance in a well-paced, entertaining whodunit.
The film starts out as a girl-meets-world tale but turns into a 48 Hours-like buddy movie when Judy teams up with Nick Wilde, a con-artist fox, whose street smarts and quick talking help her solve the mysterious case. As the pair uncovers a conspiracy that reaches to the very top of the city's food chain, the film takes Hitchcockian twists and turns that had this Law and Order fan and Sherlock disciple guessing till the very end.
Parent alert from the HONOLULU Family team: We were surprised by a few frightening scenes involving animals getting aggressive and attacking in a realistic way. There is a reason why Zootopia is rated PG. Younger moviegoers may be frightened by these noirish moments and one specific chase scene, especially if they are watching it in 3D. But the 5, 7 and 11 year olds we took to see the film didn't have any long-lasting concerns. There are also some bullying moments in the beginning of the movie that your kids may have questions about, so be prepared.
The quality of the storytelling isn't surprising when you take into account the collective resume of the filmmaking team: Big Hero 6, Wreck-It Ralph, Tangled and Frozen, all films that feature intricately drawn alternate worlds that are populated by complex characters. And you can add Zootopia to this list of high-quality animated films that have wide appeal.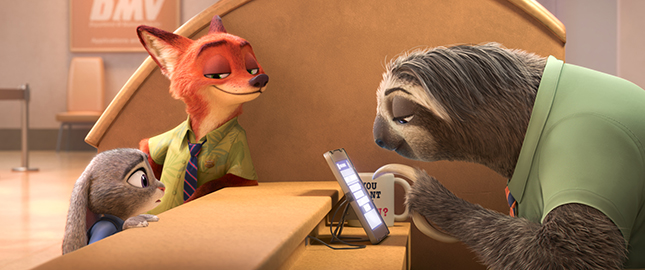 Sloths at the DMV? Genius. photo: Walt disney animation studios
The young ones will enjoy the animals-do-the-darnedest-things scenes, which include pachyderm yoga instructors and rodent mobsters. Adults will appreciate the all too familiar sloth civil servants. Actually, everyone howled during that glacially slow scene.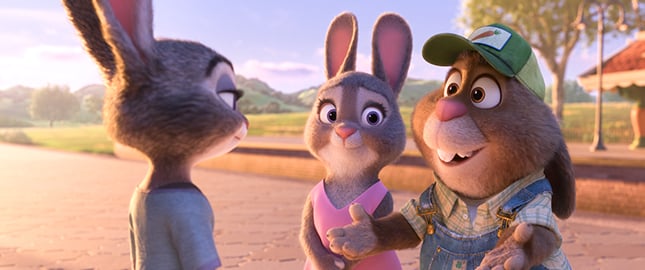 Judy Hopps low-goal-setting parents voiced by Bonnie Hunt and Don Lake. photo: Walt Disney Animation Studios
As a part-time tiger dad, I particularly enjoyed the depiction of Judy's passive-aggressive parents, who want their daughter to stay on the farm and are constantly trying to manage her big dreams and outsized expectations. ("If you don't try anything new, you'll never be disappointed!") Which brings me to what I appreciated most about Zootopia, a humanness that is goofy on the surface but has kernels of truth that are scarily topical and relevant. For instance, in the big city, Judy overcomes continual stereotyping and prejudice but she is also a child of privilege who has unknowingly enjoyed the benefits of being a part of the larger herd.
Zootopia opens Friday, March 4. It is rated PG and runs 1 hour and 48 minutes. See more at disney.com/Zootopia.