More butter beer: Holiday Bar pops up at Ala Moana Center
This one's super decked out in the old Cafe Lani space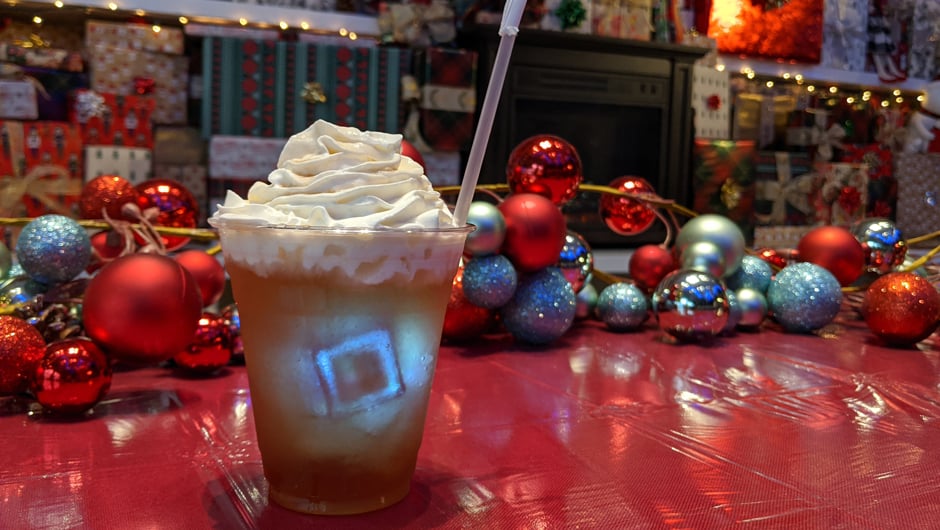 It's that time of the year again: The Holiday Bar has returned to Ala Moana! Brought to you by the same people that hosted the spooky Ghost Bar in October, the festive Christmas-themed pop-up can be found nestled in the former Cafe Lani spot.
Their signature drink is Frozen Buttered Beer, inspired by the Harry Potter franchise. An Instagram contest was held prior to opening to decide the signature drink, with Frozen Buttered Beer being the winner.
To describe Frozen Buttered Beer in one word: SWEET. Sweet, more sweet, and butterscotch. Colorful lights dance along the surface, lending it an even more festive spirit. The lights come from an artificial ice cube, which you get to keep, but adds a bit of an artificial taste. Topping off the drink is a cloud of delicious cream. Mix the cream with the beer to tone down the sweetness for a more balanced flavor.
The Frozen Buttered Beer would make a great dessert drink, a nice complement to a large meal or a full day of shopping. The ambiance is festive, filled with holiday music, and its very own digital fireplace. There's picnic table seating in the main area, with more cozy and intimate spaces in the back. A welcoming place for the family as well, since kids are welcome at all hours.
The Holiday Bar is open every day, with New Year's Eve being its final day.
The Holiday Bar
Ala Moana Center
1450 Ala Moana Blvd.
instagram.com/holidaybarhonolulu