Mix Cafe is Closing, but a Super Fan Saves Bruno's Forno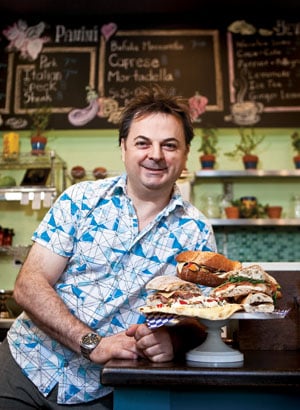 Now's the time to go to Mix Café, before it's gone.
Ever since Bruno Iezzi opened his first Mix Café on Beretania, we've been smitten with his eateries. From his sandwiches at Mix Cafe to lasagna at Bruno's Forno, Iezzi demonstrates perfection through simplicity. He's a stickler for details, making his own pasta, sauces and even some of the breads.
He's got an eye for interiors, too: Iezzi's shops are some of the most understated, yet impeccably designed restaurants, from the handwritten chalkboards and stacked sandwich displays at Mix Café to the retro Italian posters and wooden benches at Bruno's Forno.
But all that—the perfectionism that makes him unable to entrust his eateries to anyone other than his wife—meant he was behind the counter every single day at Mix Café (and she at Bruno's Forno), and it's taken a toll. He's closing up shop.
"I opened [the first] Mix Café in 2007, then the second shop in 2009, and [Bruno's] Forno a year after that," says Iezzi. "My next project is to take a break!"
Iezzi, 52, first came to Hawaii in 1989 for vacation. Originally from the eastern coast of Rome, he owned a fine dining restaurant in New York's East Village until 2000, when he moved to the Islands permanently. His first Mix Cafe was on Beretania Street in Chinatown, offering a short menu of breakfast, panini and pasta. Two years later, Mix Café moved to its current location on Alakea and focused on sandwiches, from prosciutto on ciabatta to even an Italian version of charsiu—pork sausage sweetened with beets and apple. Mix Cafe is still open for now, and will continue regular business until a new, currently undetermined tenant moves into the space. It's unknown when that will be.
The bright spot in all of this is that Bruno's Forno remains open—under new management. In October 2013, Iezzi began a dialogue with Zoran Milanovic, a longtime customer who bought the restaurant after hearing about the owner's plans to close down.
"Bruno didn't want to close the Forno," says Milanovic. "The restaurant was special to him, and [Iezzi] wanted to see it stay open with an owner who cared."
Milanovic fell in love with the restaurant from his first visit and jumped at the opportunity to keep it alive. Although neither he nor his wife has any experience in the restaurant industry, (their backgrounds are in information technology and international finance, respectively) they are confident they can maintain Bruno's Forno.
"We're looking to expand actually—to soon be open for dinner, catering, and more," Milanovic says. "We believe in Bruno's [Forno], and are excited about continuing the tradition: creating great food for great customers."
Mix Cafe, 1025 Alakea St., 532-4540
Bruno's Forno, 1120 Maunakea St., 585-2845