Mill House Maui opens (officially)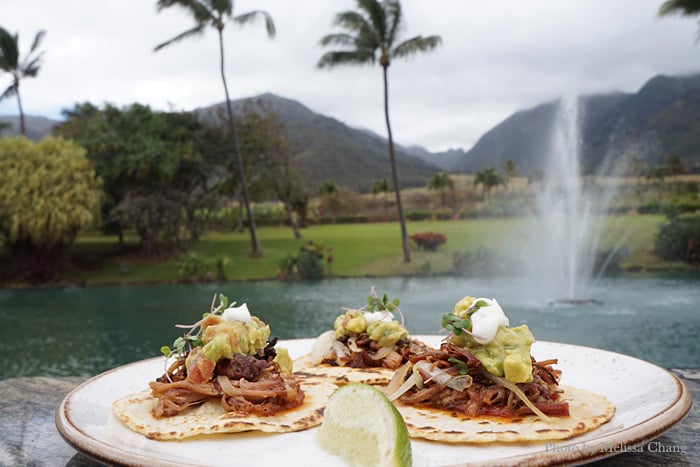 Mill House Maui in Waikapu finally had its grand opening this past weekend … Wait, wasn't the Mill House Maui already open? Well, sort of.
Maui Tropical Plantation, upon which the restaurant sits, has played a big part in the island's agricultural history dating back to the 19th century. It was a bustling epicenter of sugar cane production for generations, with plantation camps and commerce making it a vibrant part of the Valley Isle. When the sugar industry started to die, the plantation closed and the town gradually disappeared, becoming a residential area considered on the outskirts of Wailuku.
All that is about to change, and Maui Tropical Plantation — with the Mill House Maui — is going to be at the center of its transformation. Developer Mike Atherton bought the plantation in 2006 with a hui of partners, and last year announced his plans for the Waikapu Country Town project, a 1600-acre plan that will be comprised of retail stores, restaurants, an elementary school and more than 1,400 residences, according to its website. The project will be built in two, five-year phases on both sides of Honoapiilani Highway and the tropical plantation will be the "village center" and remain relatively untouched, Atherton said. A mix of single-family, multi-family, rural and country town mixed-use homes would be built around the village center, along with a 6-mile bike trail, parks and plenty of parking.
The Mill House Maui was actually the plantation's banquet hall for a long time, used for special events and cranking out cafeteria-style food. About a year ago, the transformation began. Familiar faces like Brant Holland came on as manager, Jeff Scheer — whom you've seen in our posts about the Chef's Table — was named executive chef, and the restaurant was built out in phases. The venue and menu is now complete and they're ready to rock, not to mention the surrounding ag land now grows a lot of the ingredients that they use.
Are you all caught up? Here's a taste from lunch at the restaurant last week, just before the big grand opening festivities.
The restaurant has an extensive cocktail, beer and wine list, but we opted for nonalcoholic drinks since it was lunch. The agua fresca has hibiscus, ginger, lemon, orange, and cold-pressed sugar cane for a very light drink that gives you a taste of the plantation. The winner, though, is the lilikoi fizz, which is made of lilikoi, lemon, cold-pressed sugar cane, coconut water, orange and soda. It's got a lot more flavor and is not too tart, despite all the citrus and lilikoi in it.
The chickpea panisse is normally on the dinner menu and a full sized serving is $18. Brant pulled together a sample for us to try because he loves it, himself. These light little cakes are on a bed of barley, root vegetable, smoked creme fraiche and fennel jam (usually served with harissa, but this was totally fine). The smokiness of the creme fraiche and the touch of sweetness from the jam were addicting, having subtle sweet, savory and smoky flavors in each bite.
Coffee roasted beets? Intriguing. These are served with slices of other root veggies, like carrots and radishes, atop lemongrass coconut cream and espresso streusel. It's finished with a drizzle of coffee-infused syrup. All of that sweetness makes this more like a dessert than a salad. I'd actually like to see that espresso streusel on the rim of a cocktail! (One track mind.)
The pork tacos are solid: house tortillas filled with harissa, lime creme fraiche, and avocado salsa, featuring hearty shredded pork. They don't truly show Jeff's range of creativity, but for those who don't like surprises, this is a very good choice. I mean, come on. Tasty tacos, a drink and this view. Nuff said.
I liked the gnocchi ragu, which is listed under "small plates" but is filling enough as a lunch entree. Jeff's creative combination of pillowy dumplings swimming in sage, thyme curd and gremolata is a rich, savory twist on an Italian standard. This is one that I'd want to have with a glass of white wine while feeding the ducks as they float by.
Dessert was quite a surprise. This doughnut looks pretty plain, but it's tossed in a spicy sugar so you get a bit of heat with the sweetness. Underneath is a chocolate cremeux, and the combination makes it almost like a Mexican chocolate dessert. Sounds odd, but if you like a little spice in your dessert, this works.
The Milk and Honey dessert was also a surprise; it sounded kind of plain on the menu. Olive oil cake and honey whip. Is that it? No … the taste was much more than that. There's hints of citrus in the cake, even without the slices of grapefruit, and the whole thing is light, bright and slightly sweet. It's served with the smoked creme fraiche for a little element of (more) surprise. I could have eaten another one if I were not so full.
The Mill House Maui is worth a look, and it's probably a good idea to go sooner rather than later, when the Waikapu Country Town starts taking shape. Mahalo to Brant Holland for lunch!
To see Olena Heu's blog about the Mill House Chef's Table, click here. To see my blog about it, click here.
Mill House Maui
Maui Tropical Plantation
1670 Honoapiilani Hwy.
Waikapu, HI 96793
808-270-0333