Michelin-starred Michael Mina's serving from a food truck today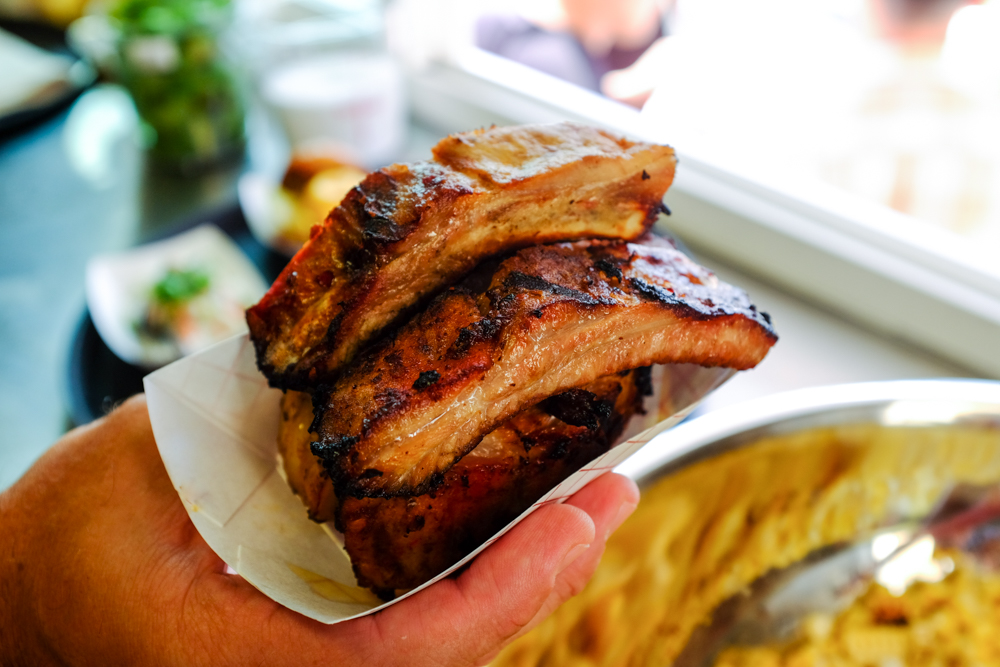 It isn't every day you get to meet a Michelin-starred, James Beard Award-winning chef, let alone have him prepare your lunch from a decked-out food truck. With the help of Poni and Brandon Askew of Street Grindz, Michael Mina and his Stripsteak Waikiki team are hitting the road around metro Honolulu for a culinary food tour. Today the truck will be downtown at lunch and at Makers & Tasters in Kakaako tonight (exact times and places are below).
As someone who visits Hawaii three times a year, Mina is no stranger to our island hospitality, which he and executive chef Benjamin Jenkins hope to embrace and interpret at Stripsteak Waikiki. We're told diners can expect a menu of steakhouse classics using locally sourced produce and seafood along with premier cuts of beef when the restaurant opens in August at the new International Market Place.
Executive Chef Benjamin Jenkins, Chef Michael Mina and Stripsteak Waikiki General Manager Ron Bonifacio
The menu of free samples is just a taste of the concepts you can expect when Stripsteak Waikiki opens in August.
Executive Chef Benjamin Jenkins has over 15 years of experience with Mina Group restaurants and most recently helmed the kitchen at MICHAEL MINA at Bellagio in Las Vegas.
The chilled shrimp and onaga bowl,
Barbecue pork spare ribs.
Mexican-style charred corn (elote)
Maui onion cheeseburger slider made with local beef
The barbecue pork spare rib with al pastor pineapple relish and Mexican-style charred street corn.


There's no need to FOMO, the orange International Market Place truck has two more stops on its tour around town on Thursday, July 21:
Downtown/Hawaii Capital District
King & Punchbowl streets
Lunch 11 a.m. – 1 p.m.
Kakaako/Kewalo
Makers & Tasters Kewalo (1011 Ala Moana Blvd)
Happy hour 4:30 – 9 p.m.
Menu
Maui onion cheeseburger slider
BBQ pork spare ribs with al pastor pineapple relish and charred Mexican street corn elote
Chilled shrimp and onaga rice bowl
Hawaiian punch
Coconut milk horchata