Mercedes-Benz Fashion Week: Son Jung Wan and Herve Leger by Max Azria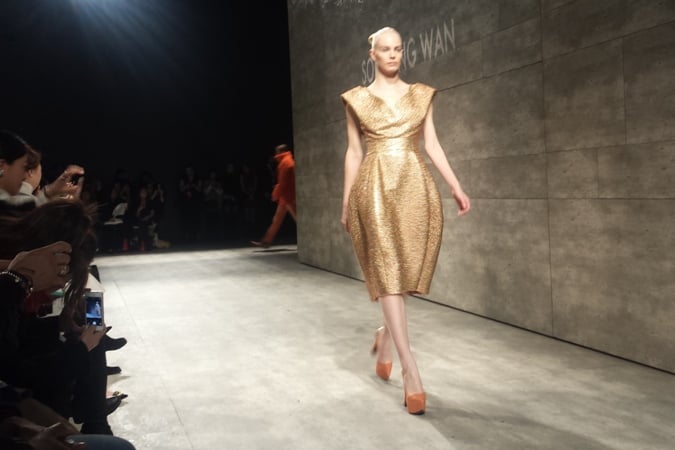 On day four of my trip to New York Fashion Week I hit the runway shows for Son Jung Wan and Hervé Léger by Max Azria. The weather outside Lincoln Center was about 10 degrees, so Son Jung Wan's 2015 fall-winter collection was extremely apropos for the chic city girl.
Son Jung Wan
Born and raised in South Korea, Son Jung Wan received a degree in industrial craft and design, and it shows. Her collection, named Modern Retro, is uber-romantic with a definite 1950s vibe. Son Jung Wan's handcrafted knit detail combined textiles such as fur, leather and sequins. I also loved her vibrant shades of fuchsia, orange, and teal, with gold and silver metallic.
Her collection captures the dual nature of women: romantic and strong, glamorous and elegant, feminine and sexy. The men's looks were equally chic and impressive.
Hervé Léger by Max Azria
A very different runway show with a body-con silhouette came from Hervé Léger by Max Azria. This collection captured the essence of the modern, powerful woman with impeccably-executed detail and bold graphic designs; it reminded me of the New York City skyline.
Here's an interesting tidbit: Hervé Léger was acquired by BCBGMAXAZRIA GROUP in 1998, marking the first time in fashion history that a French couturier was acquired by an American designer.
Here's a look at the collection courtesy of Mercedes-Benz Fashion Week: