Mercedes-Benz Fashion Week: Backstage at the Vivienne Tam show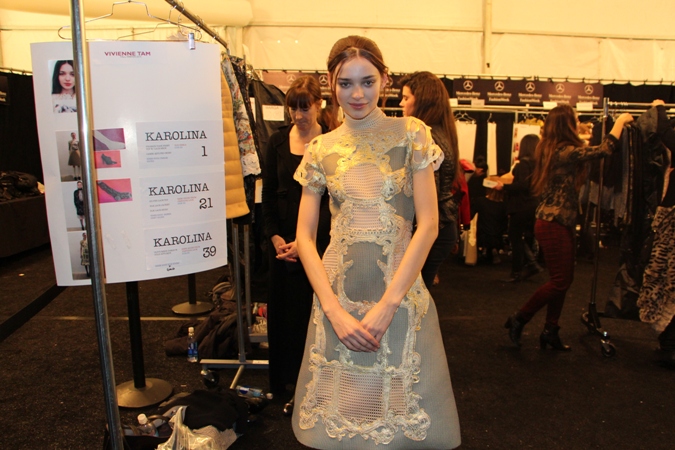 Flying back to Honolulu was bittersweet for me. I was sad that the NYC Mercedes-Benz Fashion Week was over, but grateful for the experience – especially the one that I had at the Vivienne Tam show. Unlike fashion shows in Hawaii that I've produced, the shows in NYC allow photographers, media and celebrities to gain access backstage and see what's happening. It's really part of the culture there. But at the Vivienne Tam show, I also received the rare chance to work backstage, under the direction of Hawaii's-own Lynne O'Neill. This was huge! Bucket list huge! It's like getting sideline seats at the Super Bowl.
Amid the organized chaos and distractions backstage, I stayed focused on the duties I was assigned from the production team: round up the models, get their shoes on before rehearsal, take the models from hair and makeup to first looks, and help line them up for the show. Sometimes we had less than a minute to change the models from their first look into their last look, with zippers, buttons, hair touch-ups, then right back into the line.
Needless to say, I was super busy backstage, but here are a few behind-the-scenes photos I was able to snap:
A little about Vivienne Tam:
Tam was born in China and raised in Hong Kong since the age of three. I really took notice of Tam's career when she created a collection to auction off so that she could help the pandas that were affected by a devastating earthquake on May 12, 2008 in the Sichuan Province.
Her fall 2015 collection demonstrates that she is still the reigning queen of China-chic. I love her collection's ornate prints, Victorian silhouettes and school-girl flare skirts – definitely east-meets-west but distinctly true to Tam's cultural roots.
Here's a look at the entire show courtesy of Mercedes-Benz Fashion Week: