Mental Health Experts Help Us Unpack the Complicated World of Year Three of the Pandemic
Coupled with soaring prices, conflicts at home and abroad, weariness and lots of anxiety.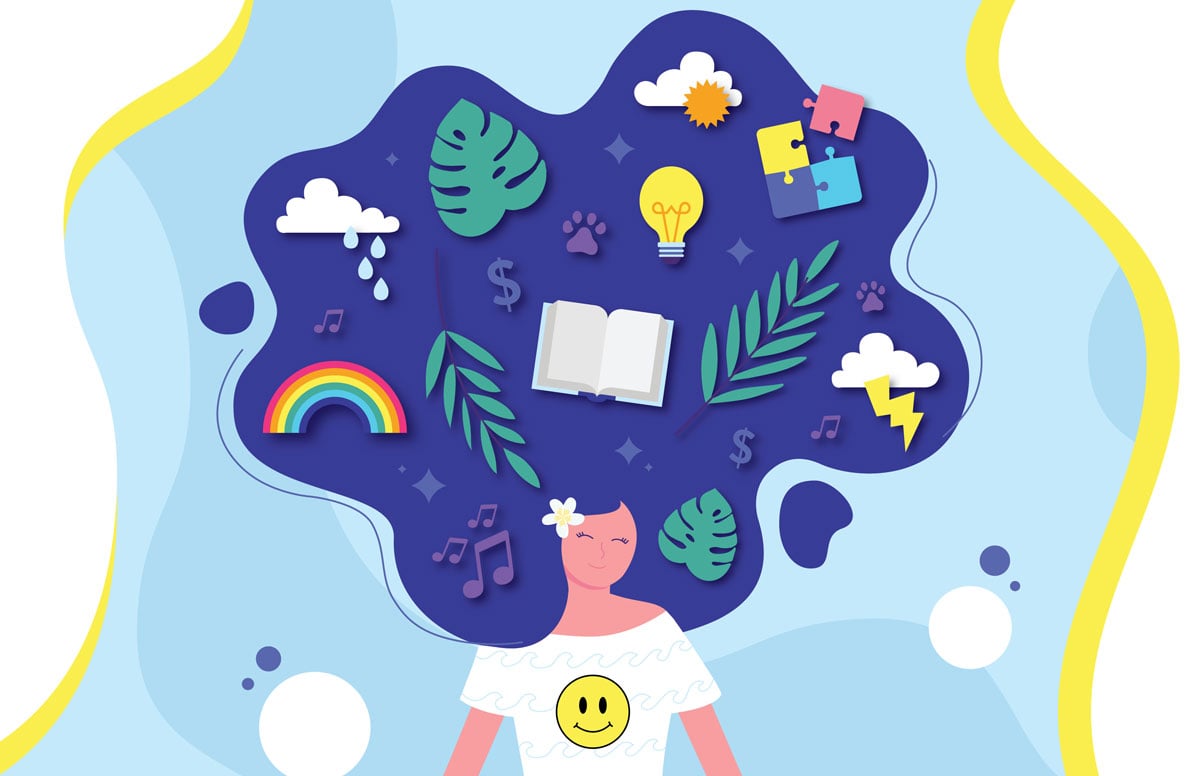 Everyone has changed. We don't know what COVID-19 will throw at us next. Or when. We're still struggling with how we feel about work, achieving life balance and relating to other people even as we look forward.
That's the broad analysis from Honolulu mental health experts we asked to help us navigate the rest of 2022 as we mark May as Mental Health Month. The consensus: Many of us feel fragile, worn down by the widespread effects of the COVID-19 pandemic—lingering health problems, loss and isolation—layered on top of unrelated mental health concerns we had before. There is some good news: Although we can't flip a switch that turns off our anxiety and stress, experts say we've become more resilient, which makes us better able to handle whatever comes next.
Resiliency allows people to adjust to setbacks rather than being overcome by them, says Sondra Leiggi Brandon, who serves as vice president of patient care, behavioral health and pharmacy at The Queen's Medical Center. "Resiliency is also about finding your strengths when challenged and we've all been forced to do that in many ways the last two years," she says.
And more people are finding more ways to get help. "Mental health treatment is no longer about laying on a couch and discussing your feelings," Leiggi Brandon says. "You can access treatment from your home using telemedicine, or through your phone via an app, or even text someone for help. Treatment has expanded and evolved with technology."
At Brain Health Hawai'i, Honolulu psychiatrist Dr. Jason Keifer saw an upswing of patients who survived the virus only to suffer devastating effects on their mental health from long COVID. "This is a population of people who have issues from their toes to their brain," Keifer says. They seek treatment for depression but are getting more far-reaching results through a hyper-personalized use of transcranial magnetic stimulation, or TMS, he says. The TMS technique was first approved in 2008 by the Food and Drug Administration for depression and obsessive-compulsive disorder.
"Many of the patients living with long COVID are struggling with brain issues such as brain fog, memory loss, depression and other issues," Keifer says. He says his clinic can help them by adjusting a weekly TMS prescription based on brain mapping, which can assess what's happening in the neural network and find irregularities in brain rhythm. The technique can identify both condition and efficiency, Keifer says, to determine what may be causing symptoms or dysfunction. And he's found that assessing and treating the brain can help where conventional medications and talk therapy haven't "because COVID can injure the brain, causing a concussion-like state."
At Queen's, doctors are seeing a range of patients, some in treatment, others finding help through journaling, mindfulness and meditation, with apps for stress reduction, cognitive techniques for anxiety, even group therapy, Leiggi Brandon says. She recommends the Yale happiness course, the Headspace app for meditation, and the cognitive behavioral therapy app MindShift CBT for anxiety relief.
SEE ALSO: Tips and Advice From Five Local Psychologists and Mental Health Experts
Help for different ages and stages
Experts remind us that everybody's different. "I think it's important for people to remember that we're all going to adjust to these various transitions and stages differently and that we need to give each other grace for being at different stages," Leiggi Brandon says. "You might be ready to throw off your mask and go to a house party. I may not be because I want to be more cautious."
Each aspect of our lives benefits from mental health awareness. With children, engaging with them and creating social connections can give them a safe space to share their feelings, she says. Teens may not always want to open up to you, but may go to a trusted adult. Partners need to take time to engage and reconnect to help each other and to nurture their relationship. A boss can give time in meetings for people to socialize and employers can invest in wellness programs.
Leiggi Brandon also shares a small technique that can offer big results: "Take time in the day to recognize three good things that have happened to you … like I found a good parking spot today," she says.
It doesn't cost us anything, we can do it on our own or with children or partners from keiki to kūpuna. The payoff? "Just focusing on the positive and being able to recognize these little wins that we have throughout the day has shown to be as effective as taking an antidepressant as far as mood goes," Leiggi Brandon says. "Isn't that incredible?" Whether it's the 5-year-old who took home the class bunny for the weekend, your co-worker's great game of pickleball, or that perfect cup of coffee you brewed this morning, the little things add up "to retrain our brain to focus on the positives," she says.
And yes, the struggle is real. There are still waitlists for therapy and signs of community struggle. Nationally, suicide rates continue to rise in a number of groups, Leiggi Brandon says, "and senior men are now the No. 1 group of people who commit suicide."
SEE ALSO: Isolation, Financial Troubles and More Than a Year of Anxiety Strained Our Mental Health
Battling Burnout, Finding Hope
At Mental Health America of Hawai'i, program director Mestisa Gass sees hope and signs of resiliency coupled with a surge in people seeking mental health services. "I think the surprising takeaway for some is that while we are moving toward a more stable and safer way of interacting again there continues to be high levels of compassion fatigue, burnout, stress and grief," she says. While we might have expected simply relief and happiness, many people feel exhausted, she says.
"Businesses have been contacting us about the high levels of burnout and fatigue being reported by staff. I am hearing people say, 'It's getting better, why don't I feel better?'"
Gass worries about children and teens who have missed so much: interaction with friends, days of school, months or even years without in-person learning, graduation ceremonies, sports, play dates, and time with relatives. She points to a U.S. surgeon general's report citing widespread lost access to mental health care, social services, income, food and housing. That report estimates, as of June 2021, more than 140,000 children in the U.S. had lost a parent or grandparent caregiver to COVID-19.
While general psychological distress among young people was on the rise before the pandemic, since then symptoms of anxiety, depression and other mental health disorders have increased as well. The federal report paints a concerning picture:
Recent research covering 80,000 youths globally found that depressive and anxiety symptoms doubled during the pandemic, with 25% of youths experiencing depressive symptoms and 20% experiencing anxiety symptoms.
In early 2021, emergency department visits in the U.S. for suspected suicide attempts were 51% higher for adolescent girls and 4% higher for adolescent boys compared with the same period in early 2019.
Negative emotions or behaviors such as impulsivity and irritability—associated with conditions such as ADHD—appear to have moderately increased.
Reduced in-person interactions among children, friends, social supports, and professionals such as teachers, school counselors, pediatricians and child welfare workers made it harder to recognize signs of child abuse, mental health concerns and other challenges.
SEE ALSO: 2020 Got You Down? SHOUT IT OUT
Learning to press reset
"We're not the same people that we were two years ago," says mental health advocate Kathleen Rhoads Merriam. She works as a state mental health supervisor in Windward O'ahu, where clients, staff and all those they work with in the community have endured a difficult time yet responded with inspiring resiliency. "We have all gone through something really traumatic. That doesn't mean that we're better or worse but we just really are kind of different." Some of our problem-solving skills and social skills got rusty, Merriam says, "so take time to reflect how you're feeling."
More social gatherings, crowds and shifting expectations can bring a mix of excitement and uneasiness. "We don't know how to party with each other like we used to," Merriam says. "It feels like I'm breaking a rule." To help counter those feelings, she suggests that people try paths to wellness that feel right now. Get moving, whether it's walking, joining a class online, at the gym or pool. Go to a farmers market and try cooking some food you don't usually buy. Make those doctor appointments and get those checkups that you've put off. Maybe you want to try reconnecting with old friends or find new hobbies. Volunteering can be a good way to stay centered. "Helping others is also a way of helping ourselves," Merriam says.
If checking the news, scrolling through social media, even looking at your email can derail you, then create your own quiet times without notifications or alerts. Merriam expects it will take time to gauge the long-term effects of the pandemic on workplaces. Some folks happily returned to on-site work, while others completely changed their careers. "Some have thrived, some are just going through the motions," Merriam says. She hopes we can embrace what we've learned. For her, one takeaway is "I'm not going to double-book anymore; I'm going to have more family time."
Shifting out of survival mode
Clinical psychologist Bart Pillen has spent four decades working with families and now serves as chief of behavioral health at Hawai'i Pacific Health. "The way that families are impacted has been very traumatic," Pillen says. "It's been a prolonged thing, wave after wave—of not just COVID, but wave after wave of loss, of disruption for school and work and family and the economy."
During two years of looking over our shoulders, we've leaned into a hyper-aware survival mode designed to keep us out of immediate danger. Pillen offers an eye-opening factoid to help explain how our bodies respond: "We see threats in three-one-thousandths of a second while it takes us about 20 to 30 seconds to see something positive."
After two years of fixating on the next threat, wave or variant on the horizon, it's easier to understand why we're a little twitchy. "That's a lot of anxiety practice to undo," Pillen says, but we can do things that make us feel better—hiking, singing in a choir or playing mahjong. And each of us can continue precautions that make sense, from washing our hands and getting flu shots to still using masks when it feels right. "You don't just stop something that has been healthy, but you update it and you adapt it to the new circumstance," he says.
Pillen says it's important to keep open lines of communication with family members of all ages. He points to two factors shown to help families work well together: their ability to adapt to different situations, and those who maintain a sense of cohesion, that we're all in this together.
While many of us are aware of the struggles that can come with post-traumatic stress disorder, Pillen notes research that shows 20% to 30% of those studied after a traumatic event went the other way and experienced post-traumatic growth. "They have a greater appreciation for life. They don't take things for granted. They value relationships," he says, and some of those are responses that we can cultivate.
SEE ALSO: As Places Continue to Reopen in Hawai'i and We Can Do More Things, Why Are We Feeling Even More Anxious?
Spotting signs and support groups
All our experts remind us to watch for signs of trouble in those around us: mood swings, difficulty sleeping, appetite shifts, persistent anxiety, depression and other sudden changes. "Please, please, please, pay attention to each other and notice a change in behavior," Pillen says, whether it's an adult who's drinking more or spending a lot more time playing video games, teens who are more argumentative or a student whose grades have plummeted. If you notice these changes in a loved one, ask them how they're doing, find out if they are comfortable talking with you, or if you can help them locate someone to talk to.
As executive director of the National Alliance on Mental Illness Hawai'i, Kumi Macdonald provides education, awareness and advocacy to those in need and their families. "We have more support groups for people with mental illness, classes for mental illness, and those are always full."
Macdonald is also encouraged by the wide range of techniques and treatments that have become available in recent years. Beyond the brain stimulation that Keifer practices, she says eye movement therapy has proven to be another effective way to treat trauma. The practice of EMDR, or eye movement desensitization and reprocessing, was developed in 1987 and involves a therapist leading a patient through eye movements while recalling segments of traumatic experiences to ease those memories.
Macdonald is heartened to see patients receiving access to a wider array of what's now called complementary and alternative medicine. Increased coverage of these treatments by medical insurance—including Chinese medicine, acupuncture, Polynesian healing, chiropractic and massage therapy—has opened the door for more people, Macdonald says.
"I remember 30 years ago, I had acupuncture done and a medical doctor laughed in my face, 'Oh, you're one of those hocus-pocus people,'" Macdonald recalls. Now, she sees more integration of homeopathic therapy and respect for other practices. For example, a cancer patient who is going to chemotherapy might also incorporate tai chi, meditation or acupuncture, she says.
And connecting virtually remains a powerful tool. "We can see people we normally can't see and a lot of our support groups are still on Zoom" because not everyone has easy access to support groups, including those on the Neighbor Islands or in more remote communities on O'ahu. "So it is a blessing," she says. Yet when Macdonald pondered another virtual national convention, she realized how much she missed the entire experience of flying to the mainland to see colleagues and hear experts in person: "I'm on the screen all day, all night."
SEE ALSO: Find Ways to Help Students Deal with More Pandemic Transitions Ahead
Which changes stay with us?
Virtual tools also changed the way people gather to pray. Nationwide, in-person church-going plummeted since 2020. At First Presbyterian Church of Honolulu, senior pastor Dan Chun feels grateful for all those in the church community who adapted, helped one another get through rough times, and embraced online technology when people couldn't meet.
Before the pandemic, 1,100 people regularly showed up for his Windward O'ahu church services each week. But stay-at-home orders and fear of the deadly virus made it impossible to meet in-person for months. Chun and the staff worked to connect people virtually, via home computers and phones. As the pandemic went on, the number of people tuning into services climbed, Chun says.
By March of this year, the average number of people livestreaming services had risen to 1,200, but only about 280 people showed up in person, even as mandates and limits eased. "Our services have been seen in all 50 states and 46 countries," Chun says, marveling at that global reach while wondering how many will want to keep tuning in remotely. Compounding the uncertainty and anxiety about what might come next, people may still feel angry about inflation, politics, climate change, mask mandates and vaccines, or may simply be weary of such a long stretch of stress.
Chun says new approaches may be needed in the coming months. They include building breaks into our calendars to provide time and space to recover, being intentional about meeting people in person, seeking out some invitations while declining others. He suggests helpful mantras such as: "Don't doubt yourself. You did the best you could. Don't give up." And Chun thinks companies can consider giving all employees another week of vacation with pay to acknowledge those who have worked hard through difficult times.
---
"Everybody's waiting for the cue, for the collective sigh of relief…and I don't know if we will ever really get one."
— Kanoe Enos
---
How the community responds
Kanoe Enos is a co-founder of 'A'ali'i Alliance which works to improve the lives of Hawai'i residents through systemic change. Like the other specialists, he's felt community anxiety rising. "Everybody's waiting for the cue, for the collective sigh of relief," Enos says, "and I don't know if we will ever really get one."
Nationally, studies indicate about 30% of workers don't want to go back to the office full time if they don't have to. Workplaces are evaluating the benefits of meeting in person against the advantages of remote work: for workers, no commute and less money spent on gas and parking, and for many industries, increased flexibility, a tool to help retain employees, huge cost savings on office space. "I for one would not want to go back to a job that demanded me to work from the office 40 hours a week," Enos says.
With a background in social work, he worries that the last two years have normalized catastrophes to the point that we feel "everything is a potential brink of doom."
In the news, we see war, natural disasters, case counts. On O'ahu's North Shore, a house tumbles onto the beach after decades of erosion. The challenges of daily existence get harder: "The price of gas is going up, housing is bananas and I think folks feel that crunch," Enos says.
As those day-to-day challenges wear on, Enos worries that our community could change, for the worse. "My greatest hope is that we don't turn on each other," he says. "Because I think that's what makes us different, is that we've learned to sort of cohabitate with folks with the concept of aloha in its most genuine form."
---
Tips to Help Us Now
Realize how you are feeling is normal, many people are feeling that way.
Take things at your own pace. Re-entry anxiety and languishing can make it difficult to enjoy reengaging socially so find a pace that's comfortable for you.
Reach out to your support system. Call or text your friends and loved ones, especially those you haven't been able to see because of physical distancing.
Continue to use self-care and coping skills to improve or maintain mental health.
Choose five minutes each day to practice mindfulness: Sit in the sun, take deep breaths or listen to the sounds around you.
Engage and enhance your senses. Take a new path during your walk, add cut flowers to your kitchen counter, try a new candle scent or listen to relaxing music.
Try not to compare your experience with other people's experiences. We are all healing in our own way and the best way to heal is the way that works for you.
Accept that you may have low energy or sad days as you move forward and it's OK not to feel OK. If you feel you need professional help, know that it is available and there is no shame in finding support and the tools you need to feel better.
Source: Mental Health America of Hawai'i's Mestisa Gass.
---
How to Find Help
For free support, call Hawai'i Cares—formerly the Crisis Line of Hawai'i—at (800) 753-6879 or text ALOHA to 741741. Professionals staff the line around the clock every day.  hicares.hawaii.gov
In crisis, call the National Suicide Prevention Lifeline toll-free at (800) 273-TALK (8255) 24 hours a day, seven days a week. The service is confidential and available to anyone. suicidepreventionlifeline.org
A national 988 hotline is scheduled to launch July 16 to strengthen community-based crisis response by providing a three-digit number that's easier to remember, similar to 911 for emergencies. The new system is designed to provide a national network of local crisis centers fortified by national backup centers to answer calls and texts.
The Trevor Helpline is a national 24/7 hotline for LGBTQ youths, (866) 488-7386. thetrevorproject.org
More Local Resources
Mental Health America of Hawai'i has information on apps, video training, printable materials and social media links. mentalhealthhawaii.org
National Alliance on Mental Illness Hawai'i includes information on support groups and classes. namihawaii.org
Take a Free Course
What started out as Yale University's most popular in-person class has evolved into a free online class called "The Science of Well-Being" that more than 3.3 million people have tried. bit.ly/yalenewscourse