Meeting Morimoto… and more, at the Moana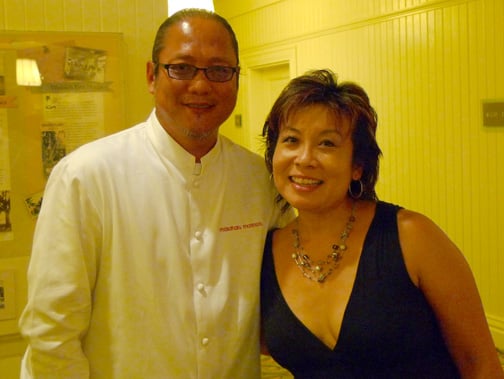 I tagged along with Nonstop Honolulu foodie Mari Taketa last night to the Moana Surfrider's "Tree to Table Mango Throwdown," a food and wine event that doubled as a fundraiser for the Culinary Institute of the Pacific. There were 17 food stations and about 40 different wines. You can see Mari's write up on the event here.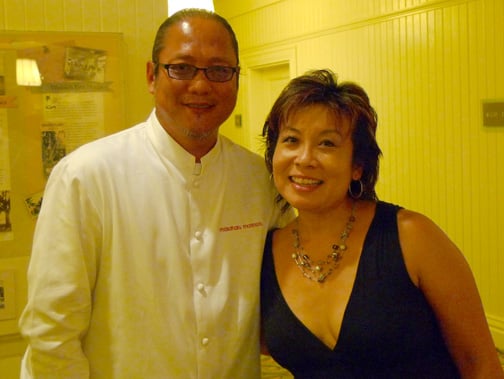 As the title says, I did get to meet Iron Chef Masaharu Morimoto! We ran around the event looking for him (which is why this photo is taken in a hallway — don't judge me!). I was dying to meet the guy who is not just a celebrity chef, but owner of my favorite restaurant. On Sept. 21, that restaurant is expanding to Honolulu… hopefully I'll be the one to blog about it here!
One of the little known facts about Chef Morimoto: He loves karaoke. So at the end of the event, after they handed out the awards to the Mango Throwdown chefs, he took the mic and busted into song.
Of course, the audience went crazy and yelled "Hana Hou!"—to which he happily obliged.
I explained to one of his PR team that at Nonstop Honolulu, we often do galleries that depict the "best of" around town. Maybe I could do a "best of" karaoke tour of Honolulu with the Iron Chef? That would probably be on my bucket list, if I had ever thought about it! Well, one can dream.
Even without Iron Chef Morimoto, the Mango Throwdown had a great crowd to see and be seen with. Here are some of the people I ran into:
Nanimoon
What a great time! This was the Moana Surfrider's second annual mango celebration, and it more than tops the first. I can hardly wait to see what they do next year.