Cool Jobs: Meet the Local Mom Helping to Save Hawai'i's Seabirds
What does your child want to be when he or she grows up? In every issue of HONOLULU Family, we will highlight people in interesting jobs in Hawai'i. This month, we talk with a mom who is helping save seabirds.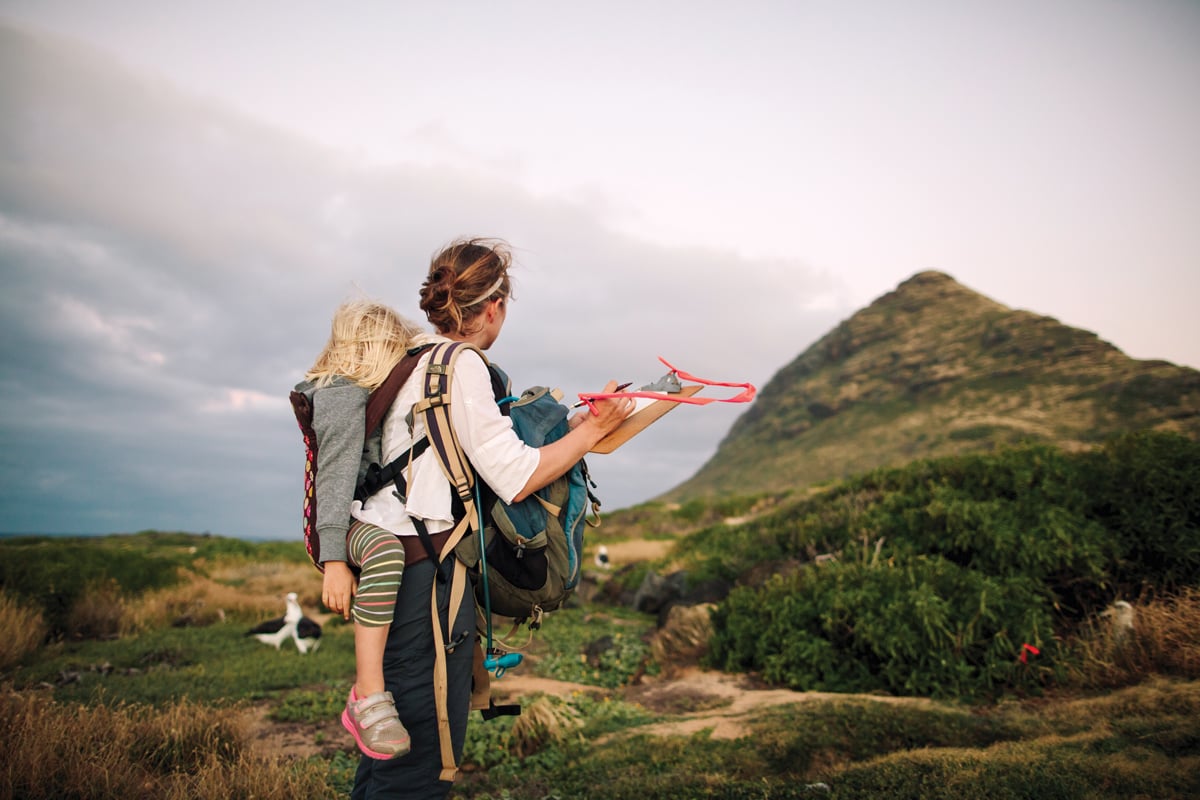 Photos: Courtesy of Heather Eijzenga
Lindsay Young
Executive director, Pacific Rim Conservation
EDUCATION
Ph.D. in Zoology
Master of Science in Zoology
Bachelor of Science in Biology
39 years old
Known for:
Seabird relocation program at James Campbell National Wildlife Refuge. "We have translocated four species of seabirds from the Northwestern Hawaiian Islands whose nesting habitat is being lost to sea level rise, and are creating a new colony here on O'ahu where the birds will not only be safe in the future, but the people of Hawai'i will be able to visit in person."
What specific challenges have you run into as a woman in your field?
"In my field specifically, we spend a lot of time outside doing physically demanding work in remote locations, which can be challenging. I convinced myself that pregnancy and having kids would be no different, but couldn't just pretend it wasn't happening, as I couldn't physically keep up with my male co-workers. So I normalized motherhood by talking about it. My male co-workers got used to taking [breast] pumping breaks while I was in the field and talking about the challenges of trying to breastfeed my kids. Without batting an eyelash, they even helped me snorkel to find a part of my breast pump that had fallen into the ocean. We should never be embarrassed about our biology; having (or not having!) kids is perfectly normal."
What advice do you have for women considering a career in your field?
"Don't overthink it, just do it. My job, while challenging, is incredibly rewarding. It has a clear sense of purpose and requires me to constantly adapt to new scenarios. Every individual, man, woman, introvert, extrovert, etc., brings something unique to the table, and we come up with our most creative ideas when we are challenged to do so. For me, this often means being around people who think differently from I do—regardless of their gender."
What's next for you?
"Personally, I'm beyond excited to be teaching for Semester at Sea (a study abroad program aboard a ship, sponsored by Colorado State University) while simultaneously learning about conservation practices in vastly different countries and regions than our own. In terms of Pacific Rim Conservation projects, we are looking to scale up what we are doing on O'ahu and bring that to other islands in Hawai'i—i.e., replicate the James Campbell project at other sites while simultaneously doing a solid review of the science used in the project. We also plan to attempt translocations with some more uncommon species in the coming years, so stay tuned."