Meet Russell Moore at the Hawaii Food and Wine Festival 2013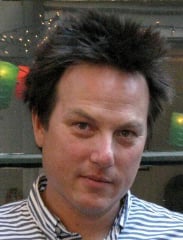 A fireplace is the focus at Russell Moore's Camino where all the dishes are cooked over open flame or in a wood burning oven. Think whole animals butchered on the spot, local produce, and organic wines. The menu at this acclaimed Oakland restaurant changes nightly (and sometimes throughout the night). Russell might be from Los Angeles, but he's no stranger to the islands with a Korean mom who was born on the Big Island and raised on Oahu.
We had a quick chat with Moore in anticipation of the upcoming Hawaii Food and Wine Festival.
What type of dish will you be cooking at the event?
Last time I did an event in Hawaii we used lamb. This time we're getting whole goats from the Big Island and butchering them ourselves. We're doing goat kebabs and serving them with a cucumber-herb salad with chills. We're friends with Ma'o Farms and they're providing a lot of the vegetables.
Where did your inspiration of cooking over an open fire come from?
This is how I like to cook. I worked at Chez Panisse for a long time and I'd go home to cook dinner. Our home kitchen was small so I ended up cooking outside a lot. While we were trying to figure out the kind of restaurant we wanted, we realized cooking over fire made so much sense.
Did you have to make all the equipment yourself?
I worked with a French stonemason. I designed how I wanted to cook and he built the fireplace and wood burning oven. It took us three years to find this place, then we had to gut it, and build it ourselves.
What's the hardest part of doing everything over open fire?
Finding the right cooks who can adapt to cooking this way. If you have lots of experience, it is easy to adapt. You have to be open-minded as everything changes all the time. Today, lots of people use machines, like sous vide and ovens with timers. Here you have to create everything you want by manipulating wood and fire. If you are curious and observant, this is a great place to cook. If you want to follow a recipe, this is a horrible place to cook.
You have a well-edited tea menu. Oolongs and pu-erhs, it reads like a dream for serious tea drinkers. Many restaurant place focus on coffee so this is an especially nice touch.
I'm a huge tea drinker and making good tea in a restaurant is hard. Luckily we have a relationship with David Hoffman—all our Chinese teas are from him. I go to his house and we taste the teas which we rotate on the menu. Selling tea now is easier than it was three years ago, people are more open and interested. We also make tisanes from fresh herbs but don't serve blended teas with things added to them. I like drinking sencha in the mornings, though oolong is my favorite.
Ending on a sweet note! Tell me more about your housemade ice creams, I've heard many great things.
Desserts are a challenge. Often times, the dessert menu at a restaurant has no relation to the rest of the food. Our savory food is plated rustically and we want dessert to match that. We do a grilled fig leaf ice cream—the leaves are from my tree and if you grill them correctly they impart a great coconut flavor. We also make a bay leaf ice cream and even a pu-erh tea ice cream.
Russell Moore will be cooking alongside Chris Cosentino, Sheldon Simeon and other chefs at the Saturday night "Taste our Love for the Land" Hawaii Food and Wine Festival signature event. Tickets are $200. For more information, visit hawaiifoodandwinefestival.com.