Meet Nancy Oakes at the 4th Annual Hawaii Food and Wine Festival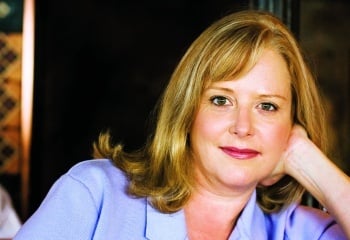 "If I were making a list of pioneering chefs, Nancy Oakes would be at the top," writes San Francisco dining critic Michael Bauer. Her flagship restaurant, Boulevard, was one of the first to serve upscale American food, and 20 years later, it's still beloved by San Franciscans and Oakes' peers, who bestowed it the James Beard Outstanding Restaurant Award in 2012. In 2010, she opened another, more casual restaurant, Prospect. We chatted with her on her current obsessions and her insights on the restaurant business.
What's the best thing you've made recently?
This is an amazing time of year, and we're fascinated with things like kefir. We have a producer in Sonoma of Italian [water] buffalo milk and so we're making our own ricotta with gorgeous little tiny ravioli. Now is the season of Australian perigord truffles. I love it. [So we have] little postage-stamp sized ravioli filled with the buffalo milk and toasted Italian pine nuts and really good olive oil. We do complex things, but I love simple, strong flavors. Everybody gets carried away once in a while, but when you're making your own ricotta, and you have these truffles and really good oil, it doesn't get much better than that.
Someone in Sonoma is raising buffalo for milk?
Yes! They were making cheese, I don't think they do that anymore. Now they make ice cream.
What do you plan on doing while you're in Hawaii?
For the [HFWF] dish, Roy really wanted people to use local ingredients, so we're getting little abalone. We're going to make a very fun and textured slaw with sea beans (sea asparagus), some Big Island hearts of palm and it will probably have bacon in it. Something crunchy and refreshing to go with the quickly pan-seared abalone.
[Recreationally], I'm part of Les Dames Escoffier (an organization of women in the culinary profession). You have some great Dames on the island. We're going to go someplace that they've chosen. And someone from the restaurant was just on vacation [to Hawaii] and they went to The Pig and the Lady, he loved that. So I'm going to try to do that the night we get there.
So your restaurant has been open for 21 years—how do you keep your restaurant full every night?
The food isn't static. I don't really have a signature dish, because it's all up for grabs and change. And that's how you evolve and how you stay relevant—you don't flop on every trend that comes, but you pay attention to what's going on and how people are eating. And you do the best job you possibly can. And you have to stay involved.
Like cooking at food and wine festivals?
Staying involved in the restaurant. It's also important to be part of the chef community—I do a fair amount of community work and it's important to get out and meet everybody and let people know you're still alive. When you want to know why I go to the food and wine festivals, yeah, it's to let them know I haven't keeled over.
What kind of community work do you do?
I'm the chairman of the gala for Meals on Wheels in San Francisco. I've been the chairman for about 11 years. I've done Meals on Wheels for about 24 years.
You opened Prospect pretty close to Boulevard. Did you worry that it would cannibalize your business or create a synergy?
Well, you have to think about that, and then I had to think about the reality of me and anybody else who is [going between the two], if it gets too far away, you lose touch with them.
The interior is so dramatically different, and the neighborhood is so different, even three blocks away, that [Prospect] hasn't cannibalized it. And we've built a whole new younger set of customers, really. It's a younger crowd, more casual crowd.
I noticed that the last time I was in San Francisco, there were so many restaurant groups opening restaurants.
That seems to be a trend everywhere, if you look at everything that's opened in Seattle, it's almost all the same group of people, the same is true in Portland, the same is true in New York. One of the things is, in my case, the reason I opened Prospect, you have people with you for 20 years, and somehow, thank you isn't enough, so you make them a part of your business. That happens a lot with [restaurateurs] who are opening a second or fourth. You have a standout person in your kitchen, you open another spot.
It seems like it's happening all at once.
It turns out, if you open a really small restaurant, it has a really limited scope to it.
Everyone wants to believe that cooking is something different, but in truth, it is a profession and a career and you have a number of years to put yourself together. We're no different from anybody else who has to put their financial future in order. So that drives people as well.
Where do you like to go in San Francisco right now?
Lissa [Doumani] and Hiro [Sone], they've opened Urchin in San Francisco. I want to go there. When I want to take sous chefs out, as more of a teaching dining experience, I take them to Benu or Saison, which is a very different style of food than what we do here, but there's a lot to be learned in terms of service and presentation and the wine list and that experience.
At the fourth annual Hawaii Food and Wine Festival, Oakes will be cooking at Oahu opening night event, the Lucky Modern Buddha Belly. For more info on the HFWF and to buy tickets, check out hawaiifoodandwinefestival.com