Meet Johnny Iuzzini at the 4th Annual Hawaii Food and Wine Festival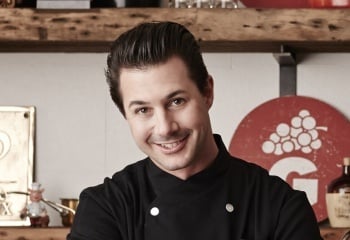 Some pastry chefs, after days of working with sugar, crave salt. Not Johnny Iuzzini, a self-proclaimed sugar freak who has to brush his teeth four times a day. His pastry consulting company is, appropriately, "Sugar Fueled." Three years ago, Iuzzini left his post as Jean Georges Vongerichten's executive pastry chef; before that, he worked with Francois Payard and Daniel Boulud. We caught up with him to check in on his plans for the Hawaii Food and Wine Festival and beyond.
What have you been up to since leaving Jean Georges?
I left Jean Georges after a decade as the executive pastry chef—it was just time for me to move on. I knew I didn't want to spend the rest of my life in restaurants, and I felt I was starting to lose my love for my job. I wanted to re-challenge myself in a new way. I took some time off to travel coast-to-coast via motorcycle, dedicated a lot of time to charities, finished another cookbook and started working on my dream project: to open a bean-to-bar chocolate factory and coffee roaster and create amazingly delicious product lines.
Best food find in your cross-country trip?
I really loved visiting regional bakeries and tasting foods that have migrated from all over the world to the U.S. and have been adapted for our ingredients. I loved the BBQ in Kansas City and the fried chicken in Memphis. My two favorite fine-dining meals came from brothers on each coast—Michael Voltaggio at Ink in LA and Bryan Voltaggio at Volt in Maryland.
What are you most looking forward to at HFWF and in Hawaii?
I have never been to Hawaii, so I really hope I have some time to explore the Islands. I want to visit coffee and cacao plantations. Do some scuba diving (one of my other passions), visit farmers markets and try local cuisines. I am a sushi fiend, so that's definitely on my list.
Best thing you've made recently?
I've been making small batches of chocolate in my Brooklyn home kitchen, and I was recently gifted some amazing cacao beans from Tabasco, Mexico. It's a white criollo bean—[there's] so much fruit and acid and it makes such a unique chocolate.
How long you been thinking about the bean-to-bar chocolate factory?
Ever since I was a little kid and saw Willy Wonka and the Chocolate Factory, but, professionally, about 10 years. I love working with chocolate and the idea of making my own and controlling the whole process and final flavor profile excites me.
At the fourth annual Hawaii Food and Wine Festival, Iuzzini will be cooking for the Halekulani Master Chefs Gala (aka, the $1,000 dinner), and the Battle of the Brunch, where he's pitted against Jackie Lau of Roy's.
For more info on the HFWF and to buy tickets, check out hawaiifoodandwinefestival.com