Meet JJ Reinhart: Former Playboy Mansion Chef and Tony and Emmy Winner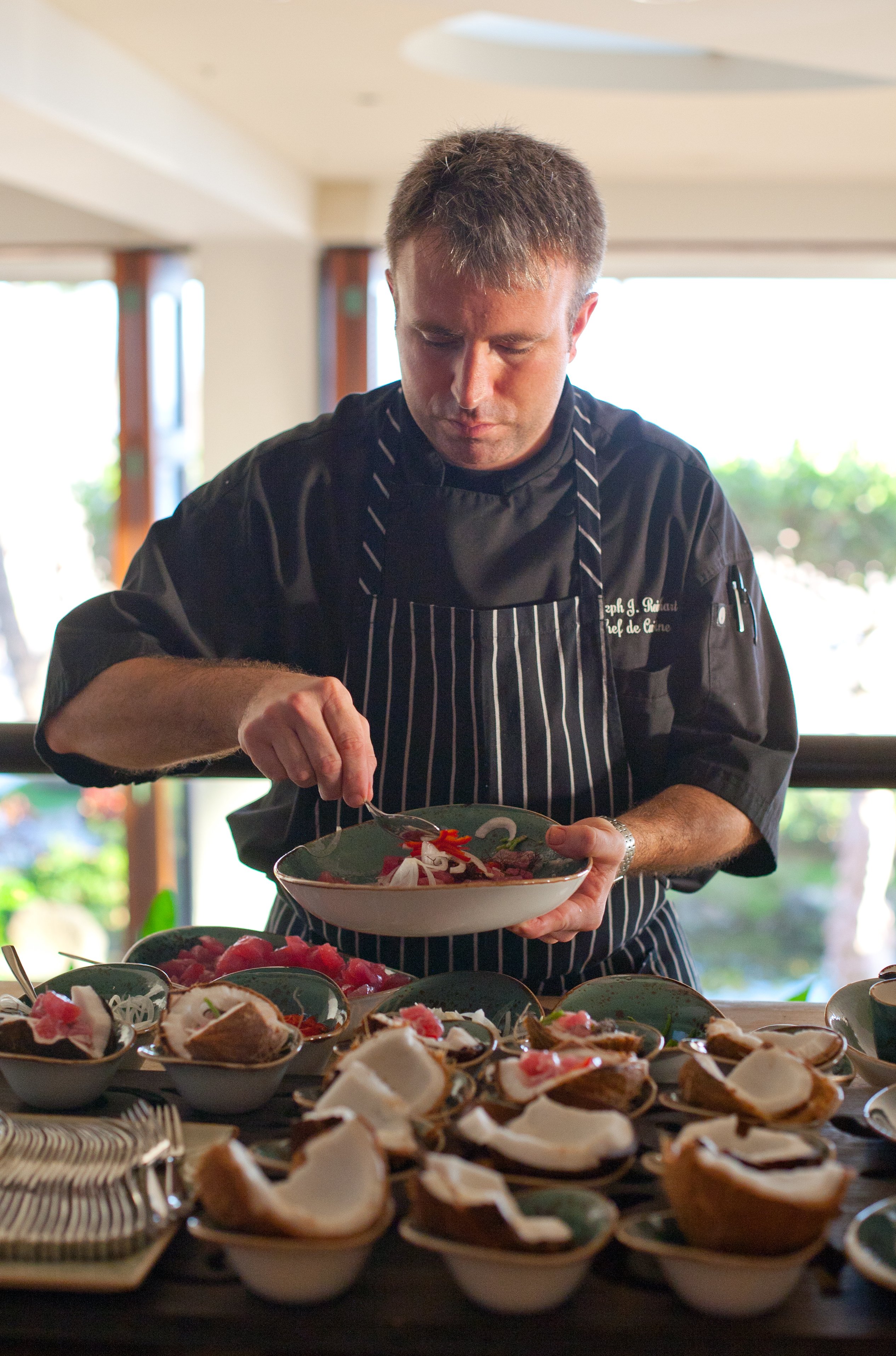 At the Playboy Mansion, Monday is Manly Mondays, with fried chicken and meatloaf. Wednesday is always turkey day—turkey with all the fixin's … even if it's the Wednesday before Thanksgiving. Oh, and Hugh Hefner loves seafood and lamb chops.
But at the Playboy Mansion, it's not the food that people are usually discussing.
And that's why JJ Reinhart, former chef de cuisine at the Playboy Mansion, left. "I wanted to become a chef that was known for his food and not the people walking around in certain outfits," he says. "Yes, there's always food and there's always alcohol at the parties, but the next day, they're not talking about the food and alcohol. They're talking about other things."
Now, he's the executive chef of Bali Steak and Seafood at the Hilton Hawaiian Village, a place where the only thing that distracts from the food might be the ocean view.
In addition to being a former employee of Hugh Hefner, he also has a Tony and Emmy award. If you know of another chef with these sort of credentials, let me know.
Reinhart's lived the rock star life since he was 14 … as a trumpet player for a marching band. "I spent my summers on the road, living off of a bus, going city to city," he says.
He left college to perform in Blast—a musical show similar to Stomp but with brass instruments in addition to percussion. He stayed with the show for four years, three of them on world tours. On Broadway, he received his Tony and Emmy awards. "I was getting paid handsomely, having all my expenses taken care of; my only responsibility was to show up to work," he says. "I was able to see a lot, I was able to do a lot."
So much so, he says, that, after four years, "I just reflected on my music career and thought, what more can I accomplish in music?" He also realized "how hard it was always being on the road, living hotel to hotel. I wanted something more stable."
His version of stability was culinary school, the school chosen partly because of its internship connections with the Playboy Mansion. "I had my mind made up, I was going to go to the Playboy Mansion," Reinhart says.
So he did. And it wasn't all girl-watching and wild parties (though there was that, too). "My growth [as a chef] was exponential while I was there," he says. "I had more freedom there than anywhere else. It was Mr. Hefner's sandbox, but he let us play in it. … We didn't have a budget. Also, I'd utilize the Playboy name—I'd find out about one farmer somewhere in the Midwest who had some amazing carrots. I could call him up and say, 'Hey, I'm calling from the Playboy Mansion, heard about your carrots, can you send them to me?' And two days later, they'd show up in a FedEx box, and my guess is, on the other end, he's telling all his friends, 'I just sent my carrots to the Playboy Mansion!'"
He stayed for seven years. "What most people don't realize, yes, it's Mr. Hefner's home, a base for a lot of different women who are posing for the magazine—they're in and off the property—but it's also kind of like a private hotel. You see so many different guests, there are a lot of banquet functions. All the catering is done on property. The employees are fed three meals a day. The amount of employees there, it's incredible. You have the office staff, the culinary staff, you also have the butler staff, a humongous maintenance department, humongous landscaping department. You have housekeepers, animal handlers."
Animal handlers? Hm.
But Reinhart wanted to be known for his food, to serve dinner to paying customers. So he left to help open Morimoto Waikiki, then became the executive chef at Sansei, before landing his current gig at Bali, where he's revamped the menu. It was long overdue; in the beginning years of the Hale Aina awards 30 years ago, Bali consistently made it on the best restaurant list, but it's been off locals' radars for years. Admittedly, Reinhart has a more limited amount of freedom in a hotel restaurant—this ain't the Playboy Mansion—but he's keen on running specials, such as a cinnamon-leaf spiced lobster with kabocha and mushrooms, garnished with the Chinese dried scallop XO sauce.
So if there's any chef that can bring excitement back to Bali, it might very well be this former trumpet rockstar, free-wheelin' Playboy Mansion menu maker.