Meet a Brave 5-Year-Old Who Has Undergone More Than 10 Surgeries
She's the 2020 champion of the Children's Miracle Network for Kapi'olani Medical Center for Women & Children.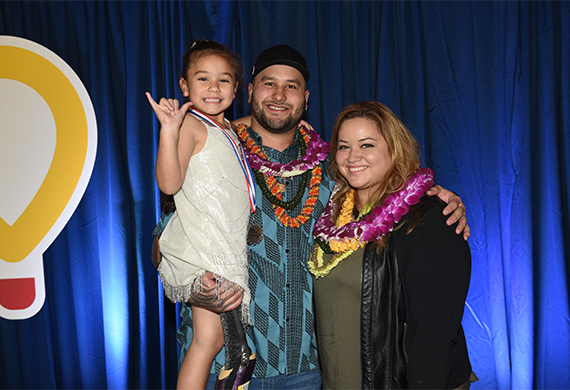 During a prenatal visit with their doctor nearly six years ago, Kainoa Friel and her husband, Calen,  earned in a 3D sonogram that their soon-to-be-born daughter, Haumea, had a birth defect called proximal femoral focal deficiency, or PFFD. Approximately one in 200,000 children have this condition, causing the upper part of the femur (thigh) bone either to be missing or malformed. When Haumea was born a few months later, one leg was shorter than the other.
Fast forward to today. Haumea, now 5, has had more than 10 surgeries to correct her condition. The most recent was a rotationplasty—a rare and complex 16-hour procedure that "turns the limb around so that the knee that she has, functions as a hip for her, and the foot that she has, functions as a knee that can be fitted for a prosthesis," says William Burkhalter, a pediatric orthopedic surgeon and a member of her care team at Kapi'olani Medical Center for Women & Children.
Everyone who meets Haumea is inspired by her positivity and courage.
She has been named the 2020 Champion of the Children's Miracle Network (CMN) for Kapi'olani. As a champion, Haumea will share her story, represent the network and inspire other keiki who also are undergoing medical procedures. The CMN is a nationwide nonprofit group that raises funds for children's hospitals. Kapi'olani is the only hospital in Hawai'i affiliated with the CMN, which last year alone raised $3 million for children in Hawai'i.
After the 16-hour rotationplasty, doctors fitted her limb with a prosthetic leg—which she proudly named "Sparkle" for its glittery purple color.
"She's having to deal with her foot now in a position facing the other way," says Stacie Kellinoi, a physical therapist at Kapiʻolani. "But she overcame."
Haumea showed up to her physical therapy appointments twice weekly with a great attitude. She performed routine exercises, including new moves that Kellinoi introduced.
Now, Haumea is determined to run on a treadmill! "Sparkle is my prosthetic leg that can help me walk and run and bounce," Haumea says. "Nothing can stop it."