Maru Sushi: Finally, a Michelin sushi bar comes to town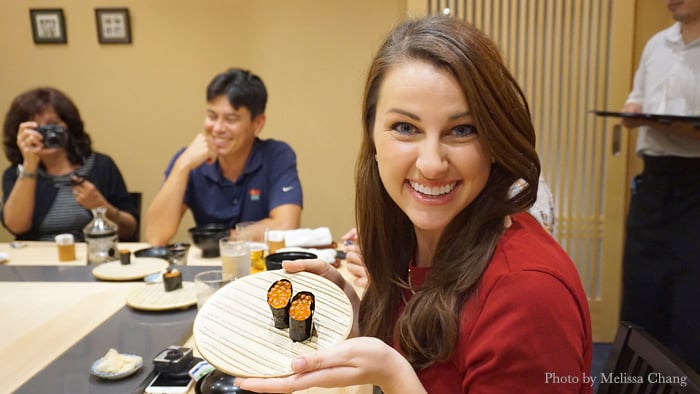 Sushi fanatics have been waiting for Maru Sushi, an iconic Michelin-starred sushi bar from Sapporo, to open in Honolulu. Founding owner and executive chef Takeshi Kawasaki held a little pop-up a few months ago to test the waters, and a whole week of dinners sold out in less than a day.
Kawasaki actually retired and left the restaurant in his son's hands, but wanted to keep his skills sharp while enjoying life in Hawaii. So instead of flying all the way to Japan, you can enjoy his exquisite sushi right on the edge of Waikiki. Honolulu has chain restaurants whose other locations have Michelin stars, and we have chefs who have worked in Michelin-star kitchens. But Kawasaki is our first Michelin-star chef.
There are two omakase sets: for $180, you get six to seven appetizers and about 14 pieces of nigiri; for $220, you get six to seven appetizers and about 16 pieces of nigiri with elevated ingredients. (The actual nigiri count depends on market prices for the ingredients, most of which will be flown in from Hokkaido.) Here's an example of the $180 set, all delicious and very filling.
At this point, we got a little intermezzo of salt-cured murasaki (purple) uni that was unlike anything I'd ever had. Who would have thought that such a process would be so delicious? Usually you don't mess with fresh uni, but here they wrap it in konbujime and press it into a mold, and pack it with salt. The salt never touches the uni, but the flavor is still imparted.
Continuing on with the culinary adventure…
Many people will ask, is this sushi worth it? Like all high-end sushi bars, you get to eat unusual and/or high-end items, or unique preparations of things like the salt-cured uni. But you very rarely get to eat these prepared by a Michelin-star chef, and you can taste his skill in every bite. The meal is more than just an outstanding sushi dining experience; each time I've eaten Kawasaki's omakase, everyone at the sushi bar was excited, surprised, and exhilarated with each dish (and some, moved to tears). It's more than dinner, it's a full ride.
Reservations will be taken at 5 p.m., 5:15 p.m., 7:30 p.m., and 7:45 p.m., with the seating lasting no more than two hours. (At this writing, there are two seats left for tonight.) There is a selection of sake, shochu, wine, and Suntory Malts on draft available.
For more photos, click here.
Maru Sushi
1731 Kalakaua Ave. (the new building next to Micronesia Mart)
808-951-4445
Dinner served nightly from Tuesday through Saturday