March 31 – A Family Visit for One is Celebrated by All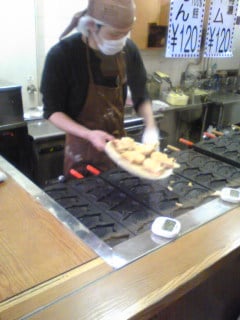 Today, I took the bus to the hospital because I am getting low on gas. It was not crowded at all and I was able to get a window seat and look around. I noticed there are now even more cars on the road and some restaurants are finally open. Unfortunately, most of the gas stations remain closed. On the walk from the bus stop to the hospital, I bought warm melon pan pastries again for my mom and her roommates. I decided to stop at COOP, a grocery store, and I was thrilled to find natto (fermented soy beans)!!! COOP also has a sizeable stock of vegetables, fruit, meats and some fish.
My mom was very happy to get the natto as were her roommates. More importantly, they were all celebrating some very good news today. One of my mom's roommates is a 17-year-old teenager from Ishinomaki, a town the tsunami severely damaged. The day after the quake, she kept staring out the window at night watching the fires burn out of control in the far distance. She knew her house was in the area of the fires and she was still not able to contact her family. I did not know what to say to her. I just told her, if she needed to talk to someone or if she needed anything, to let me know. A few days later, she finally made contact with her family and learned they were all OK. However, the ground floor of their home and shop were badly damaged.
Well today, her parents, younger brother and cousin will visit her for the first time since 3/11. Her excitement in seeing her family is offsetting how poorly her medication makes her feel and she is in good spirits. Her family could not visit before today because they could not get any gas for their car. Also, they had to clean and repair their home and shop from the tsunami damage. Finally, after three weeks, she gets to see her family and we are all so happy for her. Being sick is hard enough. Being sick in an earthquake and tsunami is even harder. Being sick in an earthquake and tsunami and being separated from family is almost too much to take.
As I was leaving the hospital, a mid-size aftershock struck while I was in the elevator. This got all of us in the elevator talking and some shared how bad it was when the quake hit on 3/11. One gentleman in the elevator told us that he was in a restaurant in Tagajo City, an area hit hard by the tsunami. When he heard NHK radio blare its warning: "BIG TSUNAMI IS COMING, GET AWAY FROM THE COAST," he and his friend ran as fast as they could in the opposite direction of the coast and they were saved.
When I got to the bus stop, I saw that the schedule had again changed and that my bus would not depart for another two hours. So, I decided to walk around downtown Sendai to see what was open. What I discovered is that most of the stores that are open, now close around 4-5 p.m. I wanted to find a coffee shop but could not find one still open. Of course, many stores were so severely damaged by the earthquake that they have yet to open.
I stopped by the taiyaki store that I took Scott, Ian and my mother to last June. I was expecting it too to be closed. I could not believe my luck as I joined the line at 5 p.m. and I was the last person they would serve that day. I bought two taiyaki (waffle pastries filled with your choice of fillings – usually sweet red bean, custard, chocolate cream.) How lucky!

Sendai Station was badly damaged by the quake and is under repair. If all goes well, the bullet trains will start running again in another month.
Since I could not find any coffee shop open, I ended up walking all the way to Sendai Station. The station was damaged by earthquake and the bullet train platform ceiling collapsed. I could see the station was under repair. Japan Railways Tohoku has announced that the bullet train line will be fully repaired by the end of April. I hope so as I would then be able to use it to visit Tokyo. They must be working very hard to repair the entire train line and all the stations in a month.
Finally, I boarded the bus but traffic was very bad and it took 80 minutes to get home. At least I was able to sit down entire way. I left the hospital at 4:15 p.m. and didn't get home until 7:30. I am not going to do that again.
I almost forgot. Yesterday, I saw some city gas workers around our neighborhood. Their work uniforms read Osaka City Gas. These workers from Osaka are helping Sendai City Gas get the natural gas turned back on. It would be great if we could have gas to cook and enjoy a hot bath. The media said the gas workers must visit every house to turn the gas on. This is to avoid accidental explosions from the lines possibly being damaged by the quake. I have to be home for them to open and test our gas line. Thankfully, tomorrow will be a "no walking" day.
HONOLULU Magazine's owner, aio, is organizing a fundraiser for Tohoku University Hospital. Click here for details.