Mango season at Moke's: new li hing mango pancakes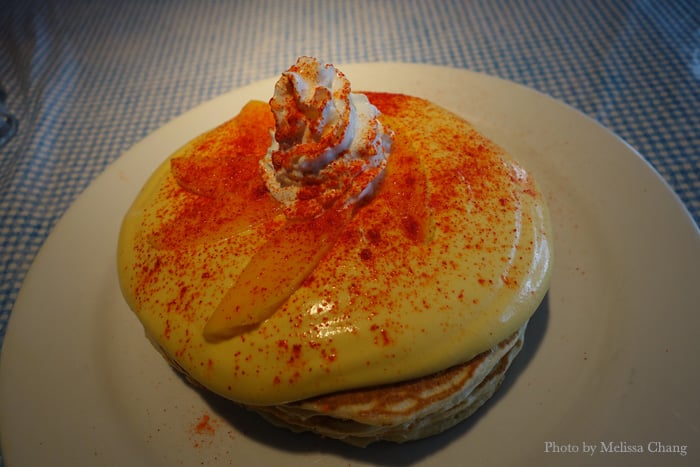 What do you do when it's mango season and your friends drop off a mother lode of their sweet bounty? If you own a restaurant, chances are you'll serve it in something.
If you own Moke's Bread & Breakfast, you make mango pancakes. LI HING mango pancakes.
"We wanted to do something different, beyond just the expected mango pancakes," said manager Keola Warren. "We already have a fruity flavor in our lilikoi pancakes, so we decided to make a sauce that would be super ono, super local. We did a lot of experimenting with li hing powder and our basic lilikoi sauce before we came up with something we really liked."
It sounds weird, right? But it's not. The salty li hing flavor is actually pretty subtle. Locals will love the nostalgic flavor, and I think tourists may enjoy this as a mild introduction to li hing mango (if they haven't tried it already). And of course, everyone will love the slices of fresh mango topping. As a local girl who regularly buys the popular salted plum, I asked Keola if I could get extra li hing powder on mine. (He just laughed.)
Moke's will start serving the li hing mango pancakes today and through the weekend until they sell out. Stacks will be $8.95 for two, and $10.95 for three.
The batter is the same recipe handed down by his grandmother and is made fresh daily. In fact, there is one guy in the kitchen whose only job is to make that batter all day in small batches to ensure fluffiness.
While eating pancakes, Keola busted out their new coffee, an exclusive blend created in collaboration with Brad and Donna Sultzer of Kailua Coffee Roasters. It's comprised of 20 percent Molokai and 20 percent Waialua Estate beans, then roasted in Kailua. You can't get much fresher than that! The whole beans come in a seven ounce bag for $11.95.
Save some pancakes for me!
Moke's Bread & Breakfast
27 Hoolai St.
808-261-5565