Mangiamo! Nonstop dinner next Tuesday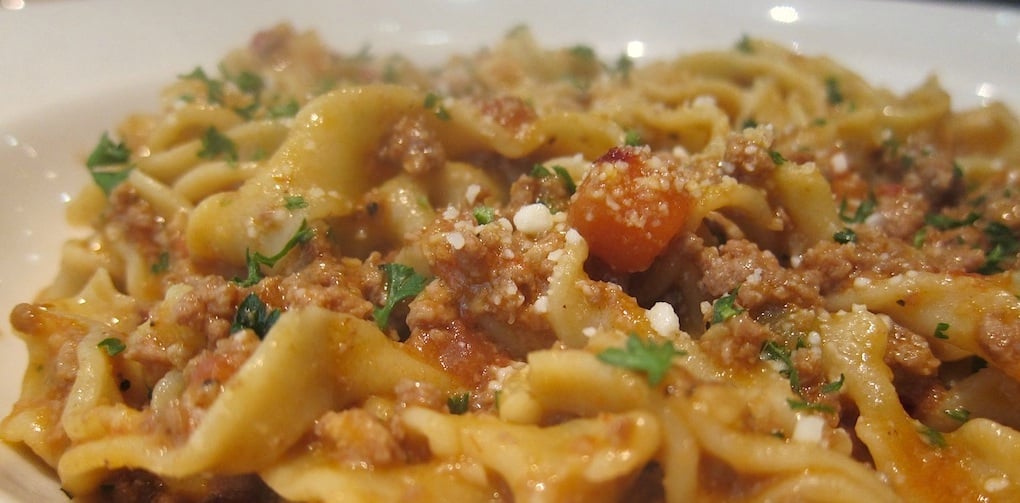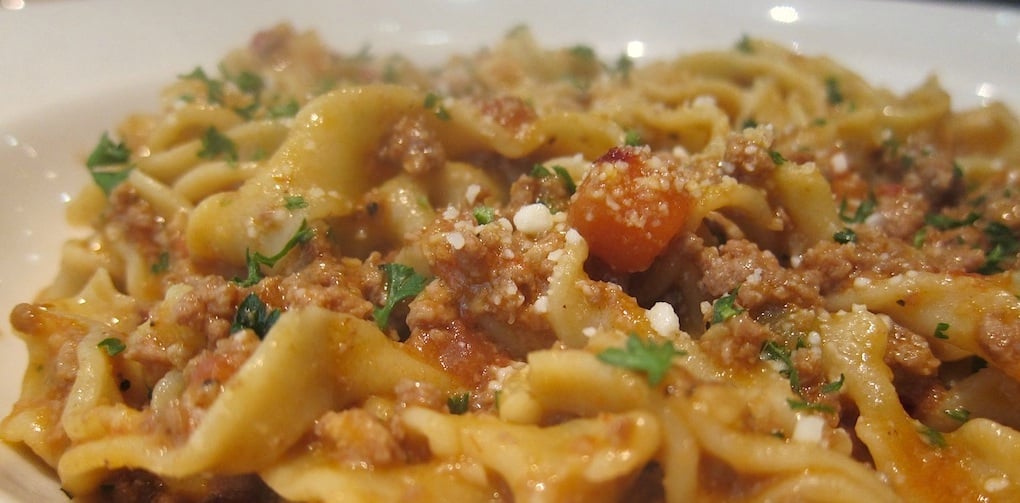 Pasta lovers of Honolulu, you know the feeling. Where's the good spaghetti for under $17 a plate? I'm not talking about overboiled strands in runny marinara, or luxurious heaps of frutti di mare or top-of-the-line uni spaghetti. Just a good plate of pasta priced at what it's worth.
So La Cucina opens about six weeks ago in the lobby of Imperial Plaza, and your intrepid fair-deal pasta lover sets out to do a review. In three visits I work my way through fresh housemade trenette (a wide pasta with ruffled edges) with housemade Italian sausage, uncased ($15); trenette in a rich bolognese ($15, pictured above); fresh fettuccine that instead of swimming in a heavy cream sauce carbonara is lightly tossed with parmesan, bacon and eggs ($15); fresh ravioli stuffed with lobster and served in a gently sweet basil and saffron cream sauce ($19); pillowy fresh gnocchi tossed in pesto ($13), and fresh spaghetti coated in a spicy, salty puttanesca ($12 and the only miss).
That's just my own personal parade of pasta. For secondi, the protein dishes that follow the pasta course, I can tell you the osso bucco ($25) is fall-off-the-bone in a satisfying sauce that's more delicate than robust, and the veal piccata ($22), more tender and light than Mediterraneo's, is hard to stop eating.
So two things happen on my last visit last week: When I open the menu I again renew my resolve to work my way through every pasta; and I find out that La Cucina, a tiny place with one chef and five burners, encourages family-style eating.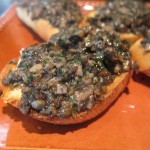 Mangiamo, people! Forget the review, let's go eat! The place is a find highly worthy of a group dinner, so here's an open invite to Nonstop readers: Tuesday, June 19, 6:30 p.m. We show up, order off the menu, and sample course by course: Antipasti like these mushroom crostini, salads if you like, then pastas, ravioli, risotto, proteins and dessert.
As with all Nonstop group dinners, we all split the cost of the food and pay for our own drinks (there's a small menu of Italian wines, and a corkage fee if you bring your own).
A couple of notes: This is not East Coast-style Italian, so you won't find things like lasagna and eggplant parmesan. Chef-owner Don Truong trained at King Street's Mediterraneo under owner Fabrizzio Favale, a native Roman, so there are similarities between the menus, but La Cucina's offerings run in a narrower range and Truong has added his own touches.
And I'll buy a drink for the first person who can identify the secret ingredient in La Cucina's bolognese.
Interested? Just sign up in the Comments here, and I'll see you next Tuesday!
What: Nonstop dinner at La Cucina
Where: Imperial Plaza lobby, 725 Kapiolani Blvd.
When: Tuesday, June 19, 6:30 p.m.
Parking: Up to 3 hours free with validation in Imperial Plaza garage, or street parking